COLORADO CITY, Ariz. — Mary Lou Timpson is one step closer to receiving worldwide recognition as The Greatest Baker of 2020.
The competition began in early October, but the 35-year-old mother of five from Colorado City, Arizona, heard of it late in the game and entered a few weeks into the competition. Even with a late start, Timpson has been able to gain the votes she's needed to move on to each stage. She's now in the quarterfinals round.
"The Greatest Baker" is a competition that is hosted by two-time winner of the "Food Network Baking Championship" Jen Barney.
According to Timpson, competitors post a portfolio of their best cake creations for online viewers to vote on, fill out a questionnaire, and rely on public voting to bring them closer to the coveted grand prize.
The competition receives submissions from all over the world, and voting is done all online. The baker who receives the most votes is awarded a grand prize of $10,000, a year's supply of Stuffed Puffs, and a feature in Bake from Scratch magazine.
Timpson says baking has been a love of hers for the past 20 years.
"I started baking as a little girl, and I always dreamed of having my own bakery," she said. "I grew up in Salt Lake City and would always go to the library to get the Martha Stewart Weddings book to look at all of the wedding cakes."
While this competition is one stepping stone in her goal, Timpson currently owns and operates her own bakery in Colorado City called Mary Lou's Cake Studio. There, she creates many one-of-a-kind cakes, including wedding cakes, with Peach Champagne being her signature cake due to its unique taste and delicacy.
Laurell Winkler, of Hurricane in Washington County, was married in February and hired Timpson to make her Leap Day wedding cake memorable. Winkler said she highly recommends Timpson's work.
"She was amazing to work with," Winkler said. "I told her what I was looking for, and she asked my opinion on everything. Each layer was a different flavor, with a different flavor filling, and she had tons of choices available. The process was all done through messenger and I was totally beyond happy with it! She made sure every detail was exactly how I wanted, and that I was happy with it. She kept in touch with us from day one and had it ready on time. I would definitely use her again or recommend her to anyone."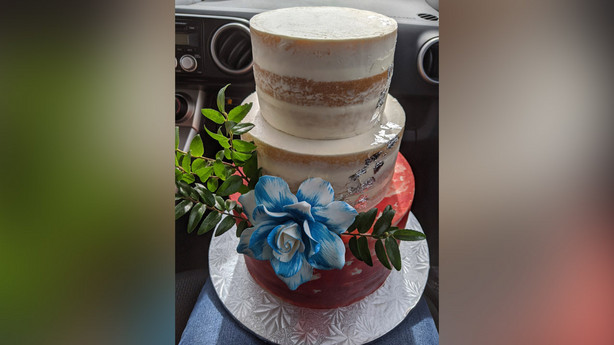 Timpson's sister-in-law Gina Cerrito has not only tasted cakes created by the master baker, but has witnessed firsthand the passion that Timpson puts into what she does.
"Mary Lou's baking is sheer talent," Cerrito said. "As a small-time baker myself, she has been a huge inspiration to me. Her baking is always beautiful, and it's top-notch quality. Anyone could see that everything she creates, she does it with soul."
Timpson, who has been working tirelessly to create cakes for all occasions while anxiously awaiting the results of each round, says that if she were to win the competition and $10,000 prize, she would put it back into her business.
"I make all of my cakes out of my home kitchen, and I would love to remodel it to grow my business," she said.
The competition accepts daily votes, which are free when connecting to your Facebook account. There is also the "Hero Vote" option that costs $1, is worth two votes, and the money goes toward the No Kid Hungry charity. Quarter-finals voting ends Thanksgiving Day at 11 p.m. EST.
To vote for Mary Lou, go to greatestbaker.com/2020/mary-lou-timpson
---
×
Photos