LOGAN — The final Utah State offensive play ended with quarterback Jason Shelley running around frantically trying to make something happen as he was bottled up and dropped by a horde of Fresno State linemen.
It felt like the appropriate way to end Saturday's game — it was just like the first other 59 minutes.
The Aggies had a different coach, but it was the same result.
Fresno State came into Logan and topped Utah State 35-16 on the back of an explosive offense and a defense that bottled up Shelley and Co. all afternoon.
It was a lot like every other game the Aggies have played this season.
An offense that failed to sustain drives? Check.
A secondary that blew coverages? Check.
A big play that delivered the knockout punch? Check.
But, hey, at least this time, that breaking point came later in the game.
With 5:21 left in the contest, Fresno State quarterback Jake Haener hit Jalen Cropper in stride for a 44-yard touchdown that pushed the Bulldogs' lead to three possessions. With that, it was curtains for the Aggies.
That was the final big play of the game for the Bulldogs, but it was far from the first. Haener was 29-of-38 for 422 yards and four touchdowns. Three of those scores went to Cropper, who finished with 202 yards receiving.
Even with those gaudy numbers, the Aggie defense actually kept Utah State in contact for much of the game. Senior safety Shaq Bond had an interception near the goal line to deny an early Fresno State scoring opportunity and the fourth-quarter dagger were the only points Utah State allowed in the second half.
"Defensively, I don't think the score reflected how we played on the field once again. It starts with limiting the plays – the big plays, the explosive plays," sophomore linebacker AJ Vongphachanh said. "That starts with me, cleaning up the little things I need to clean up and going from there. We had the energy. Run-wise, I think we were able to stop the run effectively, then later in the game getting them off the field on third downs. But again, it comes down to the bigger plays."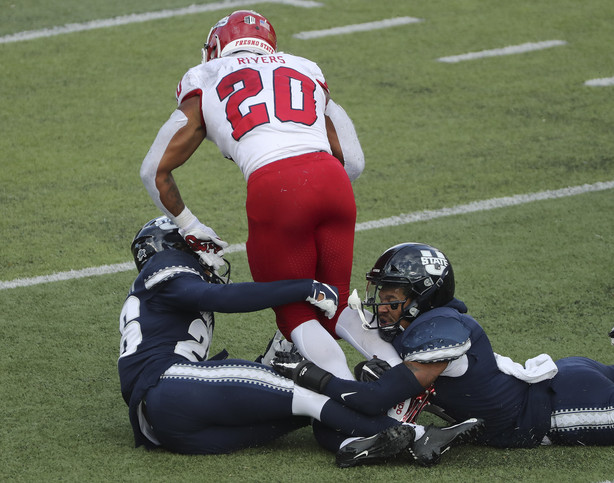 In the second quarter, Cropper got loose for a 59-yard touchdown reception and then Haener found Josh Kelly for a 77-yard touchdown. Those two plays flipped the game for the Bulldogs after what had been a strong start for the Aggies.
With it being Frank Maile's first game as interim coach, Utah State had some extra energy to begin the game — energy that only grew when Jaylen Warren popped off an 86-yard touchdown run on the Aggies' first offensive play. The early big plays continued when Savon Scarver found a crease and took a kickoff return 94 yards for a touchdown. It was Scarver's sixth career kickoff return for a score — one away from the NCAA record.
In the first quarter alone, Utah State got its first takeaway of the year, had a big offensive play (something that had been lacking coming into Saturday) and had a special teams score. Everything was coming up Aggies — until it didn't.
"I thought we started the game super strong with special teams and the offense," Maile said. "One of the goals offensively was to establish the running game. Second to that offensively was to protect the football. Unfortunately, we were not able to do a good job with that. Two of those takeaways on the run game switched the momentum at crucial moments of us trying to punch in another touchdown."
In the second quarter, as Warren — who finished with 136 yards rushing — was attempting to gain a few extra yards on a long run into Fresno State territory, the ball was popped loose and recovered by the Bulldogs. Four plays later, Cropper celebrated his second touchdown of the game following a lightning-fast 96-yard drive.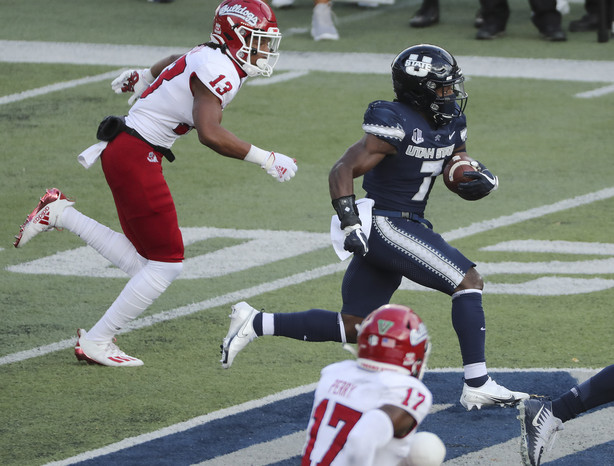 Just like that, the game had flipped, and the Aggies never could regain their offensive footing. Utah State was held scoreless in the second half with five of their drives ending in punts and two others ending in turnovers.
Shelley was just 9-of-24 for 144 yards — with 54 of those coming on the final drive of the game when things had already been decided.
When asked if he thought of making a change at quarterback, Maile said "that's always something we take into consideration of switching at the quarterback, but due to the situation we're in right now, we stuck with Jason Shelley."
Andrew Peasley, Shelley's backup, was reportedly unavailable for the game. A change would have meant turning to freshman Cooper Legas, the former Orem High standout.
The Aggies were also without both of their regular play-callers as offensive coordinator Bodie Reeder and co-defensive coordinator Stacy Collins had tested positive for COVID-19.
"There is some stuff to build on moving forward," Maile said. "It is going to be a short week for us going into Wyoming, but there are some positives there that we need to catapult forward to where we need to be."
×