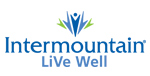 Sponsored by Intermountain LiveWell
The COVID-19 pandemic and recent surge of cases and hospitalizations have brought a different aspect to this year's holiday season. This includes the current State of Emergency announced by Governor Gary Herbert that includes new orders of a statewide mask mandate and limiting gatherings to households only.
Intermountain Healthcare is supportive of the governor's actions to reduce the rate of transmission in the community and prevent further increases in unsustainable of levels of hospitalization. Even though these additional restrictions are challenging, healthcare providers around the state are grateful for the community's support in following the new guidelines.
"Even though these additional restrictions are tough on all of us, healthcare providers around the state are grateful for the community's support in following the new guidelines," said Brandon Webb, MD, an infectious disease physician at Intermountain Healthcare.
The safety and health of our families and community should be the main focus as we plan holiday events, gatherings, and meals. We are asking members of our community to do whatever they can to encourage others to follow the guidelines outlined by the governor to keep people safe and ensure that hospitals are not being overwhelmed. Here are recommendations from the Centers for Disease Control and Prevention for having a safe Thanksgiving.
Think smaller for dinner
A low-risk holiday can still include the traditional dinner and all the fixings, but because much our community transmission is from close friends and extended family, the CDC recommends keeping it to members who live in your household.
This is understandably hard for many of us who enjoy large holiday gatherings of friends and family. But just like we've done with so many other events in 2020, it's time to bring some ingenuity to the holidays. Consider preparing holiday meals and have them delivered to family and friends, especially those at higher risk of illness. You can also connect with friends and loved ones by holding a virtual Thanksgiving meal through video.
Avoid the shopping crowds
Black Friday shopping has also become part of the holiday event for some on Thanksgiving or Friday. The CDC has listed crowded stores as a high-risk area for virus transmission. This year, consider Black Friday and Cyber Monday shopping from the comfort of your home by looking for deals online.
"Online shopping is an especially good option this year. Many retailers are making online ordering, delivery and curbside pickup easy, which helps cut down on unnecessary crowds but still keeps our economy open" Dr. Webb said.
Stay vigilant
Although the state of emergency household restrictions were announced for a two-week period, it will be important to continue to be vigilant with mask wearing, handwashing and social distancing even beyond two-weeks so we can maintain sustainable levels of transmission while we wait for vaccines to become available.
The state's caregivers and the community need your support to reduce the transmission of this virus. A healthy economy and a healthy population are not mutually exclusive and we are committed to both.
You can find more information at intermountain.com/covid including safety measures, testing, health symptoms, and updated information on the novel coronavirus.
×