Estimated read time: 4-5 minutes
This archived news story is available only for your personal, non-commercial use. Information in the story may be outdated or superseded by additional information. Reading or replaying the story in its archived form does not constitute a republication of the story.
When Jane was a child growing up in Salt Lake City, itchy rashes broke out on her arms, elbows and legs. Her parents applied a beige cream and the lesions healed, although whether or not it was the cream she never knew. Either way, as she went through her adolescence without any more problems.
Fast forward nearly 50 years. Jane was working as a receptionist in a health services facility when a patient touched her and she contracted MRSA, which causes an antibiotic-resistant staph bacterial infection.
Following several hospitalizations, her doctors got the MRSA under control in 2015, only for the itching to start again. Sores erupted over her head, stomach, back, legs and arms. "The itching about drove me crazy," Jane recalls. "I'd wake up at night, I'd been scratching and blood was all over my sheets," she says. "It was so painful and unbearable that I wondered if I would ever get relief."
Jane went to a dermatologist who, in the face of the perplexing skin condition, sent her to University of Utah Health's Christopher Hull, M.D. Hull is an expert on the treatment of autoimmune skin diseases and viral skin infections. He recommended a therapy treatment, which involved Jane giving herself a shot every two weeks of a new drug that targets the source of the underlying inflammation in moderate to severe eczema.
As Utah and the western region heads into winter, it's important to note that eczema is often exacerbated by the dryness of the desert environment and the harsh cold. Eczema occurs when the immune system responds to dry skin as if it were a trauma or injury and reacts with inflammation. "It doesn't help, it hurts us," says University of Utah Health's Mark Eliason, M.D., a specialist in skin cancer and inflammatory diseases of the skin.
A shocking 1 in 10 people in the U.S. struggle at some point in their lives with atopic dermatitis (eczema). That makes new treatments good news for sufferers of what is, while a common condition, under-represented as far as good therapies, at least until recently.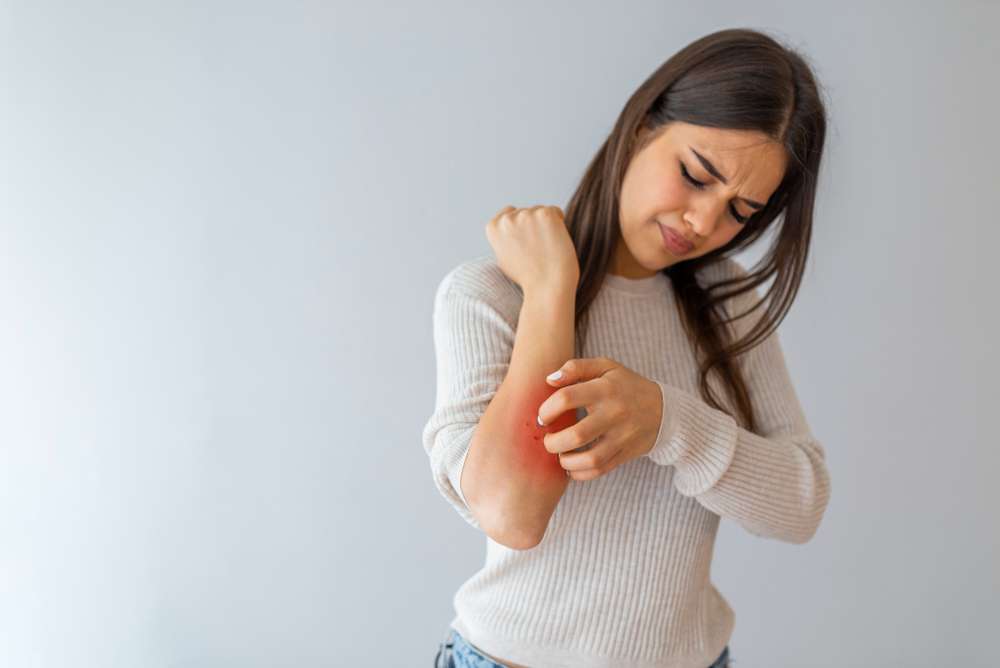 Hull offers his patients a personal perspective on the condition. When he was a first-year medical student, he was beset by raging skin rashes that kept him up all night and were initially diagnosed as ringworm. Eventually, he received care through the student health clinic and learned he had eczema.
"Over the years, I've learned to avoid a lot of triggers that I know bring it on," says Hull. He learned those triggers can be stress, fatigue, illness and skin irritants.
Eczema patients often fight hard to find out what the trigger is, and while many can be identified and eliminated, if there isn't an external cause, then that calls for a different approach, Eliason says.
"Once we've established there is or isn't an external cause, then we try to manage the skin condition with a topical steroid cream when the area is small. Widespread eczema often requires systemic therapy, which can involve oral medications that alter or suppress the immune system," he continues.
Many sufferers "get really good control of it, avoiding some of the triggers that make it flare up," Eliason says. But while 75% of patients grow out of it as adolescence ends, others find that it can be devastating. "Depending on the severity, it can be very life-altering," notes Eliason.
For those patients, new treatments can significantly improve quality of life. The last several years, Hull says, has seen "a big resurgence in interest in the immunology of eczema and the development of medications targeting it." One drug, which he prescribed to Jane, inhibits two molecules unregulated in eczema, effectively treating the underlying imbalance in the immune system that causes it.
What unites Hull and Eliason is a passion for treating a problem that can be truly life-changing. "The severe end of the spectrum really gives you a perspective that makes you want to help them through a disease that's not something we can cure with a seven-day course of medication," Hull says.
×
Most recent News stories