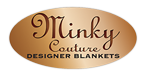 This story is sponsored by Minky Couture.
There are dozens and dozens of Thanksgiving traditions in the United States, which isn't shocking considering the holiday has survived since the pilgrims decided to call North America home. More modern traditions include the Macy's Thanksgiving Day Parade, breaking the wishbone, watching (and playing) football and feasting, according to National Geographic Kids.
No matter how you choose to celebrate, there are a few Thanksgiving side dish staples most people just can't live without. While each family will have a variation or something to add to the list, yours might include:
Mashed potatoes
Cranberry sauce
Yams and marshmallows
Green beans
Buttered rolls
Stuffing
Corn
Squash
Even if you have a favorite (or two) from the list, do you know which one you identify with the most? Take the quiz below to find out which side dish you are, and be sure to enter to win a Minky Couture blanket!
×