Estimated read time: 6-7 minutes
This archived news story is available only for your personal, non-commercial use. Information in the story may be outdated or superseded by additional information. Reading or replaying the story in its archived form does not constitute a republication of the story.
This story is sponsored by KSL Jobs. Be job-timistic – Exciting opportunities available now!
Need help hunting for work? We reached out to the owner and founder of landjobsfast.com, Bobby Macey, for the best tips on how to find your new dream job.
Gone are the days of submitting resumes blindly and hoping for a callback. The truth is, you need to level up your strategies if you're going to stand out among the competition.
These five suggestions will help you do just that. So hold on to your stretch khakis, and let's dive in.
1. Use LinkedIn daily, but differently than you think
If you're searching for a job and not using LinkedIn, you're competing with one arm tied behind your back. LinkedIn is a highly underutilized resource for job hunting.
To fully understand why LinkedIn is so powerful, let's look at their user metrics. LinkedIn currently reports 610 million users, with 303 million being active monthly users. Of those 303 million, 40% log on to the platform daily.
Daily!
There are countless ways you can use the platform wisely, including doing searches to find influential people at companies you're targeting, viral comment hacking (a strategy I discuss in my free guide), and many more. But in my opinion, the best way to draw positive attention to yourself on the platform is by creating content regularly.
I can tell you with certainty that the vast majority of those 303 million active monthly users aren't creating content daily, which means if you are, you'll have the chance to reach a much larger audience than you think.
LinkedIn is currently a content deficient platform. There is a demand for good content.
You may be asking yourself, "What type of content would I create to post daily on LinkedIn?" Good question. Here's a simple exercise to help you brainstorm ideas.
When you first meet someone and you tell them what you do for work, what do they ask you about your job or industry?
Make a list of the questions you get asked regularly about your line of work (a personal FAQ database of sorts), then create content addressing those questions. It can be a simple text post, text + image, or a video.
You may feel indifferent posting at first, but I promise there is someone out there that will find value in your content.
Here's an example from my own profile. At the time of this example, I had just shy of 2,800 connections on Linkedin. This post reached 2,867 people in my feed, and all I did was ask for some advice.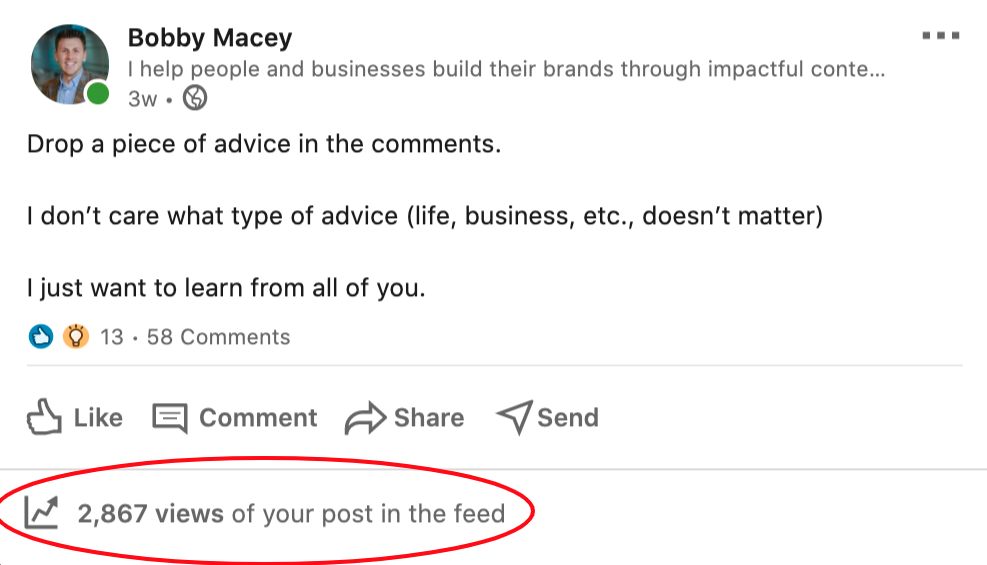 So, what's the takeaway?
It's that you have an opportunity to get thousands of people thinking about you for at least a split second during the day. You are staying top-of-mind, and when you manage to do that consistently, opportunities present themselves.
Here's one more example from my personal life. Before becoming self-employed, I used this same strategy on LinkedIn and didn't apply for my last three jobs. I was recruited each time because I was drawing positive attention to myself.
Can you guess what I do on LinkedIn now to help garner new leads for my business? You nailed it. I create content daily.
Want to really take your LinkedIn profile to the next level? Download my free LinkedIn Secrets guide. You won't be disappointed, I promise.
2. Find almost anyone's email address
If you're serious about landing a job at a particular company, but don't have solid contacts there, you can still be crafty and creative when it comes to getting a hiring manager's attention.
First, you must identify someone with a job title that appears to be a decision-maker, preferably in the department you are targeting. Next, use Hunter.io, a free tool to find an email address for that individual. It's uncanny how well this works.
The free version allows for 50 searches per month so it's very useful for job seekers who are trying to find the right person to connect with at any given company.
Once you have that person's email address, your job is to make a splash and get their attention.
3. Using video messages to connect on an entirely new level
When you have an email address of a decision-maker or are connected with them on LinkedIn or in another way, it's not going to be enough to shoot them a quick written message.
Do you know how many emails people like that receive every day? Too many. The last thing they want is another mundane email from someone they don't know.
In lieu of a written email, use a service like Loom to record a short video of yourself, then send it to them via email or direct message on LinkedIn. Loom is extremely affordable and allows you to record yourself in a variety of ways from your webcam.
The absolute best part, however, is that Loom auto-populates a GIF preview as a thumbnail for the video, causing intrigue with the intended audience. It also tells you, the creator, when someone has watched the video, so you'll know for certain whether or not they've seen it.
Someone I recently coached just used this exact strategy to land an excellent job at a company he'd previously applied at three times. Never before had he even landed an interview. This time, he landed the highest paying job of his career.
Loom is also ideal for follow-up messages after you've interviewed. It lends itself to many uses and will give the viewer something to remember you by.
4. Leverage sites like KSL Jobs to get a feel for who is hiring
Half the battle of smart job searching is knowing who is hiring. Many Utah and Idaho companies post job listings on KSL Jobs, so it's extremely useful if you want to keep your search to this region.
Leverage the filtering options on KSL Jobs to refine your search so that you are shown only relevant jobs. This will help you avoid a lot of unnecessary scrolling, saving you time and energy.
Click on the advanced options to filter on a deeper level. For example, if you are only interested in remote marketing jobs, you can filter by companies willing to hire remote workers.
Once you've found a listing you're excited about, leverage the other techniques from this article to set yourself apart and grab an employer's attention.
5. Work with an advisor to land a job
If you've applied all the other techniques and haven't landed a job yet, it may make sense to work with an advisory company like Labtuit to help coach you on a deeper level and connect you with roles your personal network just doesn't reach.
Companies like these will really help you hone in on your self-marketing, interviewing skills, and help you to become more polished as an applicant. But there's a downside—you'll definitely pay for it in the long run. They often require an upfront fee then a percentage of your first year's salary when you accept an offer.
If you want to work for a renowned worldwide company, it may not be such a bad idea. But if you're hoping to stay local, this probably won't be a fit for you.
There you have it, five tips to help you land a job fast in today's market. Whatever you do, don't give up. Practice these principles and little by little, day after day, your efforts will compound and you'll secure employment.
×
Most recent News stories