Estimated read time: 5-6 minutes
This archived news story is available only for your personal, non-commercial use. Information in the story may be outdated or superseded by additional information. Reading or replaying the story in its archived form does not constitute a republication of the story.
With Utah seeing record high reports of COVID-19 cases and flu season around the corner, it's time to get serious about public health, according to the Utah Department of Health.
"If Utahns do not take serious steps to limit group gatherings and wear masks, our health care providers will not have the ability to provide quality care for everyone who needs it," said Gov. Herbert, as reported by KSL.
The governor has repeatedly issued pleas for the public to be more vigilant—particularly those in the business sector. In a letter to business leaders throughout the state, Herbert said, "Economically, Utah has been fortunate to fare better than most states, but we still have much to do toward recovery. In this effort, business can and must help lead our efforts."
Fortunately, the health of the economy and the health of the overall population don't have to be at odds with one another. The Salt Lake Chamber partnered with the Utah Department of Health to create the Stay Safe to Stay Open campaign, which aims to raise consumer confidence and instill a culture of safety throughout the workplace so businesses can remain safe and open.
But businesses aren't the only ones responsible for the health and wellbeing of the general population—consumers have a significant role to play as well.
To ensure the health and safety of yourself and everyone around you, here are five things you should look for before walking into any Utah business.
Opportunities for social distancing
You've heard it a million times, but when the state is experiencing high levels of transmission, it bears repeating. One of the most important ways to stay safe is to stay socially distanced from groups outside your immediate family in public places. This is especially important in restaurants, movie theaters, or other venues where larger groups of people are gathered.
Many businesses have started offering curbside-only options or limiting the number of people allowed in their establishments at one time to minimize risk. While it may feel tiresome to wait in a long (and socially-distanced) line, this is a good sign that the company takes your health and safety seriously.
Good ventilation
The World Health Organization states that proper ventilation is an important factor in preventing the virus that causes COVID-19 from spreading indoors. While an outdoor venue carries the lowest risk, those options will become more limited as the colder weather moves in. This is when you'll want to use your best judgment. Avoid tightly enclosed spaces where social distancing may be difficult.
According to an article by Business Insider, there are two types of ventilation: natural ventilation and mechanical ventilation. The first is easy to spot because there will always be a visible connection to the outdoors—an open door, window, or atrium, for example. Mechanical ventilation is more difficult to see. But if you're feeling dizzy, drowsy, or uncomfortable, that may be a sign of poor ventilation.
Proper sanitation
In 2020, the bar for sanitation is set pretty high. Businesses should be regularly cleaning and disinfecting high-touch surfaces and providing hand sanitizer that's readily accessible. Restrooms and other facilities should also be kept in good shape. In Salt Lake City, the mayor's office guidelines state that businesses should be cleaning and disinfecting restrooms at least twice daily.
Employee behavior
Of course, one of the most telling things to look for will be employee behavior. Make sure they are wearing masks, maintaining distance where possible, and following recommended health and safety guidelines. If you have concerns, don't be afraid to kindly speak up—you may be helping to prevent the spread of illness for someone else.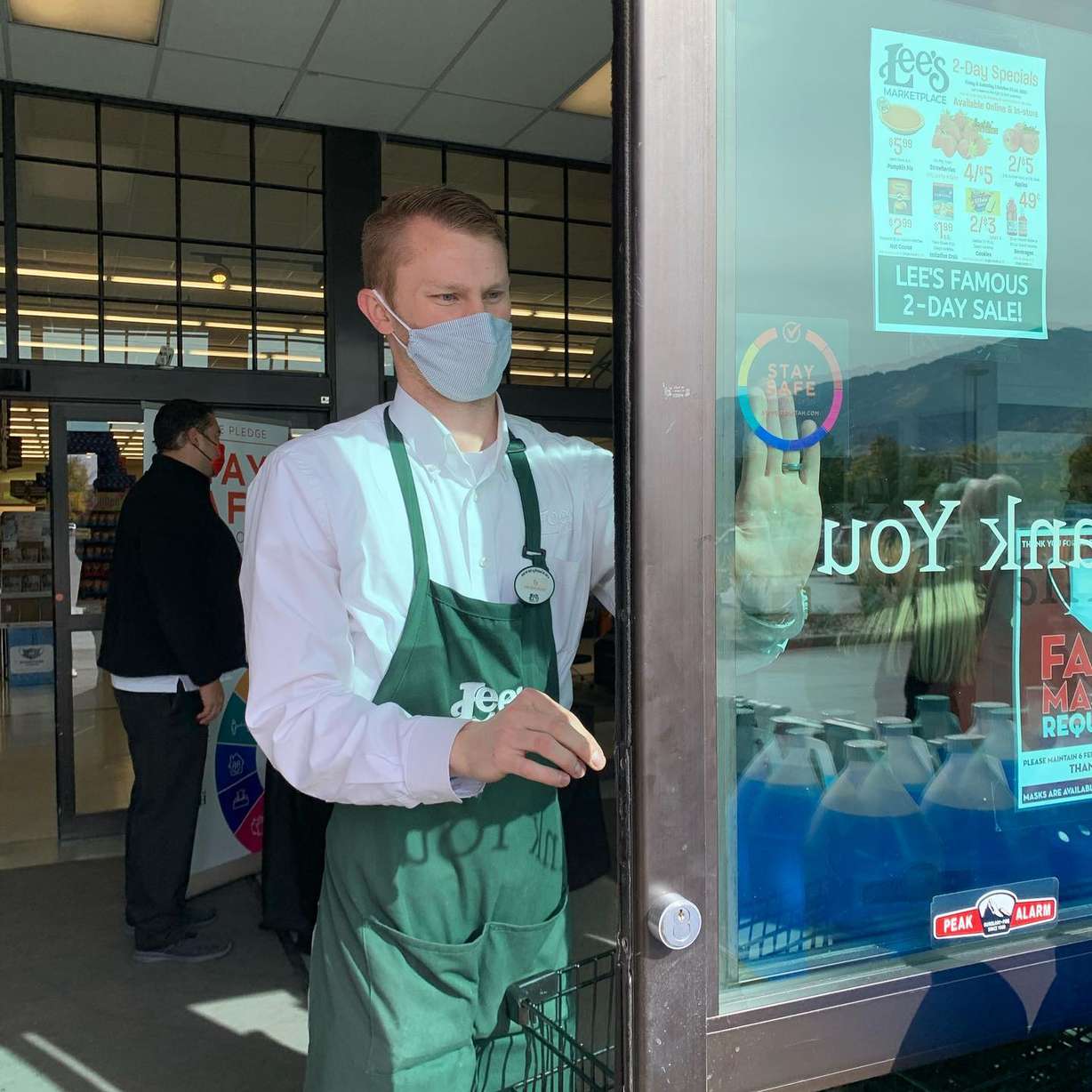 Look for the sticker
The last thing to look for is the easiest. Businesses that take the Stay Safe to Stay Open pledge can post a sticker on their establishment that will easily identify them as a safe place to visit. This signage indicates they are following seven health habits outlined in the Utah Leads Together plan.
In a public address to business owners throughout the state, Gov. Herbert praised those who had already taken this step and hoped many others would join.
"As (consumers) see the Stay Safe to Stay Open seal of approval, they can be assured that that business is following guidelines from the Utah Department of Health, instilling the confidence they can shop here safely," says Herbert. "Today we're asking all business leaders across the state of Utah to sign the pledge. We look forward to everyone stepping up and joining this campaign."
Holding businesses accountable for public health and safety
While many businesses are doing their part, there is room for improvement. Consumers have a duty to hold establishments accountable by expecting them to adhere to health and safety guidelines.
If you're wondering whether a business is safe to visit or not, check the Stay Safe to Stay Open directory or call ahead and ask what precautions they're taking. Encourage business owners to take the pledge if they haven't already. By working together, Utahns can ensure that businesses thrive and people stay as safe as possible until the pandemic passes.
For more information, visit stayopenutah.com.
×
Most recent News stories
More stories you may be interested in