SALT LAKE CITY — The tight end position group has forever changed football, particularly as an option in the passing game. But it wasn't until the turn of the century where the tight end become a consistent receiving staple in offensive schemes, and it's only continued to grow from there.
In 2011, for the first time in NFL history, five of the 15 players with the most receptions were tight ends. Prior to that, only one or two would occasionally rank near the top of the most receptions in the league — 2019 had three tight ends ranked in the top 15.
The tight end is now celebrated, flaunted, and has often become a star of a franchise — guys like Rob Gronkowski or Travis Kelce have become household names familiar to even casual football fans. Last weekend, the NFL gushed over its tight ends on a faux holiday dubbed "national tight end day." The position group was in the spotlight as highlight after highlight flashed across the screen from one tight end to another making big plays for their respective offense.
The group hasn't become popular just because they've been added as a sixth or seventh body to the offensive line; it's all about the bigger-bodied athletes becoming a threat in the receiving game.
Collegiate football has a more watered-down look, in terms of tight ends filling out the top spot in total receptions, simply due to the sheer number of Division I programs. But the recent popularity of tight end play has taken hold more prominently in the collegiate ranks, as well, and the University of Utah football program is all in on tight ends having a dominant role in the offensive schemes.
"As you look at the NFL, you see a lot of teams utilizing two or more tight ends in their offense," Utah tight end coach Freddie Whittingham said. "Last year in the Super Bowl, we saw both the (San Francisco) 49ers and the (Kansas City) Chiefs doing a lot of that, and it seems to be kind of a trend now to use more tight ends. Ten years ago it was the spread, and now you're seeing more than 12 personnel, and even 13 personnel out there on the field on Sundays."
Freddie Whittingham's brother, head coach Kyle Whittingham, agrees. The position group has become "more en vogue" over the years as many teams transition from the once-popularized spread to an offense that features one or more tight end in its regular rotation.
"For a while there they didn't disappear, but they were nowhere near as prevalent when people were going a lot of four wides. But now the personnel groups have changed a little bit; you're seeing a lot of tight end sets, both in the professional level and the collegiate level," Kyle Whittingham said. "We certainly have gotten a lot of mileage out of our tight ends."
It's all about the mismatch.
"We go against linebackers — they can't guard us; (we) go against safeties — we're a lot bigger than them. So, I think it's just a mismatch game," tight end Brant Kuithe said. "Plus, when we're in the game we can either run the ball or pass the ball. If you're in spread, there's not much running going on because you have a lot of receivers. And even though they can block well, you can't really get an inside zone or really much of that like with the tight ends you can do."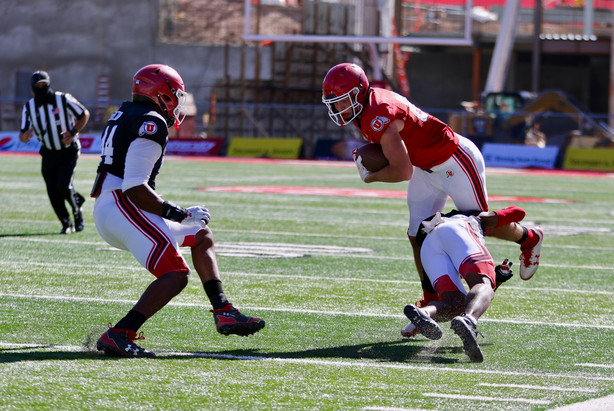 Kuithe has become one of those household names at Utah. The 6-foot-2, 230-pound junior from Katy, Texas, emerged as Utah's most potent receiving option last season as he led the team in receiving yards (602), receptions (34) and receiving touchdowns (6). He's got great hands and is fast enough to elude defenders while streaking downfield for a big gain. He averaged a team-high 43.0 yards per game last season and is expected to be a big part of offensive coordinator Andy Ludwig's offensive plan this season.
"You always base your offense around the players and what they do well," Freddie Whittingham said. "And coach (Andy) Ludwig, in particular, does an excellent job of scheming and putting us in a position to be able to contribute in the passing game, to break open and be able to catch the ball and make those plays."
At Utah, that personnel has often revolved around the run game, which recently featured all-time leading rusher Zack Moss. Having one or two tight ends in the mix gave Utah much more latitude to utilize the run game while keeping its options open for a breakaway pass from one of its tight ends.
"You've got so many more options in the run game when you have a tight end on the field than when you're playing in 10 personnel — which is four wides, one back and no tight ends," Kyle Whittingham said. "I've always been a believer in the tight end position and the value of it. I know Andy feels the same way. We've got a good stable of tight ends, so you're gonna see us maximize that."
Kuithe is just one of a handful of tight ends Utah hopes to utilize this fall as it looks for mismatches in the receiving game while also adding more bodies to help in the run game. Another familiar name is junior Cole Fotheringham, who is similarly a threat in the receiving game but only got half as many targets as Kuithe last season. But don't sleep on the 6-foot-4, 245-pound junior who can not only line up and block efficiently but also make plays as a receiver.
In August, Utah welcomed Dalton Kincaid as a transfer from the University of San Diego. The 6-foot-4, 240-pound junior is already garnering NFL scouts' attention with his pass-catching abilities, according to Kyle Whittingham.
"He has adjusted fabulously, and he brings another athletic tight end with size, and he can catch the football. He's got very soft hands; that's probably his strong suit, is receiving and route running," Kyle Whittingham said. "His blocking has come along. He was not completely up to the level we needed him at when he got here, physicality wise in the run game, but he has made great strides in that as well.
"I believe he's going to be a tremendous player before finishes here."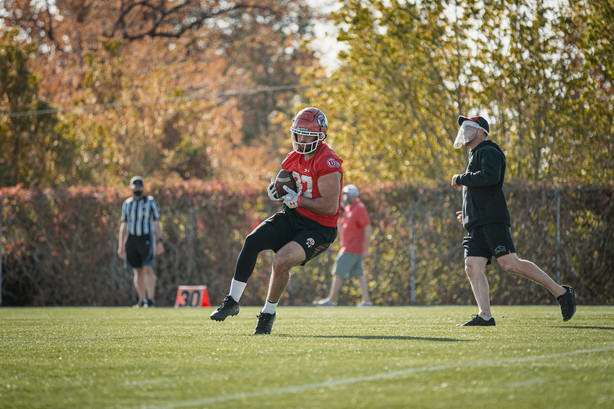 The problem is, Kincaid is not currently eligible to play this season due to NCAA transfer rules. Utah has petitioned the NCAA and will likely hear back this week on whether he'll be able to play this season, but his outlook still remains cloudy with just over a week until Utah kicks off against Arizona at Rice-Eccles Stadium.
"If he's deemed eligible, he's ready to go," Kyle Whittingham said. "He's completely ready to go and will be a part of what we're doing."
"You can never have enough good players, right? The role of recruiting is to always recruit the best players you can possibly find to join your program," Freddie Whittingham said about Kincaid. "The guys that are here welcome Dalton with open arms and have been really helpful to him in getting him acclimated to the program and understanding how we do things here. You always want to recruit the best players you could possibly get to join your program, and Dalton's come in and he's done a really nice job for us."
Behind those three, whom Kyle Whittingham calls "top-tier" tight ends and the ones with the highest ceiling coming into the season, are sophomore Thomas Yassmin and senior Ali'i Niumatalolo.
Yassmin, a native of Australia, has come into his own as he's learned the ins and outs of football after never playing the game until he enrolled at Utah, and he has been one of the "the more pleasant surprises of fall camp," Kyle Whittingham said. Yassmin has three years of eligibility, so Whittingham sees him still having an impact on the team, but they don't need him to step in immediately.
And then there's Niumatatlolo, the son of Navy head coach Ken Niumatatlolo, who has played several positions for Utah after walking on to the program. Niumatatlolo was placed on scholarship last season and has since found a home in the tight end room.
"Ali'i Niumatatlolo has found a role on the team. He's going to explore certain packages that have been of help," Kyle Whittingham said.
The position group is loaded and ready for Ludwig to do what he wants with as Utah prepares for its season-opener on Nov. 7. And no matter what the tight ends are asked to do, there's talent, depth and a willingness to showcase how the tight end can be a game-changer for Utah.
"We challenge the players, the tight ends, to step up in whatever role they're asked to do, whether it's run blocking or be involved in catching balls in the throw game, to do what we need to do to be effective and to win the football game — to move the ball, to score points, and to win the game," Freddie Whittingham said. "And they've bought into that philosophy of whatever it takes, whatever our role is week to week that's what we'll do."
"I think that the sky's the limit for our offense," Fotheringham said. "I think with everyone coming back, we have a lot of weapons. And I'm excited to get after it and get out on the field and make some plays and score a lot of points."
×