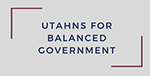 Paid ad: Utahns for Balanced Government
By now, you should have received your ballot and while you likely had your mind made up on who you were voting for in the presidential, gubernatorial and congressional races, you probably haven't heard as much about the seven constitutional amendments. There is one in particular you should pay special attention to because Constitutional Amendment G will provide the biggest boost to Utah students in decades.
Here are the top five reasons to vote for Constitutional Amendment G:
1. Guaranteed money for schools
Every year, the Utah Legislature passes a state budget and, although there is a source of revenue dedicated to education, that doesn't guarantee funding for things like an increase in the number of students in the public school system or an adjustment for inflation. Amendment G changes that.
As part of the agreement to put the amendment on the ballot, legislators also passed two pieces of legislation that ensure education is the top budget priority. If voters support Amendment G, the budget process will begin with an automatic adjustment in the education budget to account for inflation and to fund the growth in enrollment. That's a big win for education stakeholders and for Utah students.
The head of the Utah Education Association (UEA), Heidi Matthews, wrote in the Deseret News earlier this month, "For decades, Utah teachers have managed to eke out above-average results despite having the nation's lowest per-student funding. Teachers, probably better than anyone else, recognize what additional funding could do for our students. Yet, under the current system little has changed. We've made modest progress in recent years, but we are still nowhere near providing our students the level of education we could with adequate funding. We must do something different if we expect different results."
---
Insanity is doing the same thing over and over again and expecting different results. We must do something different if we expect different results.
–Heidi Matthews, president, Utah Education Association
---
2. No tax increase
Amendment G does not raise taxes. As the head of the Utah Taxpayers Association, Howard Stephenson, a former state senator himself, wrote: "As a member and sometimes chair of the Public Education Appropriations Committee during my 26 years in the Utah Senate, without question, the most difficult challenge we faced was the task of cutting school district and charter school spending during economic downturns. Following the 9/11 recession, we had to cut $110 million from public education funding and it took three years before we were able to restore funding to its previous level. But the Great Recession triggered by the 2008 collapse in the housing market, forced our committee to cut a whopping $787 million from public education. It took nine years to restore funding to the 2008 level of $3.6 billion. Constitutional Amendment G, if approved by voters will ensure that these types of funding cuts will never happen again."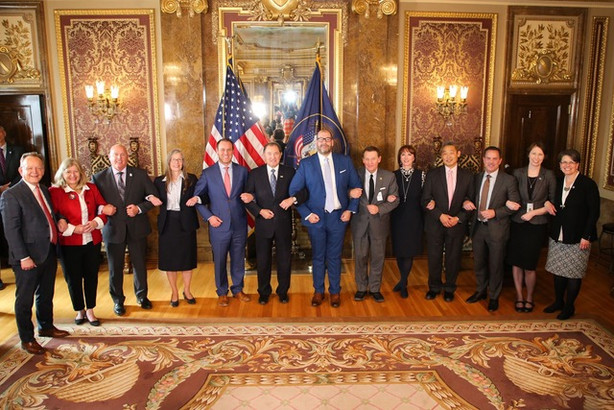 3. Broad support
The process of crafting Amendment G was inclusive and collaborative. Lawmakers worked with education stakeholders to get the policy right and consider each group's important perspectives. Amendment G and its accompanying legislation have broad support including Governor Gary Herbert, the legislature, business leaders and the education community. That group included:
Utah State Board of Education
Utah Association of Public Charter Schools
Utah Public Employee Association
Utah School Boards Association
Utah Superintendents Association
Parent Teacher Association (PTA)
Utah Education Association (UEA)
In a show of solidarity, when the agreement was announced, leaders of the groups that worked together on the policy locked arms and stood shoulder to shoulder in the ceremonial Gold Room at the State Capitol.
"Throughout the process, we were impressed with how everyone fought for Utah students and not against one another," said Representative Mike Schultz (R, District 14) and Senator Dan Hemmert (R, District 12). "That's not something you find very often outside of our state."
4. Considers the whole child
The science behind how we teach students has improved education outcomes over the past several years. Educators know there are factors outside the classroom that have a significant impact on a student's ability to learn.
Amendment G would broaden the use of income tax to cover some services for economically disadvantaged children and persons with disabilities. These programs include things like providing eyeglasses for children in need and ensuring students have food, so they don't have to try and learn on an empty stomach, just to name a few.
5. Stabilizes funding
Historically, income tax is one of the most volatile revenue streams. Over the past several years, in a booming economy, funding for education has increased. However, Utah saw a 12 percent peak in 2007, followed by a combined 19 percent decrease in 2009 and 2010. More recently, we've been reminded of how an economic downturn (caused, for example, by a global pandemic) wreaks havoc on the state budget. Strengthening the protections for education funding is even more essential now than ever before.
Under the new system, income tax revenues will still be dedicated to education and protected by the State Constitution. The state will reserve a portion of ongoing revenue to meet future educational needs with a newly-created, ongoing public education budget stabilization account. The goal is to have enough money in reserve to sustain education through a 24-month downturn in the economy. Giving teachers and students a protected source of funding has been and continues to be an important priority. Amendment G provides security and stability for Utah's dedicated teachers and students.
Join teachers, parents, student advocates, elected officials and business leaders in doing what is best for Utah students. Vote yes on Constitutional Amendment G.
More information is available at AmendmentG.com.
×