SALT LAKE CITY — The Pac-12 released its six-game schedule for the season early Saturday morning, a week after the conference officially announced a return to play this fall as the last Power Five conference to opt back into a season.
Locally, the University of Utah will open up the season at home against South Division opponent Arizona on Nov. 7 at Rice-Eccles Stadium. Utah then travels to Pasadena, California, to take on UCLA in a Friday night matchup against the Bruins. The Utes will play its toughest part of the schedule in Game 3 and 4 as they welcome USC to Rice-Eccles Stadium on Nov. 21 and then on the road against Arizona State on Nov. 28.
Utah will play Oregon State in its cross-divisional matchup at home before closing up the season on the road in a Friday night matchup in Boulder to face Colorado in a potentially snowy game.
Broadcast partners for the season have yet to be determined but will likely fall into a similar 10-day window grace period ahead of each game. The games will be broadcast on ABC, ESP, ESPN2, ESPNU, Fox or FS1.
Each team in the conference will play only conference opponents in a shortened schedule this fall, including all five division opponents in a round-robin style of play, and a sixth cross-divisional matchup that will count toward the overall record to win one's respective division. The North and South division champions will meet up in the conference title game that will be hosted at the higher-seeded team, with all other teams seeded based on record to play a seventh and final game of the regular season.
The Pac-12 will open up the season with a key South Division matchup as Arizona State will travel to USC to play in the Coliseum on Nov. 7 at 10 a.m. on Fox.
Prior to the schedule release, Pac-12 athletic directors worked to create a somewhat equitable schedule and one that didn't unfairly disadvantage one team over another in its cross-divisional matchup, though there was no guarantee such opportunity could exist without at least one program being forced to play the conference's supposed best.
The conference will kickoff its opening weekend of play two weeks after the Big Ten, which previously postponed its season before opting back into a season a week before the Pac-12 made its announcement, opens up its season on Oct. 24. The Pac-12 was rumored to have wanted to have some teams to start in a staggered return beginning on Oct. 31, but the conference ultimately chose to begin the season in unison and wait until November.
"We would have been thrilled to be able to play a week earlier or probably play two weeks in advance but not everybody was in that same boat," Utah head coach Kyle Whittingham told media earlier in the week.
"Sooner the better for us."
Still, Pac-12 Commissioner Larry Scott is confident his teams should still be eligible for the highly coveted four-team College Football Playoff because there is "no minimum game requirements" to be eligible.
"The schedule announced today is highlighted by exciting and tough matchups that will showcase the depth of our conference and position our teams well for CFP consideration and postseason bowl opportunities," Scott said. "Importantly, our return to football competition will continue to place the health and safety of our student-athletes and all those connected to Pac-12 football as the highest priority."
The playoff selection committee will make its picks of the four best teams in the country on Dec. 20. Earlier this week, Scott made a push to expand the playoffs to eight teams this year, but the request was shut down as the body opted to stay with a four-team look. The two playoff hosts this season will be the Rose Bowl and Sugar Bowl.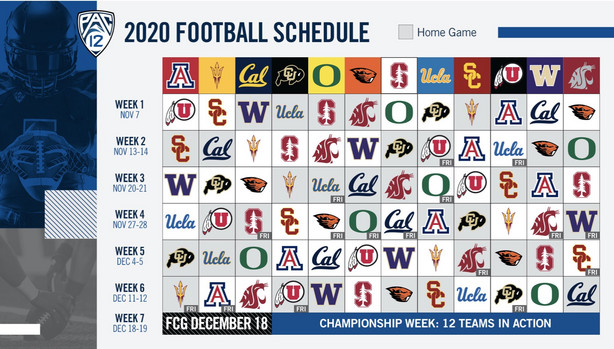 ×
Photos