Estimated read time: 4-5 minutes
This archived news story is available only for your personal, non-commercial use. Information in the story may be outdated or superseded by additional information. Reading or replaying the story in its archived form does not constitute a republication of the story.
Everyone deserves to feel comfortable in their own skin. But even something like a small mark, slight discoloration, or a few wrinkles on your face may be adversely affecting your self-esteem.
That's why the cosmetics team at the University of Utah's Department of Dermatology is working to break down stereotypes surrounding cosmetic services. As part of one of the largest dermatology departments in the country, their healthcare providers are highly specialized in every aspect of skin health.
But they believe outward appearance is secondary to the way patients feel.
"In an industry that can hyper-focus on the superficial, we strive to be different. We do this by meeting our patients where they are at, without preconceived notions of how they should look, instead focusing on the barriers restricting them from looking and feeling like their best self," says Matthew Walker, Aesthetics Manager at Midvalley Health Center.
"Our mission is simple: to empower our patients and community to have the confidence to show the world their best self."
So if you're looking to enhance attributes to feel more confident, age gracefully, or regain a youthful appearance, the U's cosmetics team can help. With strong pillars in education, research, and personalized healthcare, they are consistently striving to blend tried-and-true treatments with the most cutting edge cosmetic technologies. This allows them to see and treat a vast array of concerns—from severely disfiguring burn scars, to years of sun damage, to a single age spot.
And if you plan on attending this year's Virtual Cosmetic Open House, you might be their next patient after seeing what they have to offer.
Cosmetic services
The department offers more than 70 unique treatments and aims to provide options to fit all needs, desired results, and downtime. Service categories include injectables, laser (pigmentary & resurfacing), esthetician services, body contouring, and skin surgeries.
For a full list of the most popular treatments and services, click here.
Providers
This year's lineup of board-certified dermatologists and master estheticians for the open house include Dr. David Ross Smart, Dr. Erika M. Summers, Dr. Adam Tinklepaugh, Dana Rice, and Breena Shepherd.
Dr. David Ross Smart is a board-certified dermatologist specialized in laser and cosmetic dermatology and an assistant professor in the Department of Dermatology. His patients enjoy optimal outcomes through personalized treatment plans following a variety of cosmetic therapies.
Dr. Erika M. Summers is a board-certified dermatologist with specialized expertise in laser and aesthetic dermatology and an assistant professor in the Department of Dermatology. In addition to creating comprehensive treatment plans for a vast array of patient procedures, Dr. Summers also trains dermatology residents at the U.
Dr. Adam Tinklepaugh is an assistant professor in the Department of Dermatology at the University of Utah School of Medicine and a board-certified dermatologist. He specializes in Mohs surgery (a tissue-sparing surgery for treating skin cancer).
Dana Rice has been with the department of dermatology for 10 years after graduating from Cameo College of Essential Beauty where she received her master esthetician license with a specialty in medical aesthetics. In addition to skin care consultations, Dana specializes in chemical peels, hydrafacials, and a variety of laser treatments.
Breena Shepherd received her master esthetician degree from The Skin Institute after receiving her cosmetology license at Snow College. She has trained other master estheticians and worked under Dr. Summers as her lead medical assistant before becoming the department's newest master esthetician.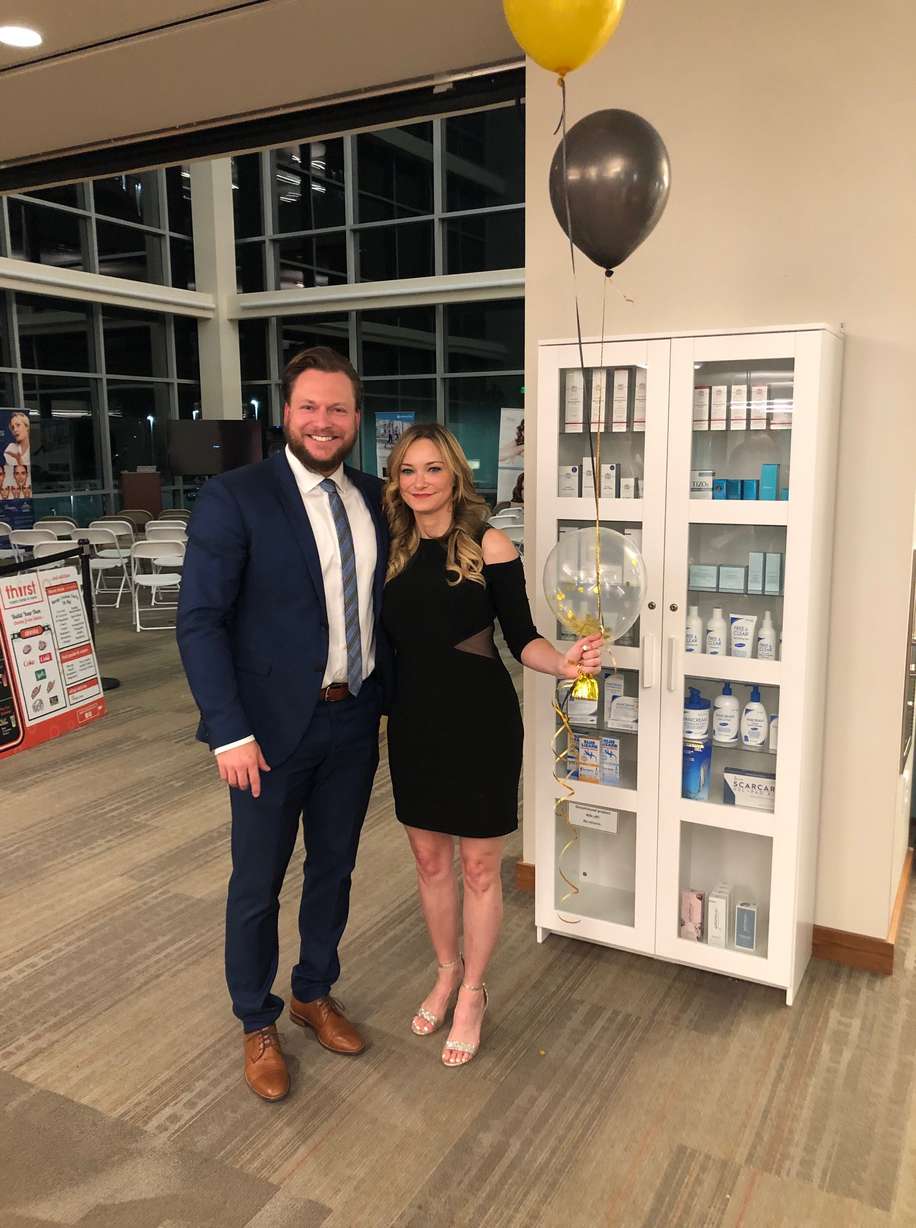 Virtual Cosmetic Open House 2020
This year marks the 4th open house event for the cosmetics department, but it's the first to be hosted virtually.
What started as a patient appreciation night has grown to the most anticipated sale event of the year. Traditionally, it would take place on a single night with catering, educational lectures by physicians, live treatment demonstrations, consultation booths, and giveaways. Due to COVID-19, the department has had to alter the format while preserving their patients' favorite aspects of the event.
Here are a few changes you can expect this year:
Extended service and product sales are available over the phone for purchase October 12-16.
A dedicated call center staffed by cosmetic experts will provide both phone and virtual consults.
Over $5,000 in treatments and products will be featured on the department's Facebook, Twitter, and Instagram pages in a giveaway raffle.
Live treatment demonstrations and educational lecture videos will be available through the website.
The University of Utah Dermatology's Virtual Cosmetic Open House 2020 will be held Monday, Oct. 12 through Friday, Oct. 16. For consults, purchases, or scheduling, call 801-213-0788 that week between 9 a.m. and 4 p.m.
For more information about the event, visit the 2020 open house website.
×
Most recent News stories