PROVO — Because of the nature of the novel coronavirus pandemic and most college football teams' attempts to play in the midst of it, BYU head coach Kalani Sitake always knew something like Saturday's postponement of the Cougars' upcoming game at Army might be a possibility.
When it finally happened, the protocols were in place to make a decision swift and rapid.
BYU didn't release how many constituted a "small number" of positive test results for COVID-19 within the program Monday, but the head football coach said he's in full support of the decision by both universities to move the game from this upcoming Saturday, Sept. 19.
"We knew this might be in the future, but there was a lot of flexibility in our schedule," said Sitake, whose team entered the Associated Press Top 25 at No. 21 on Sunday. "Unfortunately, this is part of the season this year. We're not the only ones who have had to postpone games this year.
"To me, this is a very responsible move by BYU, and I applaud it."
It may have been the right decision. But even if the thought of postponing at least one game was a conceivable reality based on the uncertainty of 2020 and a global pandemic, there were some obvious frustrations.
"There's a ton of frustration," senior defensive back Troy Warner said. "Obviously, we're all excited to play Army; they're a very good team and have shown a lot of upside. All you can do is control what you can control."
Both schools are working to reschedule the game, though Sitake deferred specifics about that rescheduling to athletic director Tom Holmoe, who rarely speaks with the local media. Army athletic director Mike Buddie took to Twitter over the weekend to solicit a replacement game, seemingly taking a shot at BYU's positive test cases in the form of a faux dating profile seeking a new game.
"Undefeated, COVID negative college football team from NY looking for like-minded, disciplined team for a date next Saturday," Buddie tweeted. "Must also be COVID negative!"
"Twitter, do your thing!"
Undefeated, COVID negative college football team from NY looking for like minded, disciplined team for a date next Saturday... must also be COVID negative!
Twitter, do your thing!

— Mike Buddie (@Buddie52) September 13, 2020
In the meantime, BYU will turn its attention to Troy, where former Cougars offensive line coach Ryan Pugh is the offensive coordinator. But with two weeks of practice, in addition to five days last week after returning from Navy, the Cougars will take several extra precautions — which appear to be much-needed.
BYU will only practice in small groups of 10-15 players, mostly in position groups, and coaches won't be allowed to move from group to group for at least the next week. It's not ideal, but Sitake stressed that the modifications are designed only to press "pause" on some parts of the season, not "stop."
"We get to still play," he added. "I have a lot of friends that aren't playing right now. There are a lot of great football players that are not playing right now. I know their frustrations, and right now we have it on hold."
His players agreed.
"We have a lot of gratitude to be able to play right now," center James Empey said. "The fact that we get to still play football is all the motivation we need.
"We're willing to do anything we need to do to keep that up."
Sitake's not in charge of the schedule — he was just as surprised as anyone when the Cougars announced a home game for Friday, Oct. 2 against Louisiana Tech just minutes before he was to meet with the media. But he said rescheduling the game with the Black Knights should be pretty easy if both teams want to play it.
"That's Tom's department, but I looked ahead of it, and it doesn't seem too hard to me. We want to play them. Army's a great team," Sitake said. "We have an opening on Nov. 28 and Dec. 5, and so do they. It doesn't seem like it's that hard."
Either game would take place in the two-week break before the Black Knights' annual Commander-in-Chief's Trophy finale against Navy on Dec. 12.
From BYU's perspective, the challenge moves to the Trojans and the first of seven home games on the Cougars' 2020 schedule, with the recent addition of Louisiana Tech. But that preparation also includes reiterating BYU's long-held standards for coronavirus prevent and limiting the spread of the virus, including among asymptomatic carriers.
Sitake said most of BYU's players who have tested positive — including the "small number" who did so last week — did so without exhibiting symptoms. While those who have tested positive are receiving medical care and attention while they recover, more members of the Cougars' program — from players to coaches to staff and other personnel — may be required to isolate for up to 10-14 days from the moment of projected initial contact with the virus, per current CDC recommendations.
"What complicates things a little more is that the majority of our tests have been asymptomatic," Sitake said. "When you're looking at how many people this could infect, the mindful thing to do is to postpone this game and get a jump on it. I feel confident that we have done all the right things, including this decision to postpone the game."
New Game Added
BYU campus policies include the use of face coverings — similar to a mask ordinance recently passed by the Provo City Council — when in public spaces where social distancing isn't possible, as well as indoors. Many courses have been moved online — several football players are taking an all-online schedule in the fall — and players are even encouraged to live with teammates to shrink their bubble (those who aren't married, which is a significant portion of the 123-man roster).
Masks are required when entering and exiting practices, walk-throughs and team meetings, mandatory temperature checks are in place, and the players are tested three times a week using saliva-based testing.
But this weekend's postponement is a signal to the Cougars that even greater enforcement is needed.
"I think one thing we're learning about COVID is that we gain new information on the fly," Warner said. "It's important that we all try to figure out ways that we can better handle what we're dealing with this year.
"It's important that we take it in and do what is best for the team in order to play this season. We've just got to roll the punches, and implement them in our daily lives."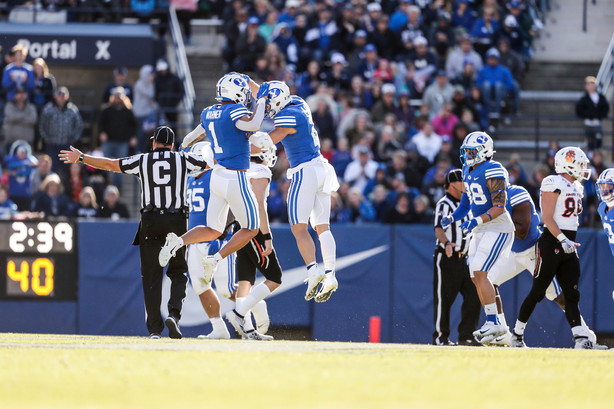 The same could be said of everyone in Provo.
Utah County has reported 13,330 confirmed positive cases of COVID-19 through Monday, the second-highest total in the state behind Salt Lake County's 26,255. That includes 536 hospitalizations — many of which are treated just off BYU's campus at Utah Valley Hospital — and 53 deaths.
Utah state epidemiologist Angela Dunn confirmed Monday that 39% of new cases since Friday have come from Utah County, most of them from college-aged young adults in the 14-24 age bracket. The county only accounts for around 20% of Utah's population.
"We are experiencing a clear upward trend in case counts right now. This trend is being driven, in large part, by an increase in cases among college-aged young adults in Utah County," Dunn said. "Colleges across the state, and specifically in Utah County, have acted proactively to implement solid prevention measures on their campuses. They need help from their students to act responsibly while off campus. What students do off campus has a direct impact on a school's ability to safely operate their campus.
"People should avoid large, indoor gatherings where physical distancing is not possible. They should wear face coverings in public, they should stay home if they are sick, and they need to follow quarantine and isolation instructions from public health."
Sitake said he isn't aware of any of BYU's tests being linked to any off-campus parties, such as the heavily-publicized events held every Friday by a company called Young/Dumb and organized through social media.
His players and coaches have received strict "education" of ways to be mindful of their surroundings, limiting contact with anyone outside of the program, both on and off campus.
But a lot of it comes down to individual players' actions, too.
"I think what BYU is doing is great," Sitake said. "We test three times per week, and when you test it and get these positives, you have to respond accordingly."
The former BYU fullback who graduated in 2000 with a bachelor's degree in English then quipped about "parties" and "BYU," an attempt at humor for which he's been known to bring in media settings.
"I can't believe that BYU is throwing all these parties. Where were they when I was a student?" he jested, rhetorically. "I like to dance."
Naturally, that's hardly the Cougars' focus now, though. They still have a game and a season, beginning next week — and now a group of players who have tested positive for COVID-19 who may need additional care.
"When you get COVID, it's a very unfortunate situation — especially when you are doing all the right things," Warner said.
"At the end of the day, you can still get it. All we can do is just be there for them, and pick them up when it's needed."
×
Related Links