Estimated read time: 5-6 minutes
This archived news story is available only for your personal, non-commercial use. Information in the story may be outdated or superseded by additional information. Reading or replaying the story in its archived form does not constitute a republication of the story.
SALT LAKE CITY — In each plane cockpit there are flight instruments detailing altitude, airspeed, vertical speed, heading and other crucial information. What does that have to do with the Utah Jazz?
Dennis Lindsey has been Utah's head decision-maker since 2012 — he's never faced an offseason like this one.
When's the draft? Still to be determined after the league is reportedly delaying it again. What does that mean for free agency? Still to be determined. And what about the salary cap? After the economic impact of the coronavirus, that's a good question.
Lindsey, Utah's executive vice president of basketball operations, and Jazz general manager Justin Zanik are tasked with coming up with a plan with a lot of unknowns surrounding them.
"It would be like you jumping on the plane and the pilot (doesn't know) how to fly a plane without instrumentation," Lindsey said. "So that's how we feel."
Lindsey and Zanik wrapped up the season on Wednesday in a videoconference with local and national media. A season that was, in a word, strange. A worldwide pandemic, a social justice movement that players championed, a bubble — there will never be another like it. But zoom out enough — and the Jazz brass have — and you'll see a team that was seen as a fringe championship contender when the season began only to be bounced in the first round.
"We're all reeling from defeat and disappointment and handling defeat and disappointment is part of this league and part of growth," Lindsey said.
And so throughout all the oddities, Lindsey and Zanik's jobs are the same this year as they've always been: evaluate the team, figure out what worked and what didn't, and come up with a plan to fix the weaknesses.
"Going from good to great is really hard. And there's a lot of other teams that are trying to do the same thing," Zanik said. "We just can commit to our fans and to our groups that support us that we will stop at nothing to try and reach that goal."
One thing the duo made clear — or at least made clear as they could — was that any plan moving forward will include Rudy Gobert and Donovan Mitchell. Both players have one year remaining on their current deals and are eligible to sign extensions.
Due to league rules, Lindsey couldn't go into details about negotiations (and due to the fact the salary cap hasn't been set he's not even sure what the numbers will even be yet), but he heavily implied that the team plans on locking up their two cornerstones for the long term.
"We're extremely pleased at who both of those players are as people," Lindsey said. "It's really, really hard to get core franchise level talent in any market, big or small, but it's exponentially hard to get that level of talent that has a high level of character and competitiveness. We're looking to add players of Rudy and Donovan's physical talent and competitive makeup. So by definition, we are going to want to keep those type of players moving forward."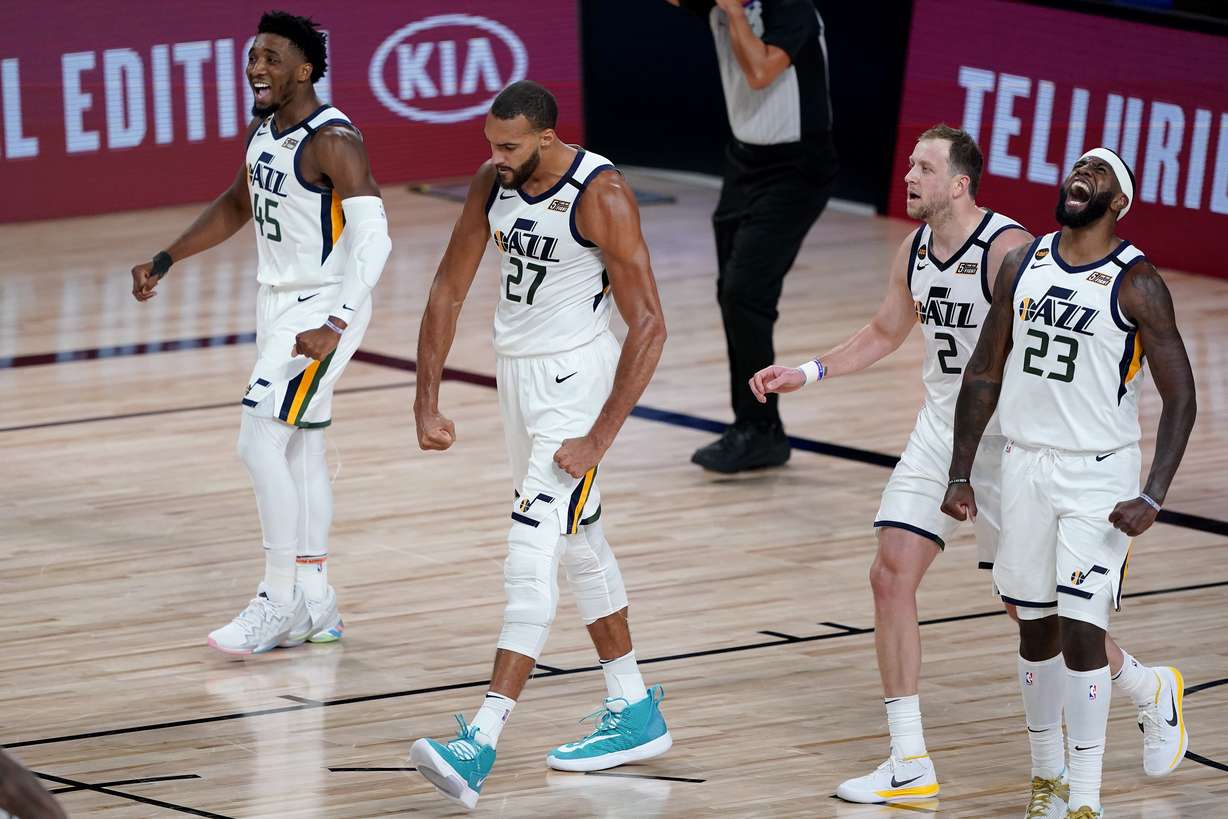 Opposed to last year, widespread changes aren't expected. The Jazz are happy with Mike Conley alongside Mitchell in the backcourt, Bojan Bogdanovic is an elite second option (and the Jazz brass pointed out how much he was missed late in games during the short-lived playoff run) and the thing Utah went out to fix last year, 3-point shooting and spacing) was indeed fixed. Utah was the best 3-point shooting team in the league and Gobert kept them at least respectable (at least most of the time) on the defensive end.
Utah feels the core is there — Mitchell, Gobert, Conley, Bogdanovic (and to a lesser extent Joe Ingles, Royce O'Neale, and midseason acquisition Jordan Clarkson, who is a free agent but the Jazz want to bring back) — to have an elite team. What's left then is to round out the roster.
Ed Davis and Jeff Green, who were both brought in last summer to provide depth, were flops. Green was waived and Davis didn't play a significant role after December. Then Emmanuel Mudiay proved to be unplayable in the playoffs. That all led to the Jazz counting on Georges Niang and Juwan Morgan for key minutes in playoff games — not what Lindsey and Zanik envisioned at the season's beginning.
The Jazz wanted "snipers at any position" Lindsey proclaimed after last year's playoff loss to the Rockets. For the most part, they got them. But while he didn't explicitly say the Jazz overcorrected by replacing what had been a team built around an elite defense with one designed more to outscore opponents, he's hoping to bring a little defensive edge back this offseason.
"We lost some defensive integrity, some activity, some deflections, blocks, steals with last year's roster compared to this years, so it's an adjustment," Lindsey said. "But anybody who can have defensive integrity at their position — can be an active athletic defender — will be someone that would be of interest to us, especially if they don't compromise the spacing."
So that's who the Jazz will be looking for this offseason. Utah has the draft, the midlevel exception, and the biannual exception, then veteran minimum deals and internal improvement to find more depth.
"We've got to look at every opportunity," Zanik said.
But the plans, as of now, are preliminary. They, like the rest of the NBA, are still waiting for all the details. They're waiting for the flight instruments to come on.
×
Related stories