Estimated read time: 8-9 minutes
This archived news story is available only for your personal, non-commercial use. Information in the story may be outdated or superseded by additional information. Reading or replaying the story in its archived form does not constitute a republication of the story.
SANDY — Nedum Onuoha has experienced racist remarks and actions before, perhaps worse than in the United States and Major League Soccer.
It doesn't make it right, but it has made him a bit thick-skinned.
But what he saw a few months ago in Minneapolis, when George Floyd was killed while under the watch of a group of police officers, made him shed tears. He called it "a big wake-up call," seeing the tragedy that afflicts too many Black families in the United States.
When Jacob Blake was shot in the back by officers in Kenosha, Wisconsin, he was sickened again.
And that was too much. As much as he loves soccer — football, as the one-time England international still calls it — it's just a game. Real life has to take precedence.
"I cried for many reasons, but you look at it, and that could be me regardless of wherever I'm from," Onuoha said. "That's really troubling because I live my life here the same way I did when I was in the U.K., because I've got to be completely honest about that, in a way which is different to the lives of most of the people I sit around."
That's why Onuoha, a 33-year-old native of Warri, Nigeria, who is Black, was at the front of a player-led movement Wednesday when five of Major League Soccer's six regular-season matches were postponed in protest of racial inequality. The decision followed similar boycotts in other leagues, beginning with the Milwaukee Bucks and the NBA, to the WNBA, to professional tennis.
The move was publicly supported by the club via official channels, but criticized by RSL owner Dell Loy Hansen during a radio interview early Thursday morning.
"The sad part, as you know, is I'm very supportive of an inclusive, fairly liberal agenda," Hansen told X96, which is owned by his Broadway Media company. "That is who I am. I've been very supportive of that. But maybe that agenda has gotten so far that we're pushing all sides of society who would love to support an inclusive society. But then when you do that, the fact of saying because you're so accommodative or caring, that you can be easily slapped. I take it as a profound slap at our community value structure, of trying to build an organization that develops youth, supports the community through our foundations, that reaches to employ 250 people here."
Onuoha told BBC World Service that he no longer wants to play for a Hansen-owned team.
"I don't want to be here because I'm not here to play for someone who isn't here to support us," he said.
"We are trying to create a bigger conversation but a lot of the people who are in power don't empathise or sympathise or do anything. They are more concerned with themselves."
In a follow-up interview with ESPN 700 — another Broadway Media station — Onuoha clarified that he is not actively working to leave the club, but that those decisions could be made after he speaks with his teammates and family. RSL did not train as a group Thursday, but were tested for COVID-19 in preparation for a presently scheduled match Saturday at Portland.
Across the country, professional athletes took a step back from their day job as they tried to shift the conversation around a lot of things — race relations, police brutality and gun control likely chief among them — to one that would spark action.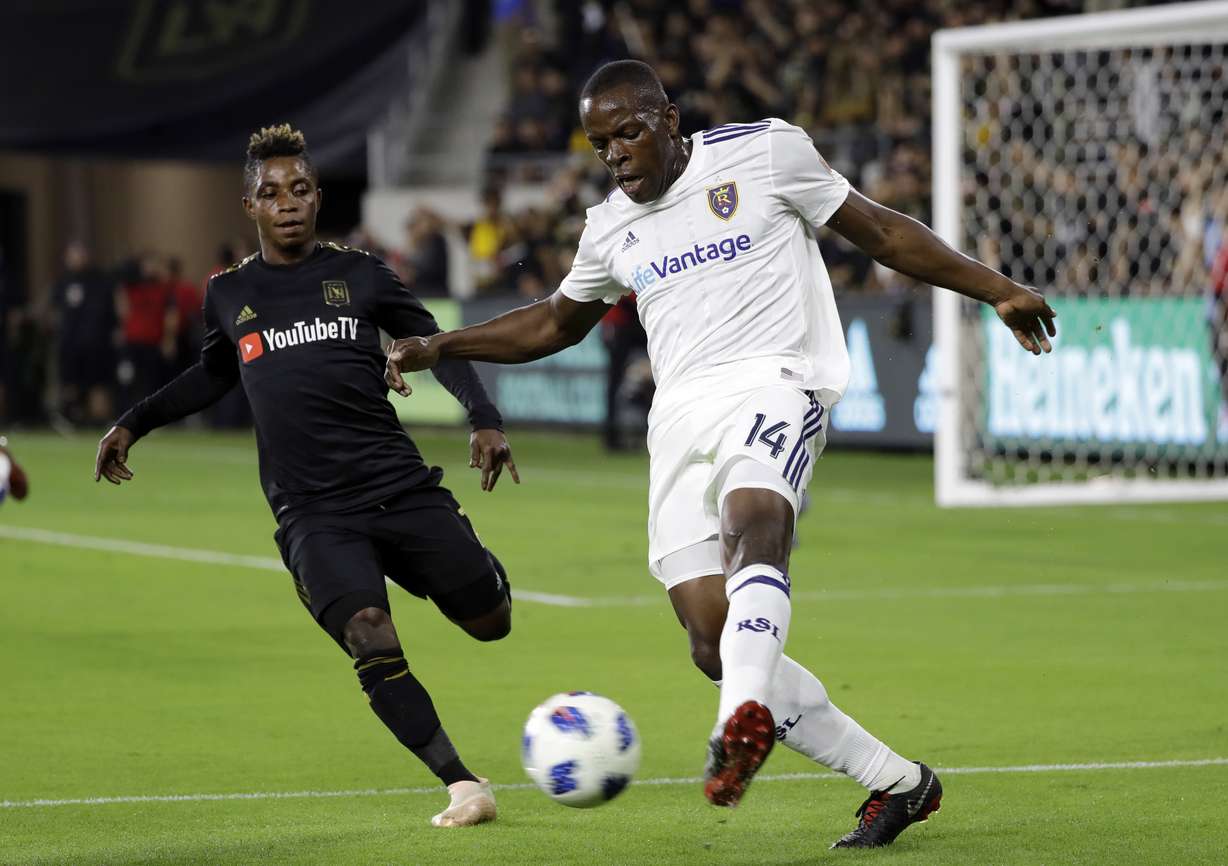 "This is one of the best countries in the world," said Onuoha, who joined Real Salt Lake in 2018 after 207 appearances with Queens Park Rangers, "but there are certain things that are fundamentally incredibly wrong, but that they're not changing. And that is the real troubling thing as a foreigner on these shores.
"You just think, 'Why aren't things changing?' The more you dig and the deeper you go, the more it seems some people just don't want it to change."
Onuoha doesn't know if Wednesday's action will be the end of a player-led boycott meant to capture the attention of an American society and political space in need of waking up. There's probably an above-average chance that RSL will travel to Portland on Saturday for an 8 p.m. MT kickoff with the Timbers, continuing a five-game regular season that was signaled "Phase 2" of the league's restart amid the novel coronavirus pandemic.
As of Thursday morning, the league had not announced plans to postpone or delay any other matches.
"I don't know what the expectation will be going forward," RSL goalkeeper Zac MacMath said Wednesday evening. "I know we made a very strong statement tonight. I hope that brings upon more change but this — as we know over the last couple months — is a movement that lasts for quite a while until there's real change throughout our community."
LAFC captain Mark-Anthony Kaye and his teammates were in total agreement with Salt Lake, the players and the club, in opting out of Wednesday's match.
"We realized it was an opportunity to make some noise about an ongoing situation that no matter how much the media covers, it never goes away. It's a real problem," Kaye told LAFC's internal media team after the match was postponed.
"I think this is a good opportunity to continue the conversation. Sports are important to a lot of people and they look to us to give them the right message. So we're using our power right now, our voices right now by saying we're not going to play because it's unacceptable what's going on in the world, especially here in the U.S. It's over and over same things are happening and there's no real justice being given to us."
It's not the first time Onuoha has raised his voice for a litany of concerns. When several employees within the RSL organization, from Real Salt Lake to Real Monarchs to Utah Royals FC, were furloughed, the veteran center back led the charge to help those employees and their families through the pandemic.
What Onuoha faces in the United States isn't nearly what he saw growing up in England, where he trained in the Manchester City academy system and played for the country's U-21 national team from 2005 to 2009.
Soccer fans in Europe have a reputation for inflammatory mockery and name-calling, what many call "hooliganism" that can, at times, border on obscene, racist and homophobic. Onuoha recalled during an interview with ITV News London hearing monkey noises chanted his direction during more than one youth international game.
On one occasion, he described finishing a match against Montenegro. When he and fellow England international Joe Hart walked toward the stadium tunnel for cool-down workouts, he heard monkey noises again. He turned toward them, and saw 10 armed "security guards or police officers," who looked at him as if inviting him to have a word, Onuoha recalled.
"I wanted to defend myself after I heard it," he said in the interview. "But then when you're up against 10 armed officers a long way from home, there's nothing you can do. It was just time to leave."
Onuoha has expressed love for the club and the city he now calls home. As a smart player and person, he knows most RSL fans aren't racist, and he rarely wags a finger at any micro-aggression he's received in his time living in the Salt Lake Valley. He's almost never called attention to the worst moments, at least not publicly.
Sure, he's mentioned moments on his podcast, "Kickback with Nedum," a few times. But that's been only to prove a point, to speak up when needed, and to call attention to a problem that, unfortunately, still persists in some corners of American society. He and other players like him have spoken out, in press interviews, on social media, and through carefully crafted statements likely aided by their club's communication staff.
Those messages haven't always been heard. Or at least, they haven't been acted upon.
So on Wednesday, the players took the next step: delaying a match with LAFC — at the behest of the players, and with the blessing of both teams and MLS, which said it will work to reschedule the five matches that were postponed.
"Sometimes if you go out and protest or make a stand, you have to do it in a way which is unfortunately uncomfortable for a lot of people," Onuoha said, "but that uncomfortable nature is what a lot of people have to live through anyway on a day-to-day basis."
He also has a message for the RSL fan base — both those who join the players in fighting for racial equality, and those who haven't.
"All the fans who are with us, we really appreciate you. But even the ones who get us, we don't hate you," Onuoha said.
"I believe what we are fighting for is something everyone can believe in."
×
Related links
Most recent Real Salt Lake stories