Estimated read time: 6-7 minutes
This archived news story is available only for your personal, non-commercial use. Information in the story may be outdated or superseded by additional information. Reading or replaying the story in its archived form does not constitute a republication of the story.
SALT LAKE CITY — On Wednesday afternoon, Jordan Clarkson said the Utah Jazz hadn't yet talked about boycotting games. That likely has already changed.
Hours later, the Milwaukee Bucks boycotted Game 5 of the first round of the NBA playoffs against the Orlando Magic to protest the police shooting of Jacob Blake in Kenosha, Wisconsin. The players' protest has left the remainder of the season in question.
Blake, a Black man, was shot seven times by police on Sunday. According to a family attorney, Blake is paralyzed and "struggling to sustain his life."
Milwaukee players came to the arena but refused to leave their locker room Wednesday afternoon. The Magic took pregame warmup shots but left the court with 3 minutes and 56 seconds until the game's scheduled tipoff time. In a statement, the Magic said the team stands "united with the NBA Office, the National Basketball Players Association, the Milwaukee Bucks and the rest of the league condemning bigotry, racial injustice and the unwarranted use of violence by police against people of color."
The Bucks ownership group said it was unaware of the decision to protest, but fully supports the actions of their players.
"The only way to bring about change is to shine a light on the racial injustices that are happening in front of us," a statement reads. "Our players have done that and we will continue to stand alongside them and demand accountability and change."
Following the boycott, the Oklahoma City Thunder and Houston Rockets also decided to boycott their Game 5 scheduled for Wednesday evening. The league later said all games Wednesday have been postponed.
"The NBA and the NBPA today announced that in light of the Milwaukee Bucks' decision to not take the floor today for Game 5 against the Orlando Magic, today's three games — MIL-ORL, HOU-OKC and LAL-POR have been postponed. Game 5 of each series will be rescheduled."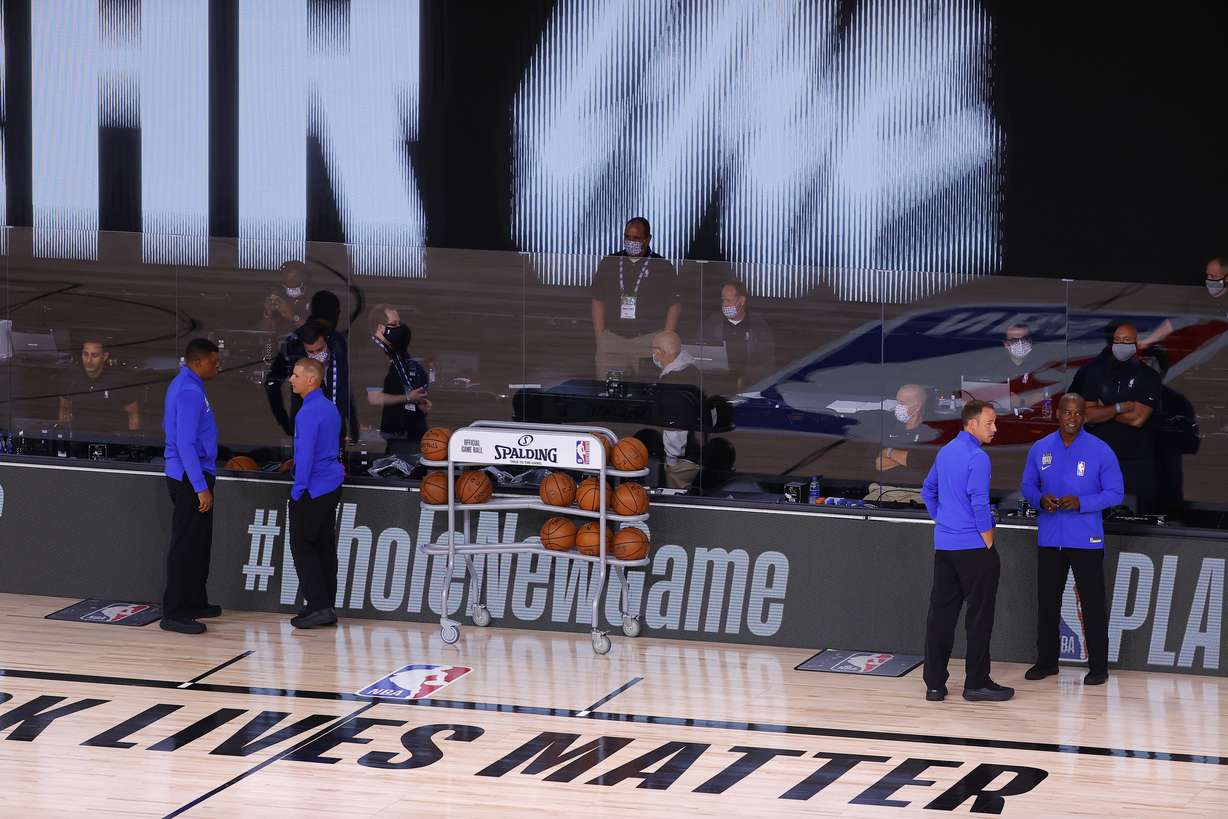 Over three hours after Game 5 of their series was scheduled to begin, the Milwaukee Bucks players finally exited their locker room. A statement was read by two guards — George Hill, and Sterling Brown, who has been the victim of police brutality. In 2018, Brown was thrown down, tased, and had his ankles stepped on by police after he illegally parked. Brown refused a $400,000 settlement.
"Our focus today cannot be on basketball," part of the statement said. "When we take the court and represent Milwaukee and Wisconsin, we are expected to play at a high level, give maximum effort and hold each other accountable, we hold ourselves to that standard, and in this moment, we are demanding the same from lawmakers and law enforcement."
The Bucks called for the Wisconsin State Legislature to "reconvene after months of inaction."
In response to the boycotts and postponed games, the Utah Jazz issued a statement condemning social injustice.
"Our family and organization remain fully committed to and focused on building a country that is equitable, just and safe," the Miller family said. "We also echo Jacob Blake's mother's plea to 'use our hearts, our love and our intelligence to work together to show the rest of the world how humans are supposed to treat each other.'"
The protest has spread to other professional sports leagues, with the Milwaukee Brewers choosing to not play their scheduled Major League Baseball game on Wednesday. The WNBA has also postponed its three games that were scheduled for Wednesday.
On Wednesday evening, NBA players and coaches met in the bubble near Orlando to discuss where to go following the boycotts — including the possibility of canceling the remainder of the season. Those talks, according to a report from ESPN, will continue Thursday morning coinciding with an emergency NBA's Board of Governors meeting. The Utah Jazz are scheduled to play the Denver Nuggets in Game 6 of their series at 2 p.m. MT Thursday. A game that, as of Wednesday night, is very much in doubt.
Players from multiple teams had discussed the possibility of boycotting games ahead of Wednesday's actions. When asked for his thoughts on potentially sitting out a game, Jazz center Rudy Gobert said that another step — apart from the messages and statements the players have already done — needed to be taken to try to create a lasting impact.
"We don't expect it to change overnight, but when it's just that obvious, and people of color are getting shot, cold-blooded, like seven times, it makes us wonder if there is really going to be some change," Gobert said. "And whatever we got to do to try to have a bigger impact on that, I think it's good for us to do it. So it's great to have that conversation.
"Is it going to fix things? We don't know. But I think the people that are in power, that have the power to be able to change those things, need to feel a little uncomfortable. Are they gonna feel uncomfortable if they skip one game? I don't know; but if it's what they have to do, then we're all with it."
Being able to make a change has been a big part of the conversation of the NBA Restart — both before the players arrived in Florida and after. But with another incident, as the players see it, involving the unnecessary use of force against a Black man, they are taking more action. They've already made countless statements on social media, during interviews, and with the words most are wearing messages on their jerseys promoting change. But after what happened in Wisconsin on Sunday, those suddenly didn't seem like enough.
"(We're) just trying to make a difference and change and (figure out) how we could relay the message, and get the message out, and keep continue to progress that," Clarkson said. "So, I feel like it's never not in the back of anybody's minds. We're all trying to be here, support it, and make a change, and make people realize that we need it."
And that, to them, is more important than playing a game.
"This is bigger than just the game. I'm not taking anything from the game. But, man, this is life and there are times where, a lot of times where we say we don't feel safe," Jazz guard Donovan Mitchell said. "It doesn't matter how much money, it doesn't matter who you are. And our voices that we use down here, I think, it's very important for us to continue using our voices. It's inexcusable to see stuff like that."
August 27, 2020
The movement spread beyond basketball. Five of the six matches in Major League Soccer scheduled for Wednesday were postponed, and the World Tennis Association announced the temporary "pause" of the ATP Tour's Western & Southern Open in Mason, Ohio.
"As a sport, tennis is collectively taking a stance against racial inequality and social injustice that once again has been thrust to the forefront in the United States," a statement from the WTA read. "The USTA, ATP Tour, and WTA have decided to recognize this moment in time by pausing tournament play at the Western & Southern Open on Thursday, Aug. 27. Play will resume on Friday, Aug. 28."
×
Related Links