SALT LAKE CITY —There will be no football at Weber State or SUU this fall, as Big Sky Conference presidents voted to move the season to spring, conference officials announced Friday morning.
The announcement came after presidents of the schools met Thursday afternoon to decide how to proceed with the season, which was set to kick off in the coming weeks. Many outlets reported that the presidents voted to pause the season Thursday evening.
"This is the right decision for our member institutions, even though we realize how disappointing it will be for all who represent and care about Big Sky football," Big Sky Commissioner Tom Wistrcill said in a prepared statement. "We will now shift our attention to doing everything within our power to provide our football student-athletes and coaches with a conference schedule and a championship opportunity in the spring. We already have begun actively engaging our fellow FCS conferences and the NCAA to join us then for what will be a unique opportunity to return to competition and compete for an FCS championship."
No decision has been made on other fall sports, such as cross country, women's soccer and women's volleyball. The conference also didn't make a decision on how schools will handle nonconference play in football.
Weber State, SUU and other Big Sky programs will be allowed to continue with "permissible athletics activities at their discretion" if they abide by regulations set by the NCAA, the university, and local or state regulations.
"Our student-athletes always have been and will continue to be our top priority," Weber State athletic director Tim Crompton said in a news release. "We are disappointed that we are not able to move forward and provide the opportunity to compete this fall, however, we understand and are acutely aware of the current circumstances. In addition, we are very fortunate to have outstanding leadership from our president and his administration. Weber State University has the best interests in mind of our entire campus community.
"We anticipate and look forward to a championship football season in the spring and as we prepare, our goal is to provide an environment that our student-athletes can continue to thrive in, both academically and athletically."
Friday's announcement comes as conferences and collegiate institutions all over the U.S. are working to figure out how they will handle college sports amid the COVID-19 pandemic. The postponement of Big Sky football will likely drop the Football Championship Subdivision below the 50% required participation to hold a postseason playoff, as announced Wednesday by the NCAA. With the Big Sky and a subsequent report that the Pioneer Football League has suspended the fall season, then the number of teams eligible for the FCS playoffs would drop as low as 48.
There are 127 teams in the FCS, including from the Ivy League, Mid-Eastern Athletic Conference, Patriot League and Northeastern Conference that had already suspended the season, though not all of them are eligible for the playoffs every year. The champions of the MEAC and Southwest Athletic Conference, for example, give up their automatic qualifying spot to play in the Celebration Bowl that spotlights historically black colleges and universities.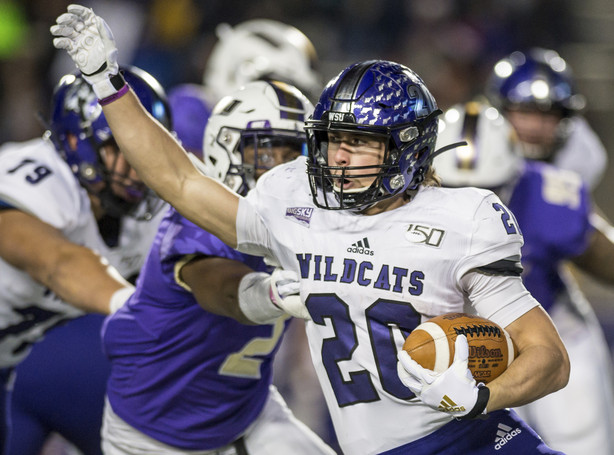 The Big Sky is comprised of 13 universities located in Utah, Arizona, California, Colorado, Idaho, Oregon and Washington. According to Johns Hopkins University data, none of the states where Big Sky schools are located have COVID-19 levels below a 5% positivity rate. That's the rate recommended by the World Health Organization to begin reopening aspects of the economy. Three of the schools are located within the 10 states with the highest COVID-19 positivity rates.
Earlier this week, the majority of University of Idaho's football team — one of the schools in the conference — voted to sit out the 2020 season, according to reports from Stadium and ESPN. Idaho is one of the states with high case positivity rates; the school's athletics program had nine athletes test positive for the coronavirus out of 125 tested.
The Vandals' 2020 schedule included a matchup with SUU on Nov. 7.
The decision not only impacts Weber State and SUU, but also affects Dixie State in its first season as a Division I program. The Trailblazers' football team is an FCS independent and included a schedule featuring four Big Sky opponents, including SUU on Sept. 5 and Weber State on Oct. 10. Games against Division II Western New Mexico, Azusa Pacific, Western Colorado and FCS Drake were previously canceled.
Dixie State competes in the Western Athletic Conference for other sports, but had six soccer games and four volleyball games scheduled against Big Sky teams this fall. Four of the soccer games and two of the volleyball games were already canceled prior to the Big Sky presidents' vote Thursday afternoon.
The WAC, a non-football conference which also includes Utah Valley amongst its nine teams, had previously announced a delayed start to the season, to at least Sept. 10 in women's soccer and Sept. 16 in men's soccer and women's volleyball.
Contributing: Sean Walker, KSL.com
×
Related Links