SALT LAKE CITY — After a very long break, the Utah Jazz are now five games and less than two weeks away from the playoffs starting. And so far, the NBA bubble experience hasn't been great for Utah — they have lost two in a row and can't seem to hit a shot.
The good news: The bubble experience hasn't had to be great — at least not yet.
So with that the case, let's look at some positives for the Jazz after the 116-108 loss to the Lakers on Monday.
Seeding doesn't really matter
The Jazz are very likely to play one of three teams — Denver, Houston or Oklahoma City — in the first round of the playoffs. That might be as a four, five, or six seed (Yes, they could still technically climb to No. 3 or drop to No. 7, but neither of those things seem too likely). So they are in the fight for a playoff seed that probably doesn't matter all that much.
Home court advantage isn't a thing (sorry, virtual fans) and, really, none of the matchups are all that friendly. The Jazz just got rolled by the Thunder, they haven't beat the Nuggets this season, and no one — and we do mean no one — wants to see the Rockets again in the first round. So, pick your poison.
All that means is that losing a few seeding games isn't really detrimental to the season. So while Jazz play is important as they continue to try to adapt to life without Bojan Bogdanovic, the end results really aren't.
The five remaining seeding games are going to be used to try to figure out their stuff before the playoffs.
Speaking of figuring stuff out
Joe Ingles threw a perfect outlet pass to Rudy Gobert, and the Jazz center shoveled the ball to Donovan Mitchell under the basket, who turned and found Jordan Clarkson wide open for a three — he missed.
Later, Gobert took a bounce pass and kicked it out to a wide-open Georges Niang for three — he missed.
Mike Conley later exploded in the paint, drew three defenders to him before he jumped and found Clarkson alone in the corner for yet another wide-open three. Yet again, he missed.
Are you seeing a pattern here? And all that was just during the first quarter on Monday.
Nearly everything was good about the Jazz offense right up until the shots. Conley and Mitchell were able to get into the paint and consistently create good looks for their teammates; the ball zipped around as the team made extra pass after extra pass, leading wide-open looks. It was exactly what the Jazz wanted — except for that whole ball not going in thing.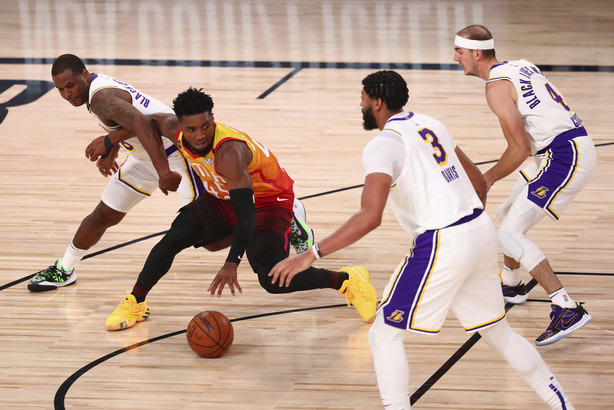 "I'm happy that we got up 40 threes, but we're going to have to make more shots to win," Snyder said.
The Jazz were 12-of-43 from 3-point range despite what felt like an endless amount of good looks. Utah has good shooters — really good shooters. Niang is shooting 40% from three this season, Ingles and Royce O'Neale are at 39%, and Clarkson has hit on 36% of his threes. On Monday, those four combined to go 3-of-21 from 3-point range.
"I think the biggest thing for us is continue to take them," Mitchell said. "You miss 100% of the shots you don't take. Honestly, we got some good looks we wanted, sometimes they just don't fall in."
They haven't fallen in three games in Orlando. But there's hope among the team that this is a thing that will pass —that it's just a small slump or kicking some rust off. If that's truly the case, Utah becomes a different team.
If the Jazz would have hit at their normal percentages (or even kind of close to them), they beat the Lakers and will beat a lot of other teams, too.
Especially if Gobert continues finding teammates
For instance: Gobert received a bounce pass at the elbow as he rolled toward the hoop, but the lane was blocked. He took a dribble and spotted Mitchell cutting down the baseline. Gobert brought the ball up and around, almost doing a Eurostep before dropping a look-away pass to Mitchell for a wide-open layup.
It's not a new skill for Gobert, but it is a developing one. He's seeing the court better, and instead of trying to force up shots, he's finding different ways around defenders. Gobert had two assists on Monday but probably should have had more.
"I think it's really being able to see what's going on, first of all, and just to be able to be patient with the ball and to be able to finish and find the open man," Gobert said. "I feel like when I'm being put into situations, I'm able to make the right play most of the time and I think. ... It's going to be able to help the team."
That's what the team is hoping will happen come playoff time.
Mitchell getting to the line
Mitchell is already one of the top scorers in the league — he ranks 13th with an average of 24.1 points per game. He can score at all three levels, has a great handle and tricky finishing moves, but there is something that he hasn't yet mastered: getting to the line.
Of the top 15 scorers in the NBA, Mitchell averages the least amount of free throw attempts at 4.7 per game. Every player in the top 10 averages at least 6.7.
So it was a good thing then on Monday that Mitchell actively looked for contact. He shot 12 free throws against the Lakers, making 11 of them, to help him score 33 points.
"I feel like that has made my life a lot easier, for starters, getting to the free-throw line, seeing the ball go in, taking a break, especially when you get to the later quarters, fourth quarter," Mitchell said. "Getting to the line, being able to get an extra breath, extra rest, and then go ahead and knock out those free throws down, that's really been my focus, just try to make things simple."
Now it's about doing it consistently. Mitchell had just four free throw attempts in each of Utah's first two games in the bubble.
"Slowing down has been a huge piece for me, just continuing to do that, I've got to be way more consistent with that and I think tonight I did a solid job of it," Mitchell said. "I think I can be even better, but that's been a prime focal point for the past two years, and I think I'm doing slightly better. I can do more."
×