Estimated read time: 4-5 minutes
This archived news story is available only for your personal, non-commercial use. Information in the story may be outdated or superseded by additional information. Reading or replaying the story in its archived form does not constitute a republication of the story.
SALT LAKE CITY — On the evening before the Utah Jazz's first game in over four months, head coach Quin Snyder led off his press conference by giving a history lesson.
It wasn't about a game.
"I'd like to read something from July 22 in 1899," Snyder said. "'Moments before his trial is to begin, a white mob whips Frank Embree, a Black man, over 100 times and hangs him in front of more than 1,000 onlookers in Fiat, Missouri.'
"We're clearly keeping the dialogue alive by remembering things throughout our country's history. Hopefully, we continue to change."
NBA scrimmages started again on Wednesday in ESPN's Wide World of Sports Complex near Orlando, marking the first time since March 11 two NBA teams shared the same court.
Denver started a supersized lineup with all-league center Nikola Jokic slotting in at point guard; Paul George and Lou Williams combined for 40 points to lead the Los Angeles Clippers to a win; the Brooklyn Nets roster had at least some players casual fans would recognize.
Those were just some of the stories from the first day of action. But those are the types of things players and coaches don't want used to drown out the message they want to share.
The same message that is displayed boldly on each of the playing courts: Black Lives Matter.
There was always a concern among the players that once the games began, the attention would shift away from the social injustice issues they've championed to the action on the court. On Wednesday, those players, in a collective voice, showed they won't let that happen.
George opened up his post-scrimmage press conference calling for justice for Breonna Taylor, a Black emergency medical technician who was fatally shot by Louisville Metro Police Department officers in March in her home after her boyfriend said he fired in self-defense when officers executed a "no-knock" warrant.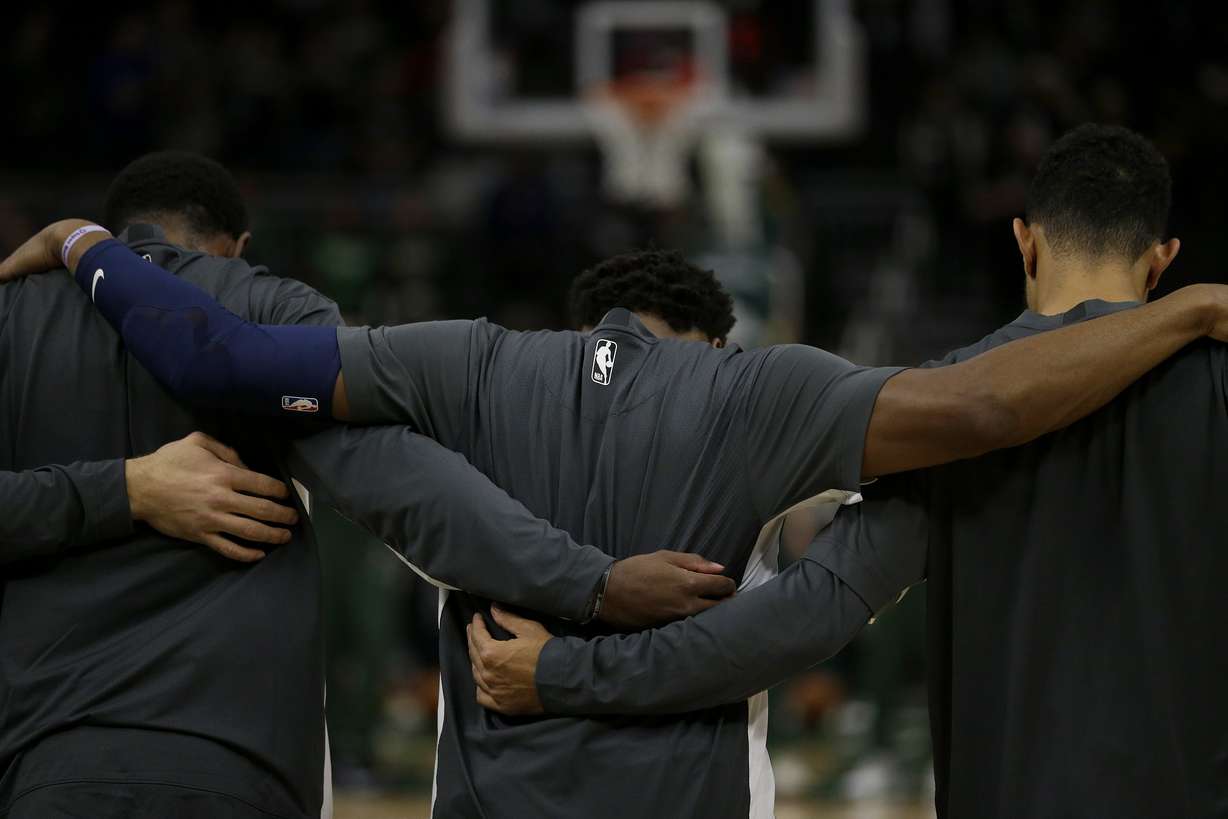 "I think that is what we are here for, to continue to keep that in the back of people's minds," George said. "I mean, her murderers are still free, so nothing is done yet. And hope to continue, again, keep this fight going and use our platform to stand up for those that can't stand anymore."
Los Angeles Lakers guard Alex Caruso echoed the statement during his media availability on Wednesday saying, "Outside of my sister's wedding questions, anything today that you ask of basketball, I'm just going to respond with, 'We need justice for Breonna Taylor.'"
Jazz guard Donovan Mitchell followed suit following Utah's practice on Wednesday night.
"I want to continue to spread the message as we need justice for Breonna Taylor," Mitchell said. "I think, you know, we all understand that she was killed in her own home. If there's a point where we can't feel safe in our home, that's not right."
For Mitchell, Taylor's death hits close to home. Louisville is the place where he started to become the Donovan Mitchell the world knows now. For two years, he starred for the University of Louisville, forming a strong attachment and bond to the city. And when he thinks of a young Black woman being killed in her own home, he can't help but think of his own mother and sister.
"African-American women are very far behind as far as the opportunities they receive," Mitchell said. "Seeing that happen to an African American female is near and dear to my heart."
That's why Mitchell, George, Caruso, Snyder, and really the rest of the NBA won't allow the fun and the excitement of the games to silence the messages of social injustice. So no matter what is asked or what happens in a game, they will keep those issues that are so important to them on the forefront.
"With everybody watching, the world watching, we have to use our platform to continue to vocalize our opinion, vocalize what we feel is right and what needs to be done," Mitchell said. "... The rest of this season we have to continue to do that because, at the end of the day, whoever wins a Game 6, whoever has 40, that's great for that night, but there are problems that we need to continue to talk about."
×
Related stories
Most recent Utah Jazz stories