Estimated read time: 4-5 minutes
This archived news story is available only for your personal, non-commercial use. Information in the story may be outdated or superseded by additional information. Reading or replaying the story in its archived form does not constitute a republication of the story.
As the number of confirmed COVID-19 infections in Utah began to increase in late March, doctors at the University of Utah Hospital worried over the sudden decline in admissions for serious conditions. Could it be that fear of the pandemic was keeping people away from seeking medical care?
"During those first months of COVID-19, we recognized—and it was recognized nationally too–that people were afraid of coming to the hospital," says Jana Wold, MD, a neurologist and associate professor in neurology at University of Utah Health.
Wold and her colleagues became increasingly concerned that people with milder stroke and heart attack symptoms were not seeking medical help out of fear of the virus. In the first months of the global pandemic, there was a 30% drop in overall stroke volumes, at U of U Health, she says. That reflects recent international medical research published in June 2020 that showed a 36.4% decline in mild stroke admissions to hospitals overseas.
"You need to come to the hospital, even in a pandemic," Wold stresses.
Janet, who is 78 years old, agrees. She suffered a massive stroke in mid-2019 and underscores the importance of getting help when a stroke suddenly strikes.
One evening in July 2019, Janet had just finished dinner with her husband and was sitting at the counter, when she found herself looking down at her right arm. It wasn't moving, and when she tried to move it with her left hand, she couldn't. She looked to her left and realized, "I couldn't focus my eyes." She was paralyzed on her right side.
Her husband kept talking to her, but she wasn't responding, nor making any movements. All Janet heard him say was, "This isn't funny."
It wasn't as though she was panicking, she recalls. In fact, she was calm. "I'm amazed to this day I wasn't frightened or anxious or afraid," she says. Her husband called 911 and the next thing she can now recall was being wheeled out of her home on a stretcher to an ambulance, which set off, sirens and lights blazing, for the ER.
Janet would learn later that she had had a stroke. Mild stroke symptoms can include, "Weakness and sensory loss on one side of the body, facial droop and difficulty speaking," Wold says. If you experience such symptoms, call 911 immediately, she says.
If you don't address the symptoms by seeking medical care at the hospital, then, Wold warns, there's the possibility of a significant disability. Going to the hospital means not only immediate medical care but also, if needed, early rehabilitation treatment to help improve those symptoms. By early July, the numbers of admissions were beginning to approach pre-pandemic levels, she adds.
Janet was given the clot-busting drug, tPA and taken for surgery by what's known as the "brain attack" team from the Neurology Department. They pulled out a clot that was an inch long, so large the doctor told Janet, "he had to double it over to pull it out," she recalls.
In the ICU, a nurse came in repeatedly over several hours to ask Janet her name and check on her. At first, Janet couldn't speak. "It was like I didn't have a mouth at all," she says. "I couldn't even hum, croak or anything."
But over the next few hours, she was able to talk a little at first, then more and more until after two hours her ability to talk had completely returned, along with being able to use her arms and legs.
There were few after-effects, she says. The biggest impact was on her handwriting. "When I'm writing something, I know what the letters are supposed to be but the message isn't getting from my brain to my hand and I end up doubling some letters and omitting others."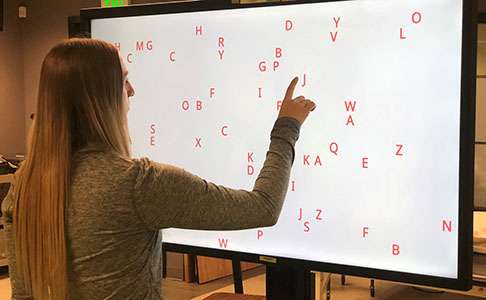 Janet admits to feeling extremely lucky that she has no long-lasting side effects. Neurologists at U of U Health showed her an x-ray that revealed a large white hole the size of a dime in the basal ganglia at the base of her brain, where the clot had lodged. "As big as the white spot is, I was told by the neurologist that she would have expected me to have a lot more physical problems with my limbs," she says.
Janet understands the potential fear, particularly among the elderly, about going to the hospital because of COVID-19. "It's a real killer for older people," she says.
But the reality is, Wold says, that in-hospital rates of COVID-transmission have been very low. "We are being aggressive about measures to decrease hospital-based transmission. We have specific wards for COVID patients and our stroke patients are kept on a separate stroke ward."
Janet looks back at the summer evening dinner that could have led to far worse results for her if her husband hadn't immediately called 911 and set her in motion to receive medical care. "If you're having a stroke you really need to get to the ER," she says.
To learn more about the Stroke Program at University of Utah Health click here.
×