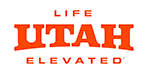 This story is sponsored by Utah Office of Tourism.
Imagine going on a vacation without having to worry about the most stressful parts — cooking the meals, cleaning the campsite, packing up the gear, planning the itinerary, and making sure you're prepared for any situation.
Those are the benefits of hiring a guide when you decide to venture into Utah's great outdoors.
When you return to your favorite spot year after year, going with a guide is a great way to expand your horizons within Utah's seemingly infinite lands. Guides help you navigate your way through new outdoor adventures and remove the stress of planning and wayfinding. They also know Utah's lands intimately and can offer local perspectives, geological insights and responsible travel practices.
Not only can guides get you somewhere safely, they often take you and your family to places only accessible with a permit and the right gear — all while supporting local businesses or individual livelihoods.
Here are six reasons why you might want to consider hiring a guide for your next trip.
Gain access to the best river rafting and other amenities
The great outdoors is beautiful — but it can also be difficult to navigate if you don't have experience. This is especially important if your plans include a river rafting trip.
Sure, you could try a private rafting trip down the Green River through Dinosaur National Monument, but first you'll need a permit. To preserve the natural and cultural resources, the National Park Service limits visitors on the water. During the summer high season, just one or two private parties can launch a day — and 3,900 people applied in 2017.
Wrangling those permits for you is just one of the ways local guides and outfitters can help you access the best river rafting in Utah, not only on the Green River, but also on the Colorado River and San Juan River and more.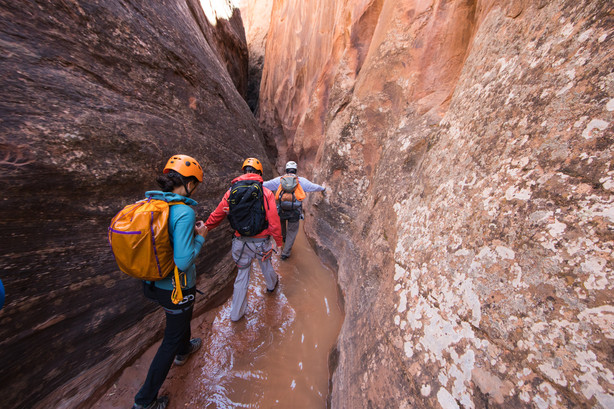 Safety
One of the biggest stressors on an outdoor excursion is safety — particularly if you have a young or large family to keep track of. Guides are trained to anticipate any possible danger you or your family may experience.
Guides will always have your back, whether it's spotting poison ivy on the trail, positioning themselves strategically on a rock to catch anyone who might get stuck in a strong current, or making sure your life jacket is secure.
Rivers and slot canyons can be rife with difficult and dangerous currents and passages. If you take a hike down the Robbers Roost/Dirty Devil Wilderness area, you'll need to be prepared for 90 miles of red-rock canyons surrounded by some of the most rugged wilderness landscapes of the American Southwest.
Since the area is extremely remote, prone to flash floods, requires four-wheel drive and technical canyoneering knowledge, a guided adventure is your best bet to ensure optimal safety for your party.
A guide can also help you on intermediate to advanced biking excursions, such as the slickrock trails of Gooseberry Mesa. Guides can help first-time riders gauge the terrain and ride the trails with more flow.
Take care of basic comforts
When you hire a guide, you're getting a lot more than a navigational expert. They also act as lifeguards, cooks, sanitation workers, entertainers, teachers, storytellers, and camp counselors.
One traveler reflected on the perks of hiring a guide, particularly when it came to cooking and the call of nature.
"At mealtime, we often wondered where they had packed all the goodies: Blueberry and walnut-banana pancakes, yogurt and granola, sausage and bacon. Chicken-caesar salad wraps. Cold-cut buffets with avocado, pickles, olives and red onions. Filet mignon or salmon. Strawberry shortcake and s'mores made without a campfire," she said.
"You won't find a better view from the perch of a toilet seat than on the river. At each campsite, the Holiday guides staked out our 'baño' in a secluded spot with views of the river and canyon cliffs. They taught us 'Leave No Trace' outdoor toilet etiquette to keep odors at bay and whisked it away while we played. The solids were kept on the rafts for four hot days without the guests being the wiser."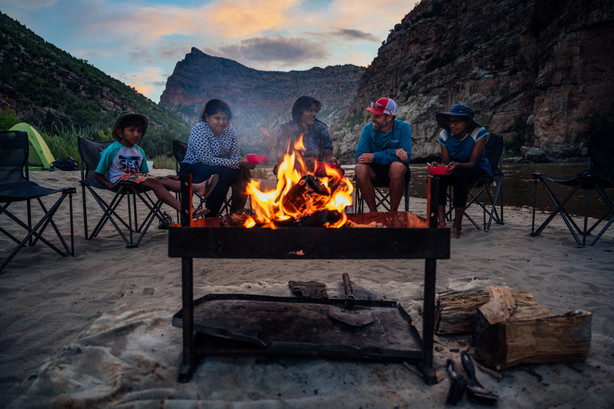 Be an educated and informed traveler
No one wants to stick out on vacation, but in the great outdoors it's especially important to leave no trace. Guides will give you the information you need to avoid looking like an ignorant traveler or causing unintentional harm in the wilderness.
Guides can point out 1,000-year-old petroglyphs and teach you about the people who left them behind. They can instruct you on nighttime etiquette, including knowing which color of headlamp to wear to preserve others' night vision of the dark, starry sky. They can name the birds, fish, and animals you encounter.
Most importantly, they make sure that every piece of trash and equipment gets picked up in order to preserve the beauty of the rivers and unique slot canyons.
"These environments are harsh, but they're also very fragile. We try to teach how best to come through these places and keep them pristine. We want to see our clients leave with a greater appreciation for this amazing environment that we love so much," said Nick Smith, a guide for Detours Adventures.
Meet your family's needs
Every family travels differently, and depending on the age and physicality of your members, you may need to tailor your trip to meet your needs.
Guides can sense when groups are feeling tired or if they're up for a unique adventure. Many know how to put children at ease on bumpy river rapids or make them laugh on a longer hike.
"A lot of guides are now tailoring something specific to individual families. They will take you to the backcountry safely, so you don't have to plan as much. They'll pack a lunch for you, make sure you have enough water and proper gear. It puts your mind at ease," said Monique Beeley, founder and owner of Discover Utah Kids Magazine.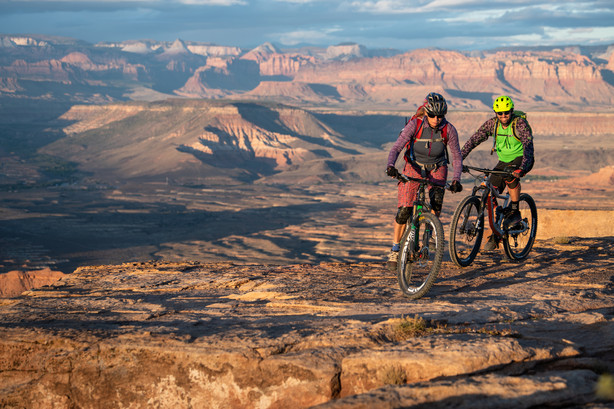 Help with economic recovery
There is also an altruistic benefit to hiring a guide. With the impact of COVID-19, hiring a local guide is a great way to help local communities during the economic recovery phase.
Now may be the perfect time to try something new — whether it's taking a guided slot canyon hike or trekking through the canyon on llamas. Giving your family a new adventure while supporting local business is a win-win.
How to hire a guide for your next trip
Whether you're a seasoned vacationer or an outdoor novice, hiring a guide for your next trip may be the best decision you can make for an experience you won't forget.
Guided trips can vary in length from half-day to multi-day adventures, and can include hiking and backpacking clinics, petroglyph tours, river rafting trips, technical canyoneering, or bikepacking and mountain biking.
To find the perfect guided tour for you, explore the listings on visitutah.com. Great guided experiences in Utah can also be found on sites like TripAdvisor, Expedia and Kayak and very often bookings are protected by free cancellation policies up to a certain date to provide you with peace of mind.
×