SALT LAKE CITY — Mike Conley has gotten a chance to take a deep breath — a few of them actually.
In the 100-plus days since the NBA season abruptly came to a halt, the Utah Jazz point guard has been able to step back and examine his year with his new team — the highs, the lows, and everything in between — as he's attempted to discover how to find a better rhythm when the season resumes in Orlando on July 30.
But that's not the only thing he's had to figure out.
With two young kids at home and a third due at the end of August, Conley had to decide if he was even going to play in the NBA bubble in Orlando. And he wasn't the only Jazz player to face that decision.
During the NBA restart, guests won't be allowed until the second round of the playoffs, which the league is guessing will be around Aug. 31. For most players, that means nearly two months away from family and loved ones. But for Conley, he'll be the one having to go visit them.
His wife, Mary, is due to give birth to the couple's third child on Aug. 27.
"It definitely was tough," Conley said on a conference call Wednesday of his decision to play. "Just knowing you're going to have to be away from your kids for that long."
Conley said that he hopes to travel home for the birth of his son but also realizes it's not that simple. Players who get approved to leave the bubble will have to quarantine for four days on campus upon their return. That means Conley could end up missing multiple playoff games.
"There's just a lot of things that go into play, but, ultimately, my wife understands how much this game means and how much being able to participate and play for a championship means," Conley said. "We have an understanding that I'll be able to see her and I'll be able to, at some point, hopefully, be able to be back for the baby."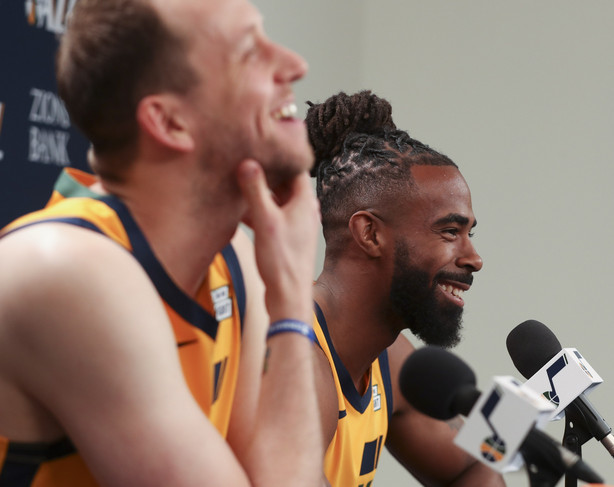 Early on in the shutdown, Joe Ingles was one of the more vocal players about opposing the idea of the bubble. With a pregnant wife and twins, Jacob and Milla, he didn't think it was right for him to leave for a couple of months to play a game. It was his wife, Renae, who really talked him into it.
"She's always pushing me to go and play; and missing out on things with the kids and leaving early, coming home later so that I can prepare or recover or go and a shoot before a game or whatever it is," Ingles said. "She was pretty adamant that I was going to play."
So that's what he's going to do. And that means leaving his family for a minimum of seven weeks — and more if the Jazz make an extended playoff run. That'll be the longest he's ever been away from his family.
"There'll be a few days in there that I'll be very grumpy, because it's the kids' birthday while we're away and a couple of other things that I'll miss," Ingles said. "I'll make sure everyone knows those dates because if you come near me, you'll probably get a rude awakening. But, no, it'll be tough, but I want to go and play. I want to support my team. I want to do the best for the Jazz that I can and, hopefully, we get as far as we can."
There are still concerns over player safety, as well. There have been frequent video chats between teammates to discuss reservations about the bubble concept. And the team has met with NBA reps to get questions answered.
Those meetings have been filled with good information, but they haven't squashed all fears.
"To say that I'm like completely comfortable, I mean, I'm definitely not, but I'm going to put myself in a position to be as safe as possible," Ingles said. "I'm going to spend a lot of time in my room with my coffee machine and get to know it very well."
Part of that caution is not wanting to miss games. The bigger part is not wanting to bring the virus back with him.
"I think that one of the scarier parts is once this is all over going back to my family and not having symptoms or something like that and then taking it back," Ingles said. "So going back will be something I'm very cautious with as well."
×