Estimated read time: 3-4 minutes
This archived news story is available only for your personal, non-commercial use. Information in the story may be outdated or superseded by additional information. Reading or replaying the story in its archived form does not constitute a republication of the story.
Some experiences make you long for life's simple pleasures—like a cozy, firelit nook and delicious food. For S.M. Covey in the 1890s, spending a night lost in a Wyoming blizzard was that experience. For Utahns in 2020, it was, well, the last several months of stay-at-home orders. Like Covey, the founder of Little America and its namesake Coffee Shop in Salt Lake City, you've probably come to appreciate the best things in life—like a really, really good café menu.
Of course, delicious food is a team effort, and Little America's Coffee Shop is a prime example of a culinary tour de force. Led by Little America's Executive Chef Bernhard Götz, the Coffee Shop enchants taste buds at breakfast, lunch and dinner, with an array of must-try dishes. Try one (or all) of these house favorites.
The Hot Turkey Sandwich
It's anything but a brown-bag special. This sandwich packs oven-roasted turkey cut straight from the breast and served hot. With mashed potatoes and gravy, this dish is Thanksgiving dinner—in a compact form. The secret to the best sandwich of your life? Each of Little America's hot food items is made from scratch and prepared daily—including the mashed potatoes and that mouthwatering gravy.
Chicken Noodle Soup
The quintessential comfort food, Little America Coffee Shop's chicken noodle soup is something special – that's why it's only served on Sundays as the special. While it's extra delicious on a winter afternoon, this creamy crowd favorite calls to diners all year long.
Alaskan Halibut
Alaska might be a few thousand miles away, but you wouldn't know it biting into this delicate dish served any way you like it—grilled, breaded and deep-fried, broiled, or poached. Served, of course, with creamy, homemade tartar sauce.
Salmon Caesar Salad
A far cry from the standard Caesar, the Coffee Shop's protein-packed version starts with blackened salmon layered on crisp romaine lettuce tossed with a delicious homemade Caesar dressing and topped with parmesan cheese, tomato wedge and a crostini toasted to perfection.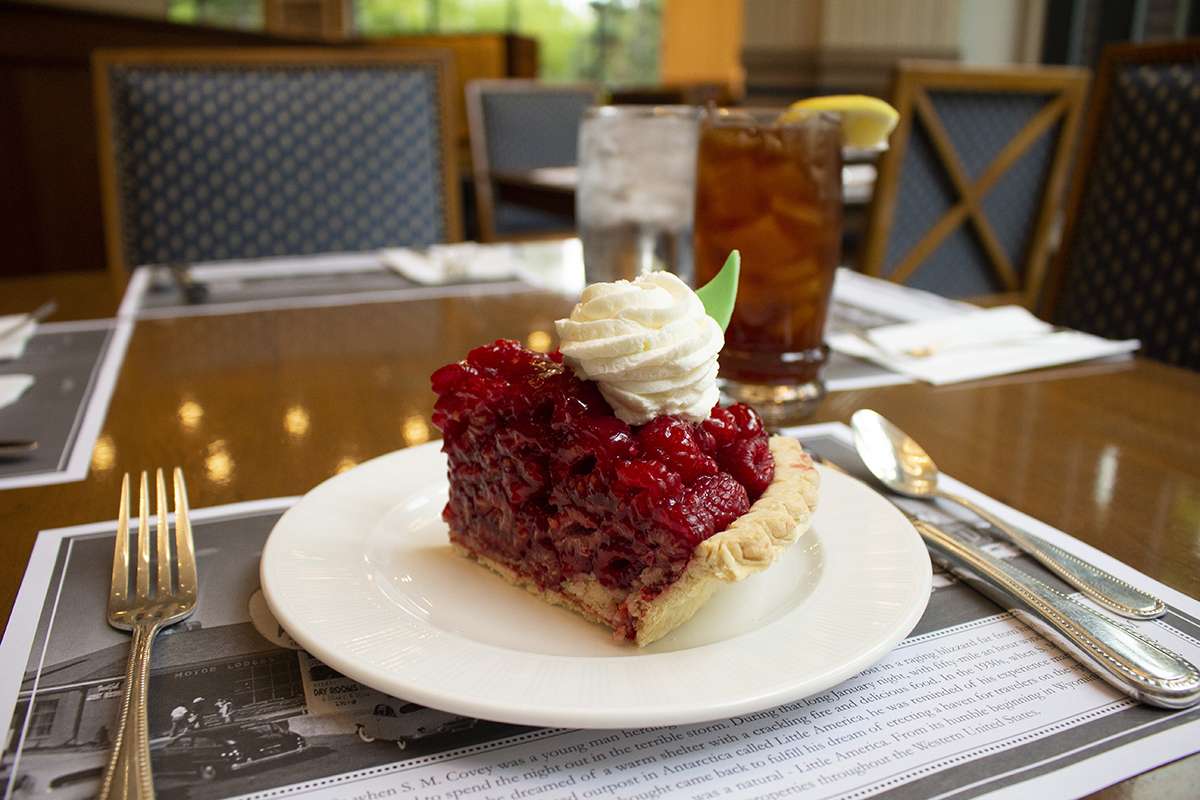 Raspberry Pie
Take in summer by the mouthful—but don't hesitate; this decadent treat is seasonal and sells out anytime it's on the menu. This pie is stuffed with ripe, juicy raspberries and surrounded by a delicate, handmade crust—then topped with freshly whipped cream, of course.
Have a hankering for some warm, buttery carbs? You're in luck; each meal at Little America's Coffee Shop is served with the restaurant's signature homemade rolls—baked fresh all day and served straight from the oven.
A Utah tradition
Try all these dishes – again or for the first time – at Little America's Coffee Shop, located in the heart of downtown Salt Lake City at 500 S and Main St. Whether you choose a traditional favorite or a seasonal special, you'll experience the genius of Chef Götz, who packs more than 50 years of culinary experience and expertise behind each of his creations.
In 2008, he was named ACF Western Regional Chef of the Year and has been featured on PBS's Great Chefs of America series. A native of Germany and the founder of many restaurants in Bermuda and South Carolina, Götz oversees the entire kitchen operation at Little America and ensures The Coffee Shop's offerings are prepared to perfection.
In fact, it's safe to say these culinary creations are more than even Covey imagined during that snowy night in Wyoming. But fortunately, there's no harrowing winter experience required to enjoy the food and ambiance at Little America. The Coffee Shop is open daily for takeout and dine-in service, with outdoor patio seating available for those sunny Salt Lake days.
Bring a friend and shake off those lockdown blues with a homemade, foodie-favorite meal at Little America's Coffee Shop.
×