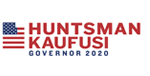 This is a paid political advertisement from Huntsman for Governor 2020.
As a tech startup executive, I'm always looking to move good ideas forward. As a business, we're focused on providing unique value that disrupts the status quo of our industry. As a voter, I'm looking for trusted, proven leadership. And as a leader myself, I'm encouraging friends, neighbors, family and the Dsco team to be civically engaged and vote in tomorrow's primary election.
At Dsco I want our team to participate in this election because it matters for the future of our business and the community that supports us. I want everyone to understand the candidates and their track records in serving Utah. I feel the responsibility to my family and to my Dsco team and their families. I am proud to let them know I'm voting for Jon Huntsman and Michelle Kaufusi.
But how many people don't even realize they still have a chance to vote? With polls showing the race is a virtual tie, there's no excuse to sit this one out. Every vote matters.
It's amazing how complicated it can be to figure out how to participate in the process of selecting our next governor. Here are three ways you can make your vote count:
Vote by mail
This one's easy. If you are a registered Republican, you should have received a ballot in the mail. Just fill it out, sign the envelope and put it in the mail. It just has to be postmarked by June 30, so get it in the mail well before 5 p.m. Also, make sure you sign the ballot envelope and check to see if postage is required - it is in some counties and not in others.
Drive-thru
If you happen to live in one of the seven counties with drive-thru voting locations, you can get a ballot and vote without even getting out of your car. Drive-thru voting counties include: Box Elder, Davis, Iron, Tooele, Salt Lake, Utah, and Weber. This option is useful for both registered Republicans and unaffiliated voters. Here's how:
Registered Republicans - If you're a registered Republican but you didn't receive a ballot in the mail (or if you did but you've misplaced your ballot) you can still get a ballot by contacting your county clerk or by driving to a drive-thru voting location.
Unaffiliated Voters - If you're an unaffiliated voter (what many would call independent) you can get a ballot at one of the drive-thru voting locations. It's one-stop shopping.
Dropbox
You can also submit your ballot at a dropbox on June 30. There are dropboxes across the state and you can find a full list here.
In our post-Covid world, states--even countries--will all be vying for opportunities to rebuild, sustain and grow their economies in a meaningful way. From supply lines to energy resources, what lies ahead for Utah depends on the leadership in the Governor's office. With a Huntsman administration, we can count on a small-government, pro-business environment spurring on quality, high-paying jobs for the next generation of Utahns.
Huntsman has a proven track record as a business and political leader to execute this strategy. His strengths in international trade and diplomacy, his contacts with the world's leading companies and industries, his state and federal experience all lead to putting Utah ahead during this critical time in our history.
If you want small ball, little ideas, or a plan to just get back to normal, Jon Huntsman is not your governor. If you want someone with bold ideas, the ability to challenge the status quo, and a big vision of Utah as the Crossroads to the World, there is only one choice.
Voters throughout our state are facing significant challenges arising from the COVID-19 pandemic, economic uncertainty and social unrest. Now is the time to make your voice heard. Governor Jon Huntsman and Mayor Michelle Kaufusi ask you to join Utah's business and community leaders in voting for Huntsman/Kaufusi.
Our right to vote is one of the greatest privileges we enjoy as American citizens. I encourage you to exercise your right to vote and make your vote count this Tuesday is that chance. To the registered Republican, the unaffiliated, and the tens of thousands who have joined the Republican party, now is the time to make your voice heard.
×