SALT LAKE CITY — Portland Trail Blazers standout Damian Lillard doesn't know if he's ready for the NBA to resume its season, but the league is planning to allow players to report to the Disney Wide World of Sports Complex in Orlando beginning July 7-9, according to memos obtained by the Associated Press.
The league has made several attempts to maintain health and safety for all its players, coaches and staff during the coronavirus pandemic, including creating a "bubble" to play out the remainder of the regular season with a modified playoff structure.
But still, the former Weber State star admits he isn't completely at peace with rushing back in to play out the remainder of the 2019-20 season near Orlando, Florida.
"I don't feel 100% comfortable," Lillard said Monday night on ESPN's SportsCenter. "But it's a risk that I'm willing to take. Like I mentioned earlier, this is what we do. This is our job. And this is how we take care of our families."
"This is my way of providing for communities and impacting my community. To play the game I love, to resume the season, I guess it's a risk that I'm willing to take."
Lillard understands the risks. He understands that the NBA is doing its best at developing health and safety protocols, to keep not only himself and other players safe, but also to prevent them from being infected with COVID-19 and bringing it back to more vulnerable populations among family and friends.
He's not the only one with concerns, either.
Trail Blazers teammate Carmelo Anthony recently said he's "still up in the air" if he will report to training camp that will effectively begin the restart period, when players will be tested and retested for COVID-19 while practicing and returning to game fitness.
"As far as actually playing and going back down into Orlando, I'm still up in the air a little bit because I really don't, we don't, have all the details," Anthony told Turner Sports last week, according to USA Today. "We don't know a lot of information, so until we have that, it's hard to just commit to that 100 percent."
The NBA released a 108-page file late Tuesday that includes medical protocols for every team that will compete in Orlando. Among the regulations: players will shower in individual hotel rooms instead of a communal or locker room area, will be part of a contact tracing program, and are "recommended" to wear face coverings during pre- and post-game events, whenever possible. They'll also be tested regularly — but not necessarily with deep nasal swabs — and must adhere to strict physical distancing measures, when possible. And there will be options for down-time activities.
It's a lot to process. And anyone who doesn't feel comfortable playing will have an option to not travel to Orlando, NBA commissioner Adam Silver said.
That includes several high-profile players, such as Brooklyn's Kyrie Irving and Los Angeles' Dwight Howard, who have publicly voiced concerns for a variety of reasons.
"We worked through all those issues, in terms of health and safety, what the environment will be like, the campus. But I can only say, it may not be for everyone. It will entail enormous sacrifice on behalf of those players, and for everyone involved: the coaches, the referees," Silver told ESPN.
"It's not an ideal situation. We're trying to find a way to our own normal in the middle of a pandemic, in the middle of a recession or worse, and now with enormous social unrest in the country. As we work through these issues, I can understand if some players feel like it's not for them."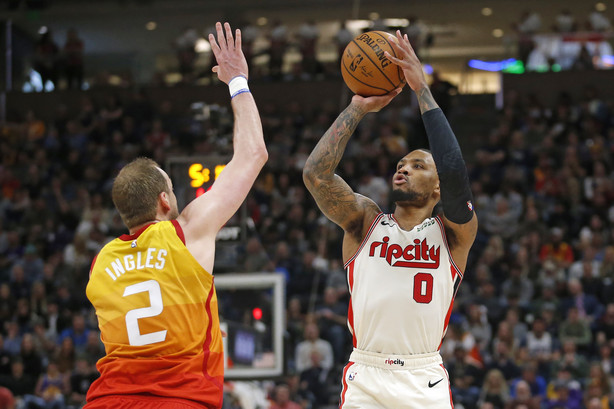 That option is important for the players, NBA Players Association executive director Michele Roberts told the AP.
"The very fact that our players have the option of not playing, I think says a lot about the commissioner's ability to appreciate how big an issue this is, not just for African American players but for all of our members," Roberts said. "There's not been one ounce of skepticism about the sincerity of the players' feelings about this."
Still, fears aren't eased easily — especially considering the scope of a global pandemic that has infected more than 2.1 million Americans with upwards of 117,000 deaths, according to Johns Hopkins University's COVID-19 dashboard. Add to it the loud outcries for racial justice and an end to police brutality — many of whom have been supported by NBA players nationally, including Lillard himself in Portland — and many players find themselves in a difficult situation. Some have considered whether bringing the NBA back will focus attention away from the struggles of black Americans and the movement inspired by Black Lives Matter that is sweeping the nation.
Again, Lillard says he'll play. But all of these things — and likely more — are weighing on him as he commits to that decision.
"It's something that none of us have experienced in our lifetime," Lillard told ESPN. "The world literally shut down; I don't know if that's ever happened, or when was the last time it did, if it happened. But I think it will be difficult, to say the least, because a lot of our hearts are with our people.
"That's hard, to go out and be the best version of yourself as an athlete when something isn't sitting right with you, personally. That's something that won't just go away. So we're not sure how it's going to go. But we're gonna see when we get there."
×
Related Stories