Estimated read time: 4-5 minutes
This archived news story is available only for your personal, non-commercial use. Information in the story may be outdated or superseded by additional information. Reading or replaying the story in its archived form does not constitute a republication of the story.
With the recent pandemic and uncertainty of the future, treatment centers are experiencing more family members reaching out in support of their addicted loved one. The question weighing heavily on each of them is "How can I best help my addicted loved one?"
Without proper tools, a family member's confusion over how to best help their loved one suffering from a substance abuse disorder often promotes feelings of trauma, hopelessness and despair.
A study published in The Journal of Substance Abuse Treatment reports family support is paramount to encouraging an addicted loved one to seek treatment, comply with treatment guidelines, and even maintain long-term gains after treatment. While it's incredibly important for someone facing an addiction to have a strong support system, it's also important for that support system to know how to help in an effective way.
Here are six actions family members can take to more effectively help their addicted loved one towards overcoming addiction and increasing the likelihood of maintaining long-term sobriety.
Be willing to understand the disease aspect of addiction
The American Society of Addiction Medicine adopted a new definition of addiction based on four years of concentrated study by 80 experts. They say addiction is a "chronic brain disease, not just bad behaviors or bad choices."
Some people are more prone to addiction than others for reasons unclear to researchers. According to News in Health, addiction can run in families, and it might even come down to your genetic framework. Regardless of predisposition, people with addictions have an altered brain—literally. Harmful substances alter how the brain is able to weigh consequences and make decisions.
While it may seem that someone with an addiction is making poor choices to be spiteful or purposefully cause harm, that may not always be the case.
Replace judgment with charity and advocacy
Once family members understand their loved one is suffering from a midbrain disease and is in desperate need of legitimate help, the stigma of addiction melts away. Hurt feelings and hearts are softened with compassion with a new drive and motivation to seek appropriate and effective help.
Understand the rock bottom idea is a myth
Waiting for a loved one to hit rock bottom can be very dangerous as addiction is chronic, progressive, and fatal. Addiction is like any other disease—the sooner it is diagnosed and addressed the sooner healing can begin. While it is true that real and lasting change is predicated upon a person's own free will and choice, those who are encouraged to get help often find they are not alone and their desire for help increases as they learn vicariously from others in recovery settings (such as 12-step meetings or treatment groups).
Recognize how family members can contribute to the cycle of addiction
Support persons, often unknowingly, resort to negative patterns of codependent rescuing, persecuting or suffering behaviors.
Engaging in recovery education as a family member is critical in learning how to transform negative interactions into more positive patterns of unconditional love and connection. These more helpful patterns can help increase hope and a sense of working together to combat the disease of addiction.
Family members can learn the fine line between what is helpful and what is hurtful. Implementing loving and firm boundaries can also ensure stronger, more respectful relationships.
Learn how shame is the core of addiction and how to eradicate it
Professor and researcher Brene Brown defines shame as "the intensely painful feeling or experience of believing that we are flawed and therefore unworthy of love and belonging – something we've experienced, done, or failed to do makes us unworthy of connection."
Research shows that shame is at the center of addiction—it is even part of a cycle. A person feeling unpleasant feelings wants to numb those feelings, so he turns to substances. Then he feels shame for his behavior and repeats the cycle over again.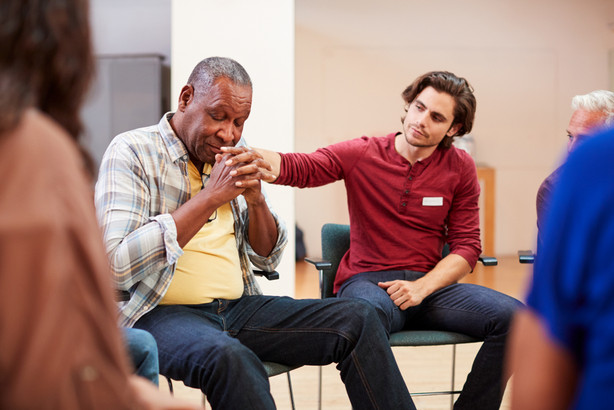 Family members learn to communicate appropriately without triggering shame which can often lead to cravings. Cravings are a symptom of the midbrain disease of addiction.
Show up to meetings to learn from others and model recovery
One local addiction recovery treatment center, Renaissance Ranch, offers weekly online family education classes that are free, open to the public, and invaluable for family members seeking to find help for an addicted loved one. To register for this webinar, sign up on their website.
Community resources such as 12-step programs and Al-Anon meetings are also very helpful. Family members working the same 12 steps of recovery as their addicted loved one learn how to recover from their own worrisome thoughts, feelings and behaviors, as well as experience less long-term regret.
Family members discover new hope and growth for themselves from becoming more educated in recovery tools and principles and model the peace and gift of recovery for their addicted loved one!
To learn more about addiction and how you can support your loved ones, visit the Renaissance Ranch website.
×