SALT LAKE CITY — As student-athletes prepare to return to the University of Utah in June for voluntary workouts related to their sport, the university has released a detailed plan to ensure their safety amid a still uncertain future related to the coronavirus pandemic.
The comprehensive plan, which was announced Thursday, is intended to maintain student-athlete safety while allowing them to use the various athletic facilities to train for their sport.
In-state athletes will be the first individuals allowed to return to campus on June 15, which is the first day the Pac-12 will allow for athletes to return to campus to train.
The plan currently features a three-part phase-in process to allow student-athletes from football, men's and women's basketball, gymnastics, volleyball and soccer to return to campus by the end of June.
Once the initial phase-in period concludes, the university will reassess how the voluntary phase-in period worked and then formalize its final four phases to welcome all student-athletes back to campus. The university hopes to start this second part of its plan on July 13, though the date could change.
"We have been working collaboratively with the Pac-12 and their medical group, and also working with our students along the way. Many of our students are anxious to come back and work out in these incredible facilities that we're blessed to have," Mark Harlan, Utah's Athletics Director, told media Thursday during a video conference. "And, of course, our obligation is to do it in the safest possible manner, and that's what we plan to do."
Prior to a student-athletes' voluntary return to campus, the university will administer an antibody test and COVID-19 test. Antibody tests have been known to have a high false-positive rate, but Utah's head team physician Dr. David Petron said the tests will help them identify athletes that may have contracted the virus, which will help them further track cardiac and pulmonary measures.
"We're going to start the test with a qualitative test, meaning it would just be a positive or a negative test. And then if that test is positive, we do a further test to make it a more accurate test by doing a quantitative test so we know the tighter the antibodies, both IgM and IgG type antibodies," Petron said. "So if we combine those two tests, it helps us pin down who might have been positive in the past. We feel like we could do further testing for the protection of the athletes, specifically cardiac and pulmonary."
Petron said the university will ensure there won't be any "congestion" or "cross-contamination" among the various teams allowed on campus. Athletes will be able to use the facilities on an appointment basis by teams, which will be maintained by staff. Athletes will also be required to participate in daily symptom checks, which include temperature checks and an electronic symptom questionnaire.
"We want to create a contact tracing system within the department that allows us to follow the athletes on a day-to-day basis," he said.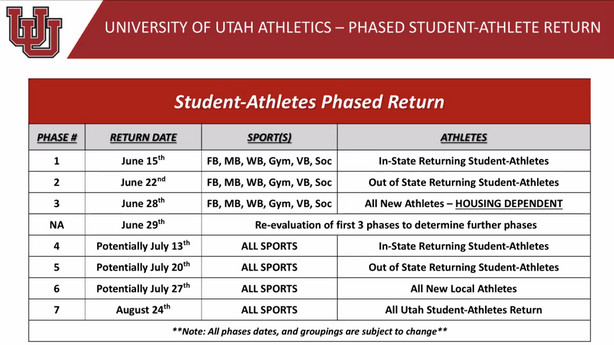 However, athletes aren't required to stay on campus if they voluntarily return to the facilities; they're free to maintain their own social lives, according to Deputy Athletics Director Kyle Brennan.
"When it comes to our student-athletes, they're adults — they're young people but they're adults, they have lives outside of here," Brennan said. "Our job is to do everything we can to educate them and put them in the best situation possible to handle these situations when they come into them.
"So, whether they're shopping at a store, they want to go workout somewhere else, or they want to go for some entertainment — a movie theater — our trainers and doctors will sit down with them and advise them on the safest course of action to live their private lives outside of when we have them. When we have them here, we're definitely going to monitor and take care of them, but we do send them on their way, and a lot of student-athletes live off-campus. So while we don't control every aspect of their lives, we do everything we can to educate them, put them in the best position possible to be safe."
If an athlete contracts COVID-19 or some other illness, an evaluation will be done over the phone with a physician. That athlete will then be required to self-isolate at home for 14 days or after negative tests on the third and fifth day of isolation. If both tests are negative, the athlete is allowed to return to activities. Anyone that has been exposed to that athlete will also be asked to self-isolate until test results are negative.
The current plan, which could change at any time, follows the guidelines set forth by the local government, namely Salt Lake County health orders, which currently remains in the moderate, or orange, phase of the Utah Leads Together 3.0 plan.
"We work closely with our local health department to come up with this plan and want to thank Angela Dunn, who's been a valuable resource," Dr. Petron said, speaking about the university's work with the state's leading epidemiologist. "I spoke to her last night, gave the final details of the plan and she feels like it's a very good plan — very reasonable plan."
"All the steps and procedures that we have in place right now are conforming with phase orange, the state," Trevor Jameson, Director of Athletic Training, added. "So as we look at what the state allows for this level, we're meeting that and we plan on doing that for several weeks. Obviously, whatever color the state is we're going to follow those guidelines. So we are in compliance with that, and the color of the city that we're in will help dictate our plans."
×