SANDY — The National Women's Soccer League has released plans for players and teams to resume near-normal training sessions, while additional plans reportedly approaching for a preseason tournament in Utah.
First, the NWSL reached a significant milestone Monday, when the league announced that teams could begin training in small groups while under the direction of team medical staff and in accordance with local governmental and public health guidelines.
The plan, referred to as "Phase Two" in the league's return-to-play protocol, says small-group training should not exceed eight players, each of which must complete a pre-training assessment, daily symptom check and temperature screening prior to entering the team facility.
All training would be supervised by members of the team's essential staff, which may include coaches, athletic trainers, sport scientists, team physicians and equipment managers. Each player and staff member will also be required to take an Antigen polymerase chain reaction (PCR) test and Antibody (IgG) test prior to being present at any group training session.
"Following the advice and counsel of our medical advisors, the NWSL is pleased to be taking the next steps to safely return to competition," NWSL commissioner Lisa Baird said in a statement from the league.
Once teams have training in small groups for at least five days, the club may authorize full team training — or Phase Three of the return-to-play protocol — so long as doing so does not violate state or local health restrictions.
That means the earliest a full team may train together will be Saturday, May 30. Players should arrive with their own training gear, including water bottles, and wear masks in entering and exiting the training facilities.
Other guidelines for small-group and team trainings include:
— Essential staff limited to those necessary to conduct each phase of training and competition
— Players who are sick, have had close contact with individuals who are sick or otherwise fulfilling self-quarantine should not participate in any training, and must report their symptoms to the team's certified athletic trainer, then stay home until symptoms have passed
— Practicing good hygiene, including hand washing and sanitizing, avoiding touching the nose, face and eyes, and practicing social distancing, where possible
— Regularly clean and disinfect all team facilities and rooms, subject to NWSL standards.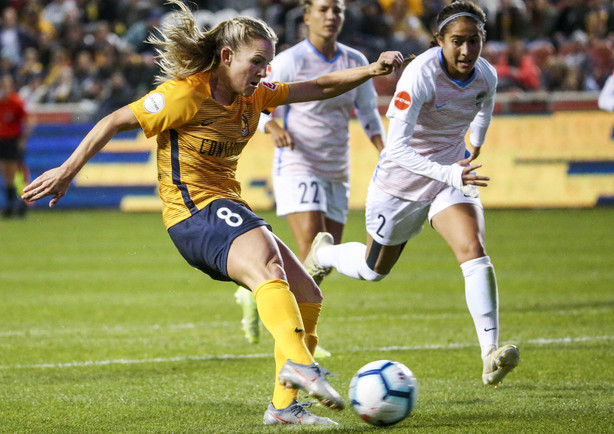 The move to Phase Two coincidences with the NWSL's plan to resume training in the form of a tournament scheduled to begin June 29 at the Zions Bank Real Academy in Herriman, according to a report first issued by The Athletic.
The plan, which was distributed to players on May 15 and was first reported by the Washington Post, says an abbreviated version of preseason would begin Monday, and tournament play will take place June 29 with "group play" involving all nine NWSL teams. After four group-stage games, the last-place team will be eliminated and the other eight will be seeded into the quarterfinals of the what documents call the "NWSL Challenge Cup," according to The Athletic.
The tournament would be played at Zions Bank Stadium, home of the USL's Real Monarchs and RSL Academy, for the group stage and quarterfinals, while Rio Tinto Stadium — home of Real Salt Lake and Utah Royals FC — would house the semifinals and finals.
Salt Lake City became a popular site for the tournament due to seven fields available at the RSL Academy, as well as the grass training pitch at American First Field in Sandy, according to the report, as well as Utah's lower rate of spread of COVID-19 compared to several other markets around the league, which include Portland, Seattle, Chicago, Washington D.C., New Jersey, North Carolina, Houston and Orlando.
In addition to the tests taken to return to training, players would be subjected to additional nasopharyngeal tests on a weekly basis throughout preseason, as soon as they arrive in Utah, and prior to each match of the tournament. Other on-site personnel, such as referees, broadcasters and other staff would also be tested, according to the report.
The league cites "aiming to inspire the world with the stories of how our players and league are overcoming the challenge of the pandemic" as an objective of the tournament, according to the report. All matches would finish by July 28, at which point it is assumed the NWSL would reassess the ability to start the regular season that has been postponed indefinitely by the coronavirus pandemic.
×
Related Stories