SALT LAKE CITY — Isaiah Rivera did not become the best professional dunker in the world overnight.
In fact, he didn't dunk the ball for the first time until he was 16 years old, after he had been cut from the Jordan Beetdiggers basketball team three years in a row.
What he lacked in natural athleticism growing up, however, he has made up for and then some with his relentless work ethic; and it's starting to pay off in a big way.
Last summer, the 22-year-old Rivera won a dunk competition in the shadow of the Eiffel Tower in Paris by jumping over Detroit Piston forward Blake Griffin. Since then, he has gone on a tear, winning competitions all across the globe and has gone viral with his 360-degree behind-the-back through-the-legs slam.
He has amassed 130,000 followers on Instagram and another 40,000 subscribers to his YouTube channel, where he posts workout plans, training updates and offers personalized dunk coaching. All this while earning a degree from Central Florida, which he completed at the end of 2019.
Rivera's determination to be the best dunker in the world and the requisite discipline he acquired to achieve those dreams dates back to his childhood where he grew up the older brother of two siblings with a rare genetic disease, spinal muscular atrophy, that affects their ability to walk, eat and even breathe normally.
His family's journey of relocating from Puerto Rico to Utah in order to receive treatment as well as day-to-day life for the family has now been chronicled in a documentary film called "Not Surviving But Living" made by a couple of Utah Valley University students, which won first place in a school competition.
"I think I matured very quickly just through the amount of responsibility that I had and my role in the family," Rivera told KSL.com. "From a really young age, it became something that I just did as part of my daily life."
Some of those responsibilities were lifting his brother from his wheelchair to the couch or bed, assisting in physical therapy, brushing his teeth, cooking, helping him take his medications and inhalers and, because they shared a bedroom for a number of years, waking up in the middle of the night to carry him to the bathroom.
"I'm not the best babysitter, I'll be the first to say that," Rivera joked. All of those formative years of sacrifice and hard work for his family began to pay dividends, though, when Rivera turned his attention to dunk training.
"Let's say I'm playing video games and about to beat a high level, but my brother is going to pee his pants because he has to use the bathroom so bad, well you have to drop the game, drop whatever you're doing to take him to the bathroom because that's the priority. It takes discipline to do that sort of thing, and I trained my mind that way for 19 years."
Rivera spends six days a week in the gym, which he breaks up into three days of heavy weight lifting, two days of circuit training and one day spent unleashing his elite 46-inch vertical leaping ability to practice full-speed dunk attempts on a 10-foot hoop.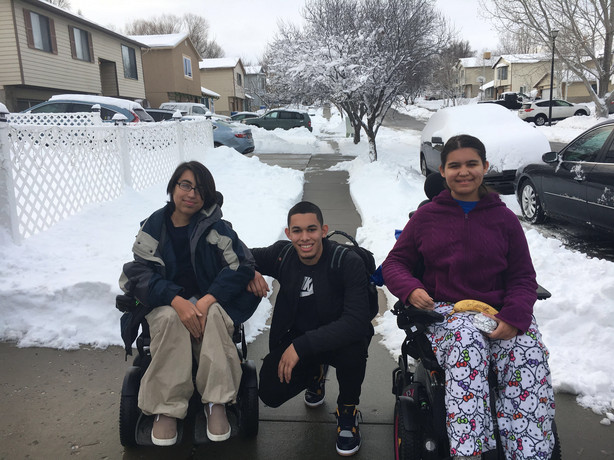 It would be hard for the teenage Rivera practicing dunks on the hoop outside his house to imagine where it has been able to take him — from advising NBA Slam Dunk Contest champion Glenn Robinson III on dunks he could perform in the competition to traveling across continents to Australia, China and Eastern Europe for events.
Not only did his siblings play an indirect role in helping their brother work hard, his brother Januel Gomez filmed many of his early dunks on that hoop behind his house, using his elbow to drive his wheelchair forward at times to get better footage as they unfolded. Those videos helped propel Rivera to his current position as an internet sensation.
Today, Gomez continues to offer constructive criticism of dunks his brother is working on. "I always tell people my brother's my biggest critic," Rivera explained. "With how much dunking he's seen and seeing me start from the beginning and progress, I trust his opinion more than a lot of people that are dunkers. He has an eye for it."
The documentary was initially released on YouTube by filmmakers Adam Townsend and Shea Sexton, but they want to add additional footage of what the family has had to go through during the COVID-19 pandemic to remain healthy when Januel and Alondra Gomez are heavily at risk if they contract the virus due to SMA. After its completion, they will submit it to film festivals and streaming services.
"When I get sick, it's like, all right, eventually it's gonna go away," Rivera said in a portion of the film already released and filmed long before the pandemic. "But with them getting sick, their life is at risk and that's ... they're the people that I love the most."
It's for this reason that Rivera got into dunking in the first place. "I have two siblings that can't walk. They can't play sports; they can't sprint or jump. So, I almost see it as one of the worst things you can do as a person is not using your body to the max. See what you're capable of, because there's people that don't even have that opportunity."
×