This archived news story is available only for your personal, non-commercial use. Information in the story may be outdated or superseded by additional information. Reading or replaying the story in its archived form does not constitute a republication of the story.
This story is sponsored by MountainStar Healthcare. Our hospitals and outpatient centers deliver high-quality, cost-effective patient care – when and where it's needed.
Each of the eight MountainStar Healthcare hospitals in Utah proudly display a banner for its staff with a new definition of the word "hero." That definition reads:
Our frontline healthcare heroes who show up to keep our communities healthy and safe.
You.
The acts of true heroism exhibited every day at each MountainStar hospital in the midst of the COVID-19 pandemic is inspiring. Those caring for our communities on the front lines deserve our gratitude and most importantly our full support.
To show that support, MountainStar Healthcare along with its parent organization HCA Healthcare, has implemented sweeping programs to protect colleagues during this unprecedented time. These programs, as referenced in a tweet by Vice President Mike Pence, not only protect those caring directly for COVID-19 patients, but colleagues across all hospital departments who have been drastically effected by this pandemic.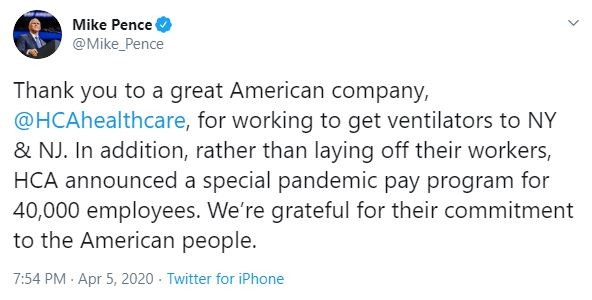 To make it absolutely clear to the heroes in each hospital as well as to the communities they care for, here is what is being done to support those who are supporting us in our time of greatest need.
The situation
Like most healthcare organizations across the country, MountainStar Healthcare has experienced significant drops in patient volume as a result of COVID-19. These circumstances have created situations where there is often not enough patients to support the workforce in getting their full hours.
To simplify the situation:
— COVID-19 = hospitals cease most common patient care operations such as elective surgeries.
— Hospitals cease most common hospital operations = fewer patients being cared for in hospitals.
— Fewer patients in hospitals = reduction in hours required for staff to care for patients.
— Reduction in staff worked hours = added financial strain on frontline heroes.
Protecting employee pay
To protect colleagues who find themselves in this unfortunate situation, HCA Healthcare and its eight MountainStar hospitals – St. Mark's Hospital, Ogden Regional Medical Center, Timpanogos Regional Hospital, Lakeview Hospital, Mountain View Hospital, Lone Peak Hospital, Brigham City Community Hospital and Cache Valley Hospital – have implemented programs to pay their hospital staff, regardless of available work hours for these employees.
These programs include:
MountainStar Healthcare is identifying redeployment opportunities to keep team members working where volume levels are high. The absolute goal is to get all staff 100 percent of their hours and 100 percent of their expected pay.
For employees who can't be redeployed or find sufficient hours to work, MountainStar Healthcare will continue to pay staff 70 percent of their normal paycheck, even if they can't work a single hour during a pay period.
For example, if an employee usually works 40 hours per week, but is only able to log 32 hours in their current assignment or through redeployment, the employee will be paid 100 percent of the 32 hours worked. For the remaining eight hours, the employee will be given "Pandemic Pay". This means the employee receives 70 percent of pay for those hours they were unable to work. The employee may also choose to add PTO to bring them to 100 percent of pay.
In short, colleagues are paid for unworked hours when not at the hospital.
Any employee working in direct patient care who is exposed to COVID-19 and needs to be quarantined will be paid 100 percent of their base pay whether they were exposed to COVID-19 at work or outside of work.
MountainStar employees will see no healthcare or other benefit reductions due to COVID-19.
HCA Healthcare executives, as well as local MountainStar division executives and leadership, will take temporary pay reductions of up to 30% over the next two months to assure hourly, frontline staff continue to receive full compensation.
MountainStar Healthcare's top priority is to care for each patient and colleague like family and to avoid at all costs having to furlough a single member of that family.
Protecting employees at work
Along with financial support, MountainStar Healthcare is doing everything possible to protect employees from exposure to COVID-19. These measures are in place to ensure our team is safe and able to continue to provide the highest level of care for patients in our communities:
MountainStar hospitals were the first healthcare facilities in Utah to implement COVID-19 visitor and patient screening procedures. These hospitals have also minimized facility entrances and implemented strict visitor policies in order to protect colleagues and limit possible exposure to current patients.
Last week, all MountainStar hospitals implemented a new universal masking policy providing masks for all staff members.
While personal protective equipment (PPE) is limited nation-wide, the size and scale of HCA Healthcare has given its Utah hospitals access to needed PPE. Each hospital has implemented a process to manage the distribution of PPE and ensure caregivers have what they need now and in the future.
Education on proper use of PPE is actively being taught by "at-the-elbow" clinical educators to ensure each colleague knows how to keep themselves safe while wearing and removing PPE.
We must keep our caregivers safe so they are available to care for not only COVD-19 patients, but all those who need care of any kind in our hospitals.
Protecting employees at home
Supporting caregivers goes beyond providing financial and physical support at the hospital. Our frontline heroes are just as worried for their own families as they are for the patients they care for. Here is what MountainStar Healthcare is doing to support colleagues at home as they give their all for each patient:
For several weeks, each MountainStar hospitals has provided daycare options to team members who needed support while their kids are home from school. MountainStar is now working with the state of Utah's new childcare program to add extra care coverage where needed.
MountainStar is offering free scrub laundering for each care giver to prevent carrying the virus home on clothing.
HCA Healthcare has worked out agreements with major hotel chains to provide housing for MountainStar staff who provide care to COVID-19 patients and prefer not to go home to their loved ones. Staying at a hotel is not mandatory, but an additional option given to those on the frontlines of the pandemic.
In these extremely stressful times, MountainStar hospital staff have access to a free call line to talk with a mental health professional anytime, day or night.
All necessary arrangements have been made for non-clinic staff across MountainStar hospitals to work from the safety of home.
MountainStar Healthcare, in collaboration with HCA Healthcare, continues to monitor the ever changing conditions around COVID-19 and will adjust accordingly. However, one thing that will never be adjusted is the organization's dedication to the care and improvement of human life, both for patients and staff.
In conclusion, MountainStar Healthcare President Greg Angle demonstrates this commitment with a powerful message to the organization's frontline heroes:
"This pandemic is unique, and our colleagues' concerns are real. We want them to know that we care like family, and stand with them. By supporting all of our colleagues in these trying times, we will emerge stronger, more resilient, and more capable to meet our nation's healthcare challenges."
×