This story is sponsored by Utah Toyota Dealers.
It may not make a lot of sense, but I've had the chance to drive many cars in my ten seemingly short years of driving experience. I grew up in a small town in Arizona, and as many small town high schoolers can attest to, you end up driving around because there isn't much else to do.
I drove my parents' mini SUV out to a dried-up lake bed to take pictures on my old DSLR. I drove my dad's work van to run errands for his business. I drove an old Jeep out on the desert roads as I attempted to learn how to drive a manual transmission.
After graduating from BYU, I got a job and needed a solid commuter car, so I happily drive a reliable, compact car.
I love my car — I can't think of any complaints. But when I was offered the chance to test drive a 2020 4Runner TRD Off Road for a weekend, I jumped. Even though I'd had many "adventures" in different cars back home, I had never had the luxury of driving a four-wheel drive, off-roading vehicle. These are just a few of the reasons I loved the car and think someone else might, as well.
Safety first
While I never feel unsafe in my car, there is something to be said for driving around in a bigger car. The 9.6 inches of ground clearance is amazing for seeing around corners and cars. When you slide in the car and shut the door, the outside world quiets down. You feel safe and secure in this solid piece of machinery.
After driving around in a smaller car with an excellent turn radius, I have to say I was nervous to turn around tight corners with the 4Runner TRD Off Road. I was pleasantly surprised to realize the turn radius is nearly identical to my small car. For a vehicle of this size and magnitude, I was stunned by how confident I felt in navigating tight spaces in the 4Runner TRD Off Road.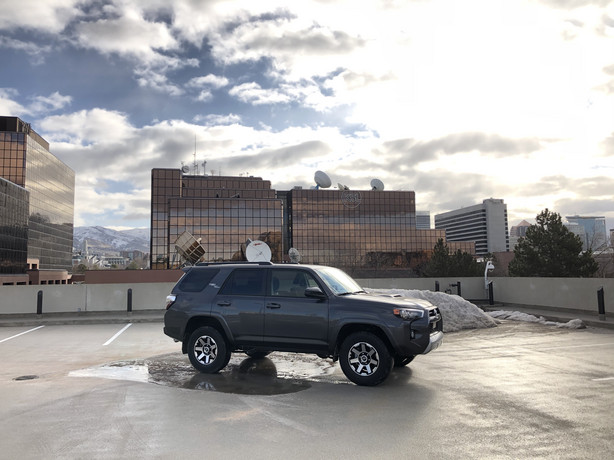 Of course, one of the biggest safety features of all is the four-wheel-drive. I felt confident that I could navigate even the roughest of Utah winters in the 4Runner TRD Off Road. Having grown up in Arizona, feeling confident on a Utah road in the winter is significant.
Features such as the Lane Departure Alert, automatic high beams, Dynamic Radar Cruise Control and the Precollision System gave me peace of mind when I was driving. While I'm not a distracted driver, it's nice to know your car can help you react in situations when shock might limit your response.
Financial security
Perhaps the most appealing reason (for me) to buy a Toyota is the well-known fact that Toyotas are built to last. I know if I buy a Toyota 4Runner TRD Off Road, I can put well over 200,000 miles on it with no or very few trips to the mechanic. As a millennial with student loans, financial security and investment in a reliable car are important to me.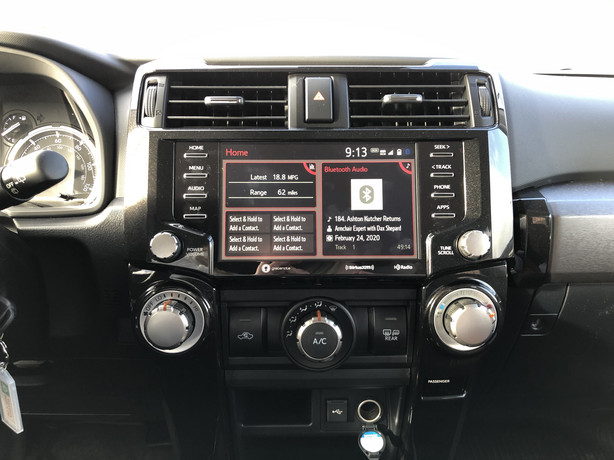 Additionally, the low sticker price is appealing. Prices start at $36,000, making this an extremely affordable car for its class and capabilities. You also know that down the road, if you want to upgrade your 4Runner TRD Off Road, reselling is easy. Toyotas are in high demand and retain their value, giving you added peace of mind if your needs change with time. In fact, Kelley Blue Book named Toyota the best resell brand of 2019.
Adventures and fun
Like any true millennial, I buy things that I enjoy (regardless of whether I should or not). While many of my purchases may not have been prudent, there is no compromise between responsibility and fun with the 4Runner TRD Off Road.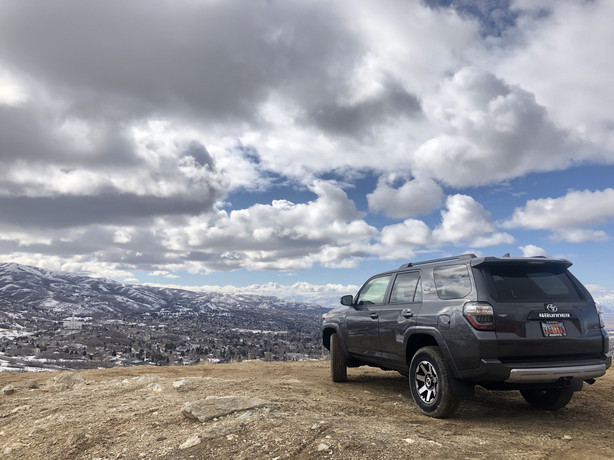 Off-roading is a breeze in this vehicle — we climbed hills with snow, mud and deep ruts without a problem. Sliding the car into four-wheel-drive and choosing the appropriate terrain function is easy, even for someone with little experience. And when the going really gets tough, pushing a simple button to lock the rear differential will get you up or down the most intimidating of hills.
With 270 horsepower and a V6 engine, climbing hills with a full load is as easy as driving down a paved road...but more fun. Competitors' cars can't hold a candle to the off-roading and all-terrain capabilities of the 4Runner TRD Off Road.
If any sort of outdoor adventure is part of an average weekend for you, you'll enjoy the roomy cargo space, the USB ports in the backseat and a charging port in the cargo area. Even if you're loaded down with gear, the approach and departure angle will get you to some of the toughest areas — places you couldn't get with a competitor's vehicle.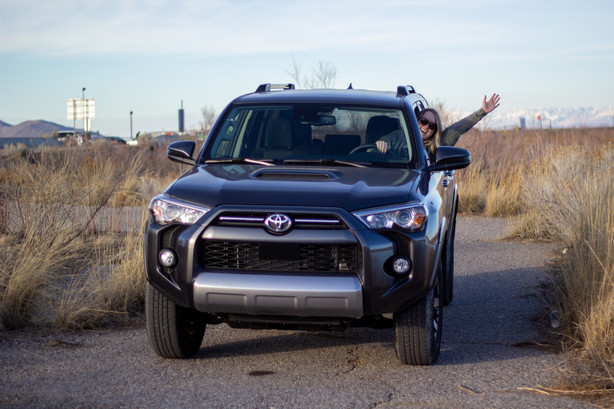 The takeaway
Whether or not you're a 4Runner TRD Off Road fan already, you won't be disappointed in the upgrades and capabilities of the 2020 TRD Off Road model. The newer, big navigation screen, Apple CarPlay, Remote Connect and Wi-Fi Connect are just frosting on the off-roading cake.
It doesn't matter if you're the type to crave safety and security or if you'd rather get the adrenaline pumping with extreme adventure; you'll find a home in the new 2020 4Runner TRD Off Road. Visit your local Toyota dealer to take one for a spin.
And if you'd like to test your knowledge about all things Toyota, take the quiz below and you could win a $50 Maverik gift card.
×
Photos