SALT LAKE CITY — After four years of sweat, tears, blood and pain, it takes a special group of seniors to win a state championship.
Still, not every senior class gets to celebrate with the highest honor in Utah high school sports every year.
In Saturday's Class 5A boys basketball state championship, though, it was the seniors that made all the difference.
Specifically, Springville had eight more of them than Timpview.
Zachary Visentin had 16 points and 12 rebounds, Cooper Riggs added 13 points and seven boards, and Paul Terry added 12 points, eight assists and three steals to help the Red Devils win their second title in four years with a 66-53 win over Timpview at the Huntsman Center.
"This is such a special senior class. This is my family," said Visentin, who has signed with Idaho State. "This is my second family, and all these guys are my brothers. I love every one of them — and they all contributed to this win."
Family is exactly how Springville coach Justin Snell described his team — and it started with his seniors. It's why he reminded them of their eight seniors in every huddle and why he brought it up again at halftime.
The Thunderbirds (21-7) would all be back next year. Springville didn't have that luxury.
"That's all they talk about is how much they love each other," Snell said. "That doesn't happen. You can have teams that are good teams, who then leave and that's it. That's not this group.
"This group cherishes each other, and it's so good to be apart of."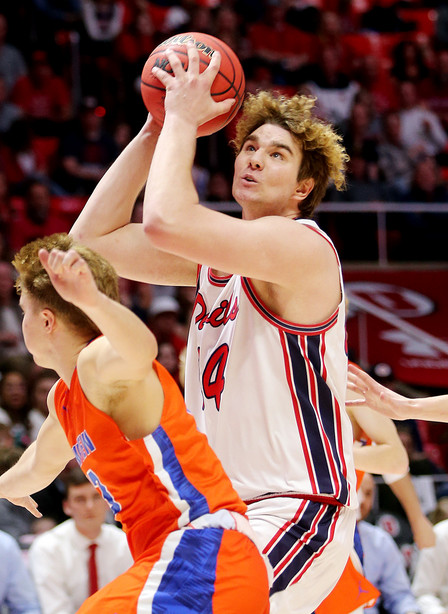 Riggs is the top-scoring guard for the Red Devils (22-5), and Snell called Terry "the best point guard in the state." Visentin, though, was the biggest improvement — from the time he arrived at Springville until now, a Division I product who nearly averaged a double-double as a senior.
"Zach's worked extremely hard to be where he's at," Snell said. "When we got him, he wasn't the best player. He didn't work hard; he didn't run the floor. But to his credit, he put his head down and just worked and worked and worked."
Perhaps it was fitting that those three seniors were the three who stood out most Saturday afternoon in Salt Lake. Because those three — three of the eight Springville players in their final high school game — represented the heartbeat of the team during one final run.
But they weren't alone. Austin Mortensen. Landon Haslem. Payton Murphy. Dylan Thomas. Tyler Biddison. Everyone played a role in winning Snell's second championship at Springville.
"I've never seen a senior class like this," said Riggs, who shot 4-of-8 from the field with a pair of 3-pointers. "I've been in the program for four years, and to have eight seniors that all want to play for each other, who have a special bond — it's special. We have a great group, and this is exactly how you want to end this season."
The Red Devils held Timpview scoreless for more than six minutes to open the second quarter, turning a 21-19 edge after one into a 34-21 lead at halftime.
The run was paced by a pair of dagger 3-pointers from Mortensen and Terry. But it really started on the defensive end. Timpview shot just 26.3% in the first half, including 2-of-11 from 3-point range, while Springville outrebounded their Utah County neighbors 19-9 and added five treys of its own.
Visentin went to work inside. His shooters did the rest.
And then the defense.
"We preach, play defense and finish with a rebound. That's all we had to do in that second quarter," Riggs said. "I guess defense really does win championships."
Jaxon Santiago flipped a bucket for two in transition to pull Timpview within single digits, 53-45 with 3:46 remaining. But the Thunderbirds could get no closer, hitting just 31% from the field and just 3-of-15 in the fourth quarter.
Timpview had no seniors in Saturday's championship, a roster stockpiled with sophomores and juniors. The Thunderbirds' time will come.
Saturday was for the Devils — and the whole town that packed the Huntsman Center to celebrate with them.
"We have the best community in the world," Visentin said. "Everyone's here to support us. It means everything."
Jake Wahlin led Timpview with 15 points, 11 rebounds and three assists, and Coleman Ford added 12 points for the Thunderbirds.
×
Photos
Related Stories