Estimated read time: 4-5 minutes
This archived news story is available only for your personal, non-commercial use. Information in the story may be outdated or superseded by additional information. Reading or replaying the story in its archived form does not constitute a republication of the story.
SALT LAKE CITY — It was May 1988 when then-head coach Frank Layden saw his Utah Jazz team get blown out by 19 points to the Los Angeles Lakers in Game 1 of the Western Conference semifinals. The Lakers had Magic Johnson, Kareem Abdul-Jabbar and James Worthy.
As for the Jazz, well, at least they had a lighthearted coach.
"I would like to tell you, as a coach, and be emotional and say, 'Yeah, we got a chance,'" Layden said in his usual shoot-from-the-hip way, "but then ask me, 'Would you bet on it?' and I'd say, 'Bull ... '"
Long-time Jazz season ticket-holder Paul Iwasaki remembers the playful rant well. And he remembers the Jazz's reaction, too. He was there at The Forum in L.A. when the then-young duo of Karl Malone and John Stockton shocked the Lakers to win Game 2. And he was there at Game 6 when Utah won by 28 points to push the defending and eventual-NBA champions to a Game 7.
Even after 30-plus years and multiple playoff series — including two runs to the Finals — that one still stands out.
"The Finals were great, but that one was the funnest," Iwasaki said.
Turns out plenty of people thought it was pretty great, too.
On Nov. 15, 1988, in the team's third home game the following season, the Jazz began a sellout streak that continued all the way until Nov. 26, 1993 — a total of 209 games. It's still the longest streak in franchise history.
The second-longest streak is about to reach the century mark.
On Friday night against the San Antonio Spurs, the Jazz are expected to sell out their 100th consecutive home game. The catalyst for the current streak wasn't a hard-fought playoff series against a defending champion, but something that provided similar hope.
In the summer of 2017, the Jazz traded up for Donovan Mitchell. On Dec. 1, 2017, he scored 41 points to lead a comeback win over the New Orleans Pelicans. Six days later, the streak began.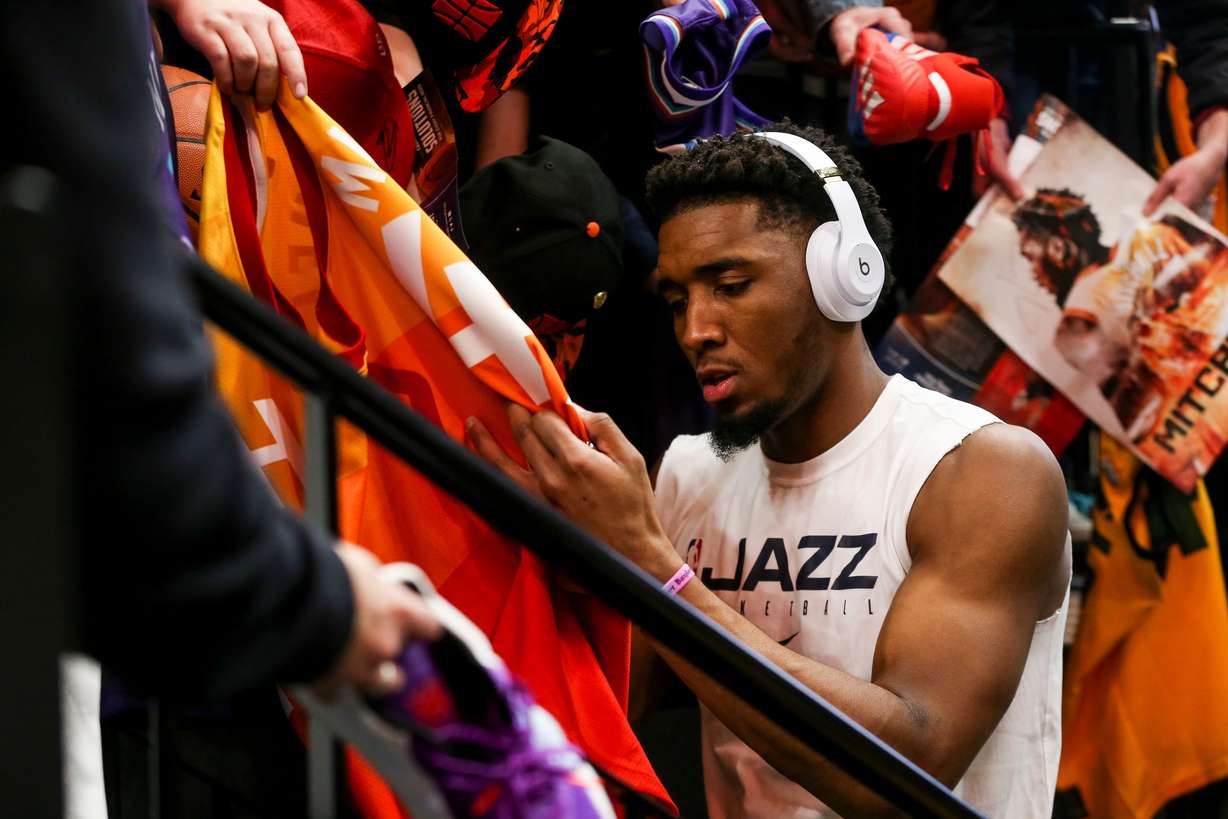 "After Gordon (Hayward) left, everyone thought we were gonna be a lottery team," Rudy Gobert said. "We didn't think that way — we had different plans. And then you have that rookie that comes in and does what Donovan was doing, and everyone gets excited again. And we are where we are today. We've still got a long ways to go, but the journey's been great, and I'm excited about the future."
There are plenty of similarities between the late-80s Jazz teams and the current Jazz squad: an All-Star duo that allowed fans to dream of the ultimate prize, a defensive player of the year center, a very likable team and, of course, winning.
The 209-game streak featured four seasons of 50-plus winning teams. Last season, the Jazz won 50 games and are on pace to finish this year with 54 wins. It's the wins that make the most lasting memories.
Even after 28 years, Mark Flanery, who has been a season ticket holder since 1989, can instantly recall Michael Jordan jumping up in absolute shock and going after officials when he was called for a foul with a half-second left on the clock that led to the game-winning free throws by Jeff Malone in a 1992 game.
"He just hit the ceiling," Flanery said, laughing. "He couldn't believe they would call foul on him."
Those types of memories are already starting to forge from the current streak, too.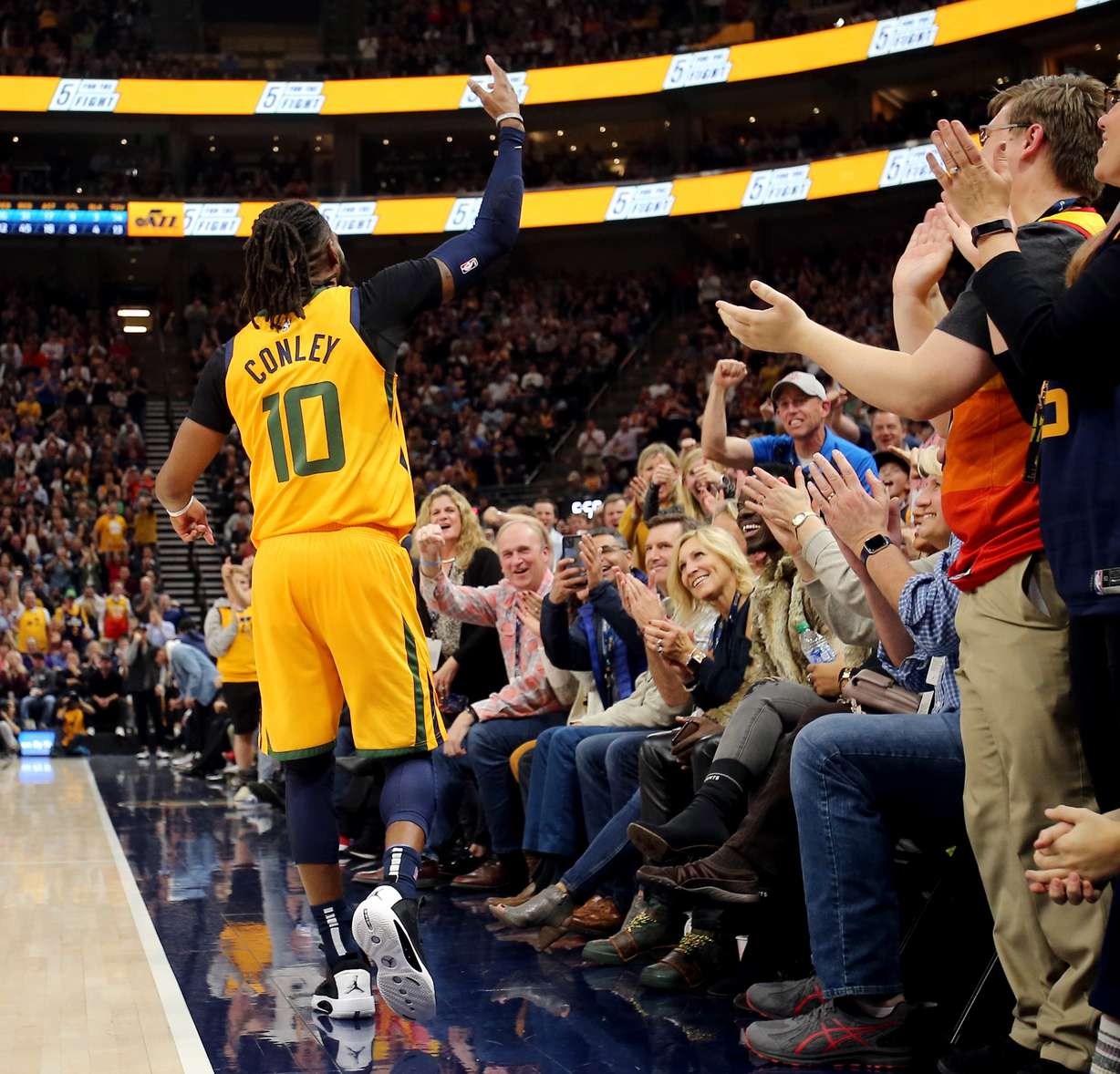 Mark's wife, Kaye, was quick to shout, "Bogey's threes!" when asked if any moment has stuck out to her during the current streak. Bojan Bogdanovic hit a game-winner against the Milwaukee Bucks in November (he added a second one against the Houston Rockets on the road, too).
For the people who have seen both streaks, they say there is a different feel to the arena. Iwasaki said it can feel more intense — from the way the arena is configured to how some fans interact with players, and even how coaches interacted with the fans.
He sat behind the visitor's bench in the late-80s and early-90s and remembers when an opposing coach, who was known for using a bit of colorful language (he believes it was former Denver coach Doug Moe), turned to the crowd before the game and pre-apologized for what they were about to hear.
"That was one of the funniest things I recall happening," Iwasaka said.
And even the basketball has changed — but that's not necessarily a bad thing either.
"We're 60, we hear people that reminisce about the past: 'The game is not what it used to be.' Well, you could say that about life in general," Kaye Flannery said. "You just have to accept it for what it is and evolve and celebrate each generation. Technology, Twitter, all of those things make it a new instant game for good or for bad. So I'm excited and we renewed our tickets for next year."
×
Most recent Utah Jazz stories