Estimated read time: 1-2 minutes
This archived news story is available only for your personal, non-commercial use. Information in the story may be outdated or superseded by additional information. Reading or replaying the story in its archived form does not constitute a republication of the story.
SALT LAKE CITY — Financial records released on Wednesday illuminate exactly how much money Veteran's Affairs paid a dead Tooele man for about 10 years after his death: $177,325.
Paul Mathers' body was discovered by Tooele police in a freezer on Nov. 22, 2019, after his wife, Jeanne Souron-Mathers, was found dead in her home.
Souron-Mathers died of natural causes, according to reports by a medical examiner's office.
It's believed Mathers died at the age of 69 sometime between March 2-5, 2009, according to a statement from Tooele police.
Mathers' sister spoke with him on the phone on March 2. When she went to his home on March 5, Souron-Mathers told her Mathers moved to California, police said.
A notarized note from Mathers found by police in the entranceway to the apartment claims Souron-Mathers had nothing to do with his death.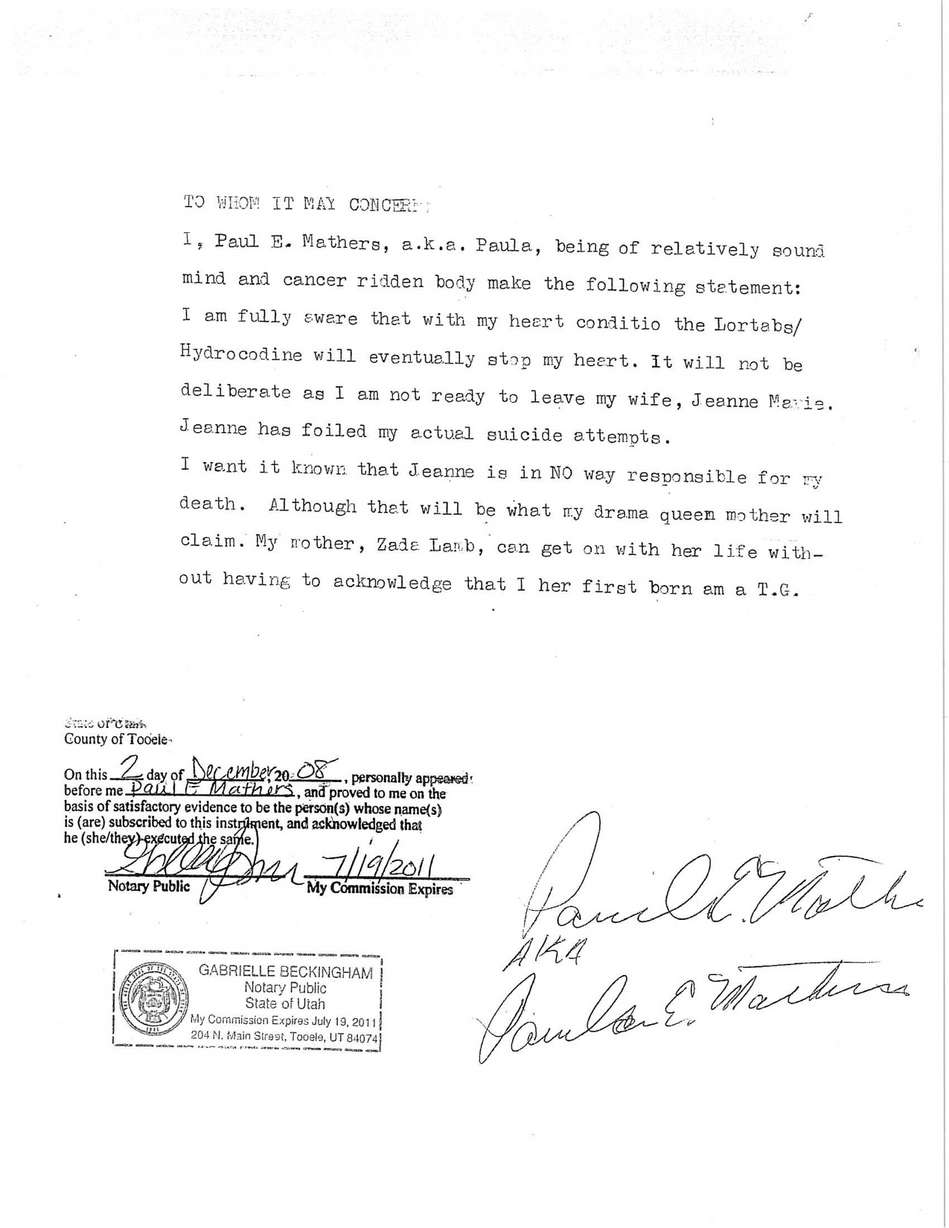 "I want it known that Jeanne is in NO way responsible for my death," Mathers writes in the note, which is dated Dec. 2, 2008.
However, medical examiners were unable to determine a cause of death for Mathers, police said. The medical report, which police received on Wednesday, states Mathers died of "undetermined causes."
According to medical examiners, Mathers had end-stage bladder cancer. In early 2009 he was given weeks or months to live because of the disease.
Mathers' toxicology report showed "highly lethal levels" of multiple prescription drugs, according to police.
Mathers' body was found wrapped in a trash bag in the freezer with another bag over his head, bound with duct tape, police said.
The medical examiners report notes it's impossible to determine if this was done before or after his death, therefore asphyxiation "cannot be ruled out" as a cause of death.
×
Photos
Related stories
Most recent News stories