Estimated read time: 3-4 minutes
This archived news story is available only for your personal, non-commercial use. Information in the story may be outdated or superseded by additional information. Reading or replaying the story in its archived form does not constitute a republication of the story.
PROVO — BYU basketball is back — at least, in the top 25.
Nine years after the Cougars' last appearance in the Associated Press Top 25, BYU made it back into the national conversation following its 21st win of the season.
BYU (21-7, 10-3 West Coast) jumped several spots into the AP Top 25, coming in at No. 23 in Monday's latest poll. The Cougars are only the second West Coast Conference team in the Top 25, joining No. 2 Gonzaga — which comes to Provo for an 8 p.m. MST tipoff Saturday in the Cougars' regular-season home finale.
BYU received 188 votes, slotting in between No. 22 Houston (237) and No. 24 Arizona (102). Utah State earned eight votes in the poll from Week 16, which ranks 11 spots outside the top 25.
The Cougars set a school record with 18 3-pointers in a win over Loyola Marymount, then held off a 9-19 San Diego team two nights later with a late-game alley-oop and defensive stand.
The Toreros are the last-place team in the West Coast Conference, but have lost half their games by 10 points or less.
Perhaps more important than the narrow margin of victory for the Cougars, though, is what it taught them about themselves.
"It shows our character," Yoeli Childs told BYU Radio after the game. "It shows what we're made of. Coach Pope has been talking for weeks about having to win a game on the defensive end of the floor.
"This team is so together and so bought in that on that last possession, we were all hype. We wanted a situation where we had to get a stop to win."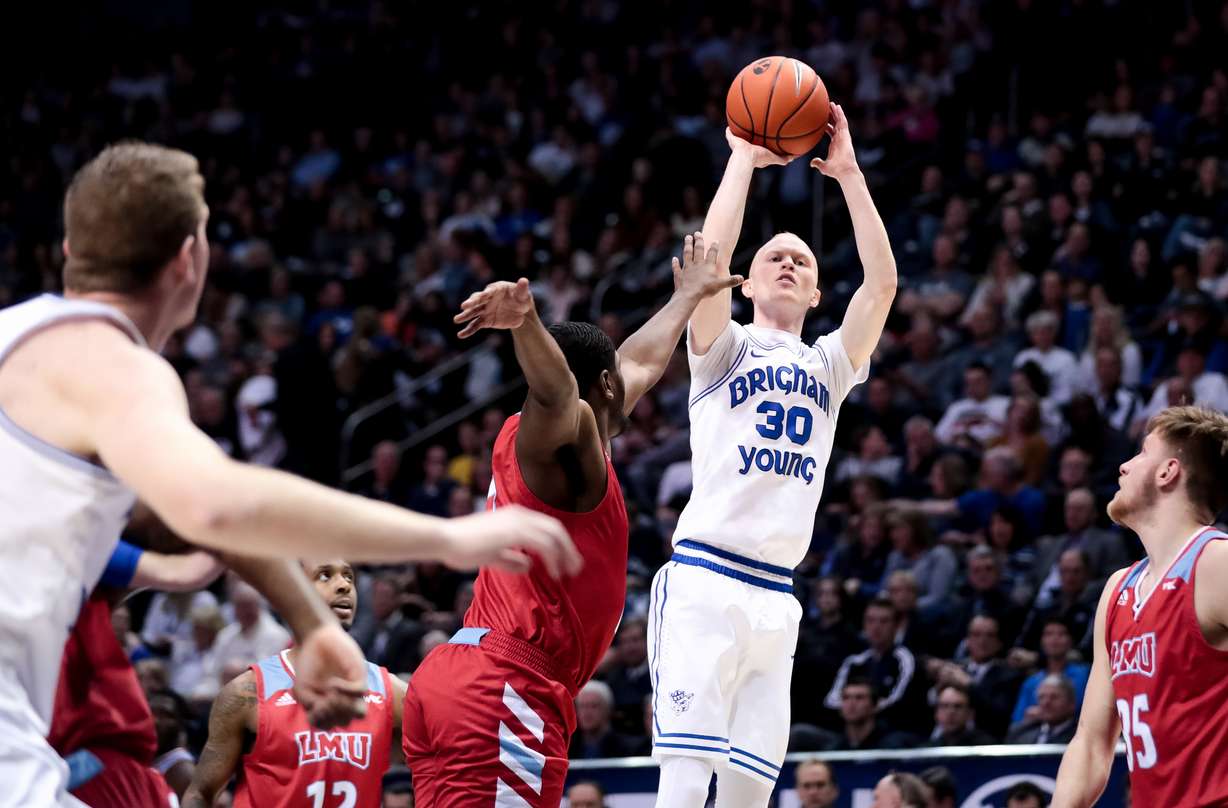 That led the Cougars to their first six-game winning streak in WCC play in five years, though it came with a cost. The Cougars dropped to No. 19 on KenPom, fell one spot in the RPI to No. 22, and dropped slightly in the NET to No. 22. But they also improved to 7-0 in Quad 4 opportunities, 8-0 in Quad 3, and are a combined 5-7 in Quad 1 and 2 chances, with losses to San Diego State, Gonzaga, Kansas and Saint Mary's ranking at the top of their team sheet.
"It doesn't do a great amount for us, metrics-wise. But it does a lot for us, winning-wise," BYU coach Mark Pope said after the win over USD, which had won three of the previous five games against the Cougars away from Provo. "At the end of the day, this deal is about learning to win as a team — and these guys proved to themselves that we can go through a game, gut it out and make huge plays.
"As you go through to the postseason, you're trying to add as much belief as you can to your arsenal."
Regardless of the type of win, BYU is attracting national attention simply by winning. The Cougars ranked No. 20 on Jeff Goodman's latest ballot and came in at No. 22 in Gary Parrish's latest Top 25 And 1 Sunday at CBS Sports.
But BYU was also helped by surroundings. Seven teams ranked just ahead of the Cougars lost this past weekend, including formerly No. 25 Michigan State, which fell 67-60 to No. 9 Maryland; then-No. 24 Texas Tech, which lost to unranked Oklahoma State 73-70; and No. 22 Illinois, which was blown out 72-57 at Rutgers.
That left just enough room for the Cougars to squeeze into its first AP Top 25 berth since finishing No. 10 in the final poll of the 2010-11 season.
×
Related stories
Most recent BYU Cougars stories