Estimated read time: 5-6 minutes
This archived news story is available only for your personal, non-commercial use. Information in the story may be outdated or superseded by additional information. Reading or replaying the story in its archived form does not constitute a republication of the story.
Karena's daughter is about to go through puberty — and she is terrified of it. "Most of her concerns center on getting her period," Karena says. "She worries about being incapacitated by cramps, and she worries that using tampons will hurt."
Karena is not alone in her situation. Most teens — and their parents — have some worries and apprehension when it comes to dealing with puberty and the first menstrual cycle. Many have misconceptions about what is happening and complications that can arise. There also is often hesitation to talk about the changes taking place.
"It can be a challenge to talk to girls about the changes in their body," says Cindy Gellner, MD, a pediatrician with University of Utah Health. "If you are honest and open about what is going on, they will be more comfortable with this milestone."
The first period
A big question girls have about menstruation is when it will start. Unfortunately, there is no magic calendar with aspecific date. The average age for a first period is 12. However, some girls may start as early as 8 or as old as 16. "If your child hasn't gotten her period by age 16, you need to talk to your child's pediatrician about that," says Gellner. "It could be a sign of a thyroid problem or polycystic ovarian syndrome."
There are predictors that indicate when a girl may start her period. Puberty is usually well underway by the time of first menstruation. Breast development likely started two years earlier and pubic hair began growing one year prior. In addition to watching physical signs, girls can look at family history as a predictor. "Most girls start their period around the same age that their mother and any sisters did," says Gellner.
Education
Most schools provide some sort of education about the basic mechanics of the menstrual cycle. There are also a lot of books available explaining how hormones trigger the start of ovulation, the thickening of the uterine lining and the shedding of that lining if conception does not occur. While the facts are out there, the subtleties may be lost.
Young women may be under the impression that a period starts with a rush of blood that could cause embarrassing moments. Gellner says they shouldn't worry. "Most of the time, a girl will go to the bathroom because she will feel something wet in her underwear, like she urinated a little, and find there is some blood," she says. "Though it sometimes seems like a lot of blood, it is usually only about two to five tablespoons over the entire period."
Pads or tampons or something else?
Beyond concerns about what a menstrual cycle entails are worries about how to manage it. In the classic book "Are You There God, It's Me Margaret," pads were the only option available. However, now there are lots of options from tampons to menstrual cups to so-called "period panties." All promise to handle a period discreetly and help young women avoid a dreaded leak. "I do worry about how my daughter will manage supplies like pads and tampons," says Karena. "I would be so sad for her if she leaked through at school."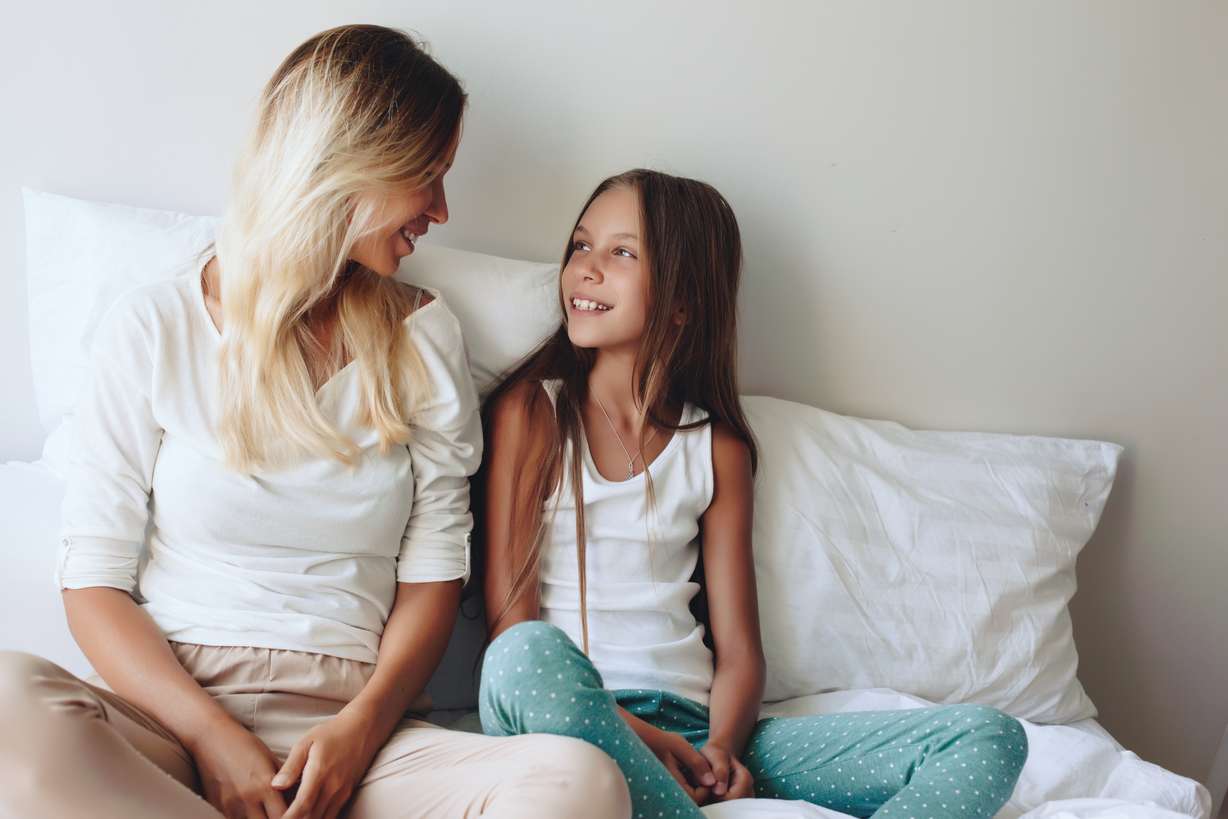 Gellner says after the first period girls should carry an extra pad or tampon with them at all times since their cycle may not be regular for some time. There will be times that menstruation will begin unexpectedly. But while they should carry some kind of sanitary product, what they choose is as individual as the girl. "Tampons can be used by teens if they so desire," she says. "There are tampons for light flow and for teens who are smaller and will probably be more comfortable for. They shouldn't feel uncomfortable but if they do, tampons may not be right for your teen."
Dealing with cramps
You cannot have a discussion about menstruation without addressing the possibility of menstrual cramps. In the past women were told the pain was all in their heads, but now medical experts know uterine contractions are the cause. While cramps are a possibility, the pain probably won't be as bad as one may expect. "When it comes to cramps, I worry my daughter's fears are bigger than they need to be," says Karena.
Gellner says the best way to assuage fears about cramps is to let your teen know there are easy ways to take care of them. In the majority of cases, ibuprofen or naproxen can take care of the pain. Use of a heating pad can also calm cramps. Even severe cases, where cramps may keep a girl from doing everyday activities, can be treated by a doctor.
"A doctor can prescribe oral contraceptives to help regulate the hormones that cause cramps," she says.
Girls should also be aware they may have pain outside of their period. Mittelschmerz is a pain that occurs around the time of ovulation. It feels like a small stabbing pain on one side and does not last long. "It's nothing to worry about," says Gellner.
Keep the conversation going
The best way to make sure your daughter is prepared for her first period is to talk to her about it. It may be uncomfortable at first, but an open line of communication will keep misconceptions from forming and keep your daughter healthy. That's what Karena plans to do. "I want her to know everything she can," she says. "Knowledge is power."
It's a sentiment echoed by Gellner. "Remember, your child needs you during this time of transition," she says. "Don't make her feel more awkward than she already does. Remind her of the beautiful woman she is becoming."
×