Estimated read time: 4-5 minutes
This archived news story is available only for your personal, non-commercial use. Information in the story may be outdated or superseded by additional information. Reading or replaying the story in its archived form does not constitute a republication of the story.
When it comes to redoing your home with all new paint, flooring or design themes, it can be confusing to figure out how to make your vision work with what you already have. On the flip side, it can be equally confusing to put together a brand new home where all of the different elements work together cohesively. Flooring, paint, countertops, cabinets and carpet can be a lot to mentally juggle!
If you find yourself in the middle of a home renovation or design, consider these tips in choosing the best flooring or paint to complement the other.
Consider the tone
Just like there are many tones and shades of hair color, there are many tones and shades of flooring. If you're a fan of the ever-popular white walls, you should choose a white that either is warmer or cooler to match that same tone in your flooring, say the experts.
If you want to choose a color that is best suited for the kind of wood flooring (or laminate) you have, one guide says light hardwood floors work well with grays and off white.
They recommend white, sage, blues, dark red (as an accent) or a natural terra cotta color for homes with a cherry wood color and tone. For homes with dark hardwood, they suggest a light blue, light green, neutrals, white or grey. White and/or grey will create an elegant feel in your home.
For a red oak color or flooring with very warm tones, stick with yellows, apricots, and light blues to brighten the space up. Better Homes and Gardens even suggests a light teal or grey with purple undertones — these colors help balance the warm tone of the floor.
A light flooring with warm undertones, like white oak, should be paired with pastels or a charcoal color (for a more formal feeling).
Reference the color wheel
Most people remember using a color wheel in art class to make paintings mothers would proudly hang up on the fridge. As adults, more people use it to make educated decisions about home furnishings and design. Looking at a color wheel will tell you what colors work well together. Better Homes and Gardens says to choose those colors that fall next to each other on the wheel.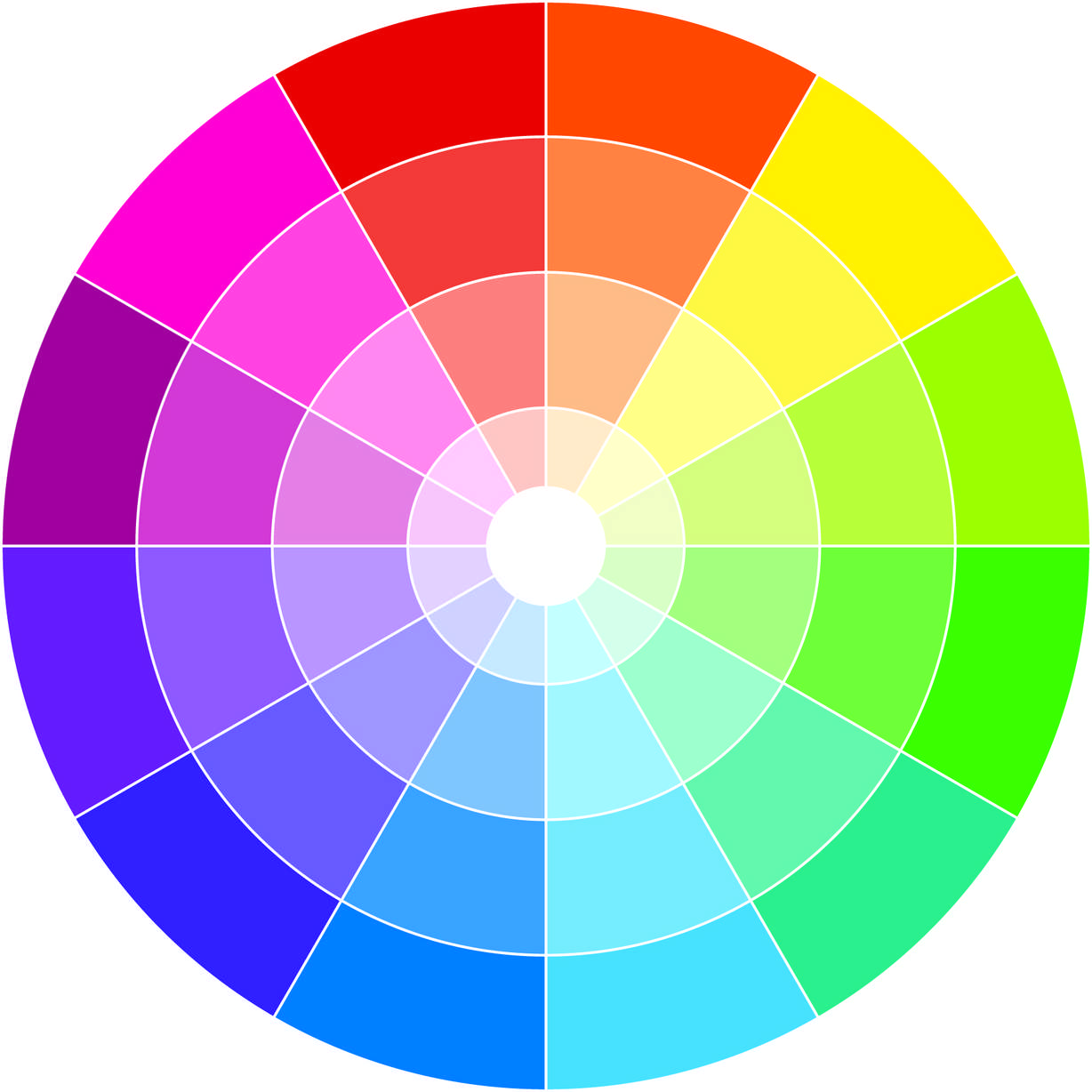 For example, if your flooring is a light wood or laminate with yellow undertones, you'd want to either choose light greens or blues for your walls. On the flip side, you could go with the color opposite on the color wheel to bring out the intensity of both tones and colors.
Get a visual of both
Especially if you're building a home or completely redoing your own, you'll want to make a visual of what you like. Most people search sites like Pinterest for home inspiration photos, and it's not a bad place to start.
Once you get an idea of the general style and feel you'd like the room to have, it's important to get samples of your flooring options and paint swatches. Take these into your home and see how the natural light in the room reflects on the different options.
The experts at Giant Carpet One say, "Know that the color you choose will change under different lighting conditions. So, you may consider a carpet sample that you can view in your home by daylight and at night by artificial light."
Another option is to use a design app that allows you to upload a picture of a room you are redesigning to visualize different flooring and paint combinations.
Let an expert help
Homeowners and designers will find the most success with flooring selection by taking the time to involve a local, specialty retailer for recommendations. Giant Carpet One Floor & Home can help with special care requirements and installation particulars to achieve the look you desire.
Find your local store today and stop in for personalized help in designing your space.
×