Estimated read time: 5-6 minutes
This archived news story is available only for your personal, non-commercial use. Information in the story may be outdated or superseded by additional information. Reading or replaying the story in its archived form does not constitute a republication of the story.
SANDY — The past two years since Utah Royals FC joined the National Women's Soccer League have been good to Craig Harrington.
Now the Royals hope to make it just as good for them.
Utah's professional women's soccer club announced the addition of Harrington as the second head coach in franchise history Friday, introducing the former Chicago Red Stars assistant at a press conference at Rio Tinto Stadium in Sandy.
After shaking hands with owner Dell Loy Hansen, receiving a big congratulatory hug from general manager Stephanie Lee, addressing the media and meeting his players, Harrington had a full first day in the club.
But what we most looked forward to was seeing the fans, the supporters, the Court of Royals that marches into Rio Tinto Stadium for every home match in the spring, summer and fall of the NWSL.
"We've got the Court; they're a loud bunch," Harrington said. "I've experienced them as an away coach and I can't wait to have them on my side.
"Everything we do, we try and make our supporters proud and try to give them something to cheer about."
The Red Stars have made the playoffs in each of the past five seasons, including last year's first-ever appearance in the NWSL championship game. Chicago was a combined 23-13-12 in two seasons with Harrington while working under head coach Rory Dames.
Dames was the skipper of those rising Chicago franchises. But for the past two years, Harrington was his right-hand man, involved in every facet of training, game planning and tactics with a perennial playoff contender in the nine-team NWSL that has a three-year plan to expand as high as 14 teams.
"Chicago's been in the playoffs for years, and they have a reputation of being a successful club. From a player attribute and principles of play, it's similar to the Royals," Utah general manager Stephanie Lee said after introducing Harrington to the media, alongside owner Dell Loy Hansen and executive vice president of soccer operations Rob Zarkos.
"Rory's the captain of that ship, and Craig was looking for an opportunity to be a captain of his own ship. We were excited for where he wanted to take the Royals."
In many ways, Harrington has been involved with the Royals since the franchise was founded, moving a roster from the now-defunct FC Kansas City to the Wasatch Front three years ago. He remembers with fond memories the club's inaugural home game, the sellout crowd of 19,000 people that combined with a Katy Perry concert, the pregame flyover — and yes, the 1-0 win by the Red Stars that spoiled the home atmosphere and helped establish Chicago not only as a good team, but a perennial postseason achiever.
Harrington doesn't want to tear down what then-head coach Laura Harvey built in the club's first two seasons. Quite the contrary, he says, after playing against those Becky Sauerbrunn, Kelley O'Hara and Christen Press-led squads in a competitive rivalry built by success rather than geography.
"Utah was always a group of players that caused you problems, and they had a lot of question marks for us to solve as a team," Harrington said. "It's a tough team, one that you have to analyze and put a lot of hard working into strategizing; so is every other team in this league.
"But as an opposing coach, there's a DNA in place with this team of solid play that (Harvey) had, and there's a style there that I think we can move forward on. We're not starting from a clean state — I just want to fine tune it."
A native of Middlesex, England, Harrington will take the Royals job as his first professional head coaching stop. He previously worked as technical director of the Turks and Caicos Island men's national team, as well as within the Los Angeles Galaxy's youth academy in Major League Soccer.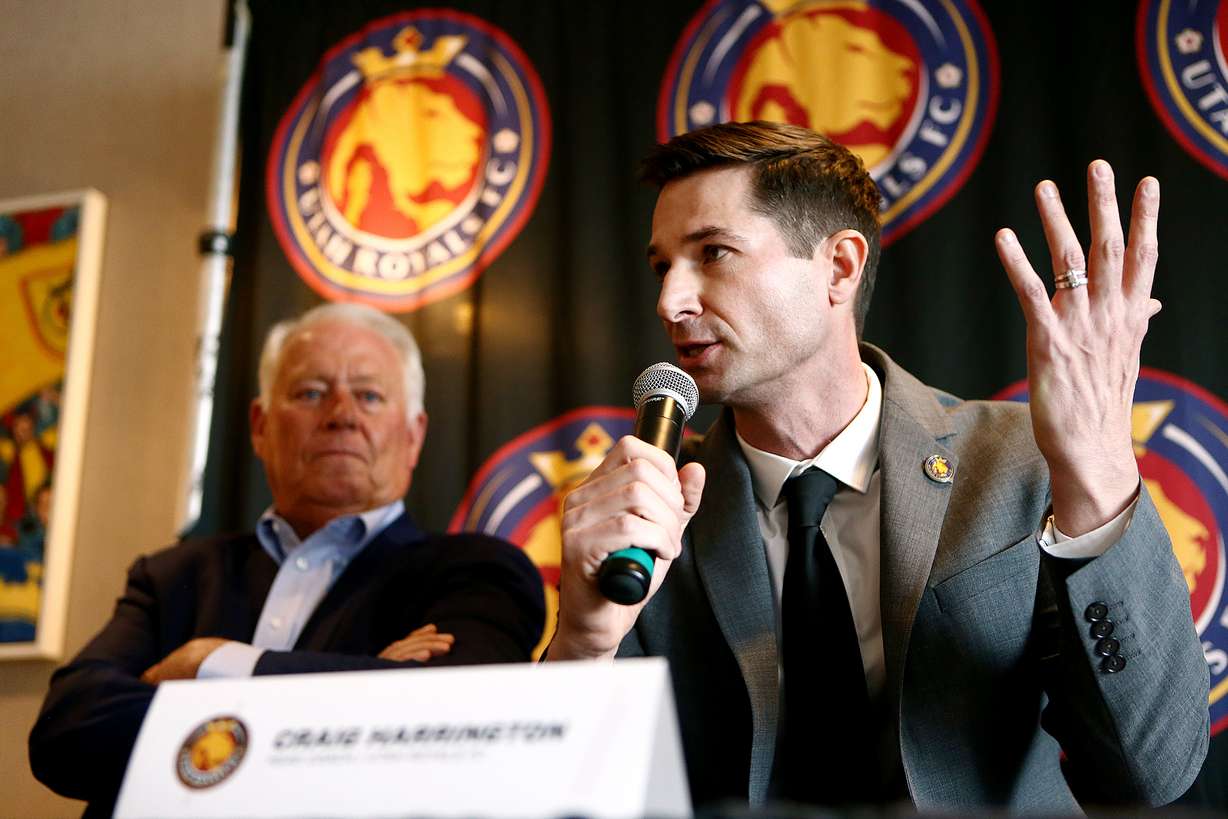 Harrington replaces Harvey, who stepped down last month to take a position as head coach of the United States' U-20 women's national team. Assistant coach Scott Parkinson has served as the clubs' interim head coach during Lee's search for a replacement.
The club interviewed several candidates, including Parkinson and longtime BYU women's soccer coach Jennifer Rockwood, before ultimately offering Harrington his first contract as a full-time head coach in the NWSL.
"Scott is an amazing human, a great coach, and he's going to have success in this league. It just wasn't right now," Lee said. "I wish him the best of luck in whatever his next adventure is, and I know that he'll be successful at it."
At each stop, youth development has been a key to Harrington's success — and the Royals intend to follow suit. Further developments will be announced later, but each Hansen, Lee and Harrington all hinted at forthcoming additions to the Real Salt Lake Academy that will include a Royals development academy based at the club's Zion's Bank Training Center and RSL Academy High School on the western edge of Herriman.
What RSL did to youth development — and Harrington remembers well the battles between his Galaxy youth teams and RSL, in addition to national power Dallas in various youth cups — the Royals hope to do to the development of girls soccer.
The new coach doesn't just want a first team capable of winning cups, titles and championships. He wants a full "path to pro" for the Royals, a vision that aligns with both his owner and general manager.
"It's a priority. For us to determine and build and develop our pathway to the pros," Lee said. "He'll definitely be involved in the buildup and vision of that, in terms of what it looks like."
×
Photos
Related stories
Most recent Real Salt Lake stories