Estimated read time: 4-5 minutes
This archived news story is available only for your personal, non-commercial use. Information in the story may be outdated or superseded by additional information. Reading or replaying the story in its archived form does not constitute a republication of the story.
If you want to take a meaningful family vacation, it can be daunting to look at the costs and stress involved with flying, getting hotel rooms, tickets, and eating out wherever you go. A 2017 travel survey found that 61% of people stressed about spending too much money and nearly half worried about finding accommodations. It's hard to justify spending money on a family vacation if it doesn't facilitate the chance to make happy memories.
Although many parents opt for the traditional route of flying or taking the family minivan to the next vacation spot, there is a better way. With your own RV, you'll never have to stay in another sketchy hotel, pull over for emergency bathroom breaks, or worry about having your own space.
Here are four ways an RV can bring your family closer together and take the stress out of family vacations.
Your space and my space
As many parents can attest to, taking a road trip in a close-quarters car is the start of many arguments. Shouts of "he's in my space!" are not an issue in an RV, as everyone can relax and enjoy the ample room.
On the flip side, when you're in your decided resting spot for the night, you have a shelter that allows everyone to be together, eat together and play together. With kitchenettes, dining areas, living areas and sleeping areas, everyone can spend time with each other without feeling forced or claustrophobic.
If you decide to use your RV for a more outdoorsy vacation, setting up a little tent outside for the kids to play in and around is a great way to utilize even more room while still keeping the inside of your RV clean.
Eating together
Another added bonus to getting an RV for travel as compared to hotels is the option to cook for yourselves (saving lots of money!). You and your family can decide on easy and fun recipes to cook on the road, and most kitchens in RVs are big enough for the whole family to help out.
After you're done preparing the meal, you can enjoy it in the dining area or take it outside and enjoy nature. If you're a family that enjoys camping, you'll love the easy clean up compared to cooking food over an ashy fire.
The comforts of home
Arguably one of the hardest parts of traveling with family is sacrificing familiar comforts for an extended period of time. When you're sleeping in sleeping bags on the hard ground, it's easier to lose precious rest and be in a grumpy mood the next day. Multiply that grumpiness by each family member and you have a recipe for disaster. RVs are great options for families who enjoy nature but still want a safe, solid night's sleep.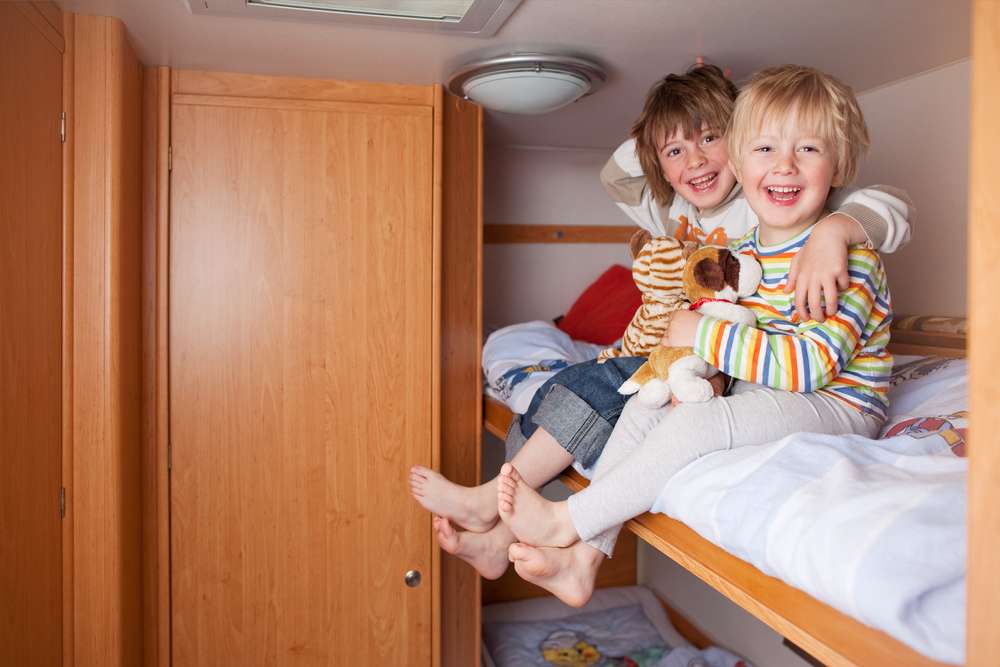 Additionally, you'll have a toilet, shower, kitchen, living area and sleeping area to make your family feel like they're at home wherever you are.
See the world — together
The Telegraph reported on a study performed at Washington State University finding family vacations actually activate systems in your brain that release feel-good chemicals and help create stronger bonds with those family members.
Sometimes the best trip memories are the relaxing feeling of gazing out the window at new scenery. The U.S. is home to some of the most spectacular geological formations and varying terrain in the world. RV touring is a great way to soak in the sights and have the flexibility of stopping whenever something strikes you as interesting. This flexibility with family is even more important.
When you're not focused on rushing to your next flight or fixing the car's DVD player, you can focus more of your time on exploring the world with your favorite people by your side.
Save on your family's next RV
Saving money and creating family memories is what Sierra RV is all about. See how you can get a great deal on your next RV from Sierra RV at the Utah Sportsman's Vacation & RV Show. Visit their website for more information or call 801-728-9988 to speak with someone directly.
×