Estimated read time: 4-5 minutes
This archived news story is available only for your personal, non-commercial use. Information in the story may be outdated or superseded by additional information. Reading or replaying the story in its archived form does not constitute a republication of the story.
SALT LAKE CITY — Two months ago, the Utah Jazz rolled into Philadelphia at the end of a long disappointing road trip. The result that night was somewhat predictable: the reeling Jazz were overmatched by the 76ers, trailing by 26 in a game that was rarely close.
That defeat wrapped up a 1-4 road swing and the Jazz returned to Salt Lake City looking for answers.
Utah coach Quin Snyder brought that game up on Tuesday morning. The reason: the Jazz are in a similar situation now. Utah has lost four straight, it just went winless on a three-game trip and doubts are starting to creep back up about just how good the Jazz are.
Soon after that 76ers' loss, the Jazz went on a run where they won 19 of 21 games. The question now is how will Utah respond this time?
"You have those things to fall back on where you have had challenges and adversity, and we've responded to them in a strong unified way," Snyder said. "And you can draw on that and try to do it again in another situation."
In the last week, the Jazz have had two of their worst four defensive performances of the season — including their absolute worst. In the loss to San Antonio, they had a defensive rating of 125.7 and one of 133.3 in their loss to Portland on Saturday.
The Jazz have scored 120 and 117 points over the last week-plus and have failed to get a win. That's pretty shocking for a team that has long prided themselves on the defensive end.
"Not that I think we went into games trying to like outscore people, but we knew how well and how easy we were kind of playing offensively — that was just kind of flowing for us," Joe Ingles said. "So we definitely just need to get back to that kind of defensive mindset."
The problem is, teams have made that pretty difficult. Houston used a five-man perimeter attack in its win over the Jazz that seemed to confuse the Jazz, the Spurs hit a historic number of mid-range shots, the Blazers had Damian Lillard.
All of those teams played in a fashion that helped negate Rudy Gobert's regularly massive impact. If you can avoid the rim or pull Gobert away, his impact on possessions significantly drops. And the Jazz just so happened to run into a run of teams who have the ability to do just that.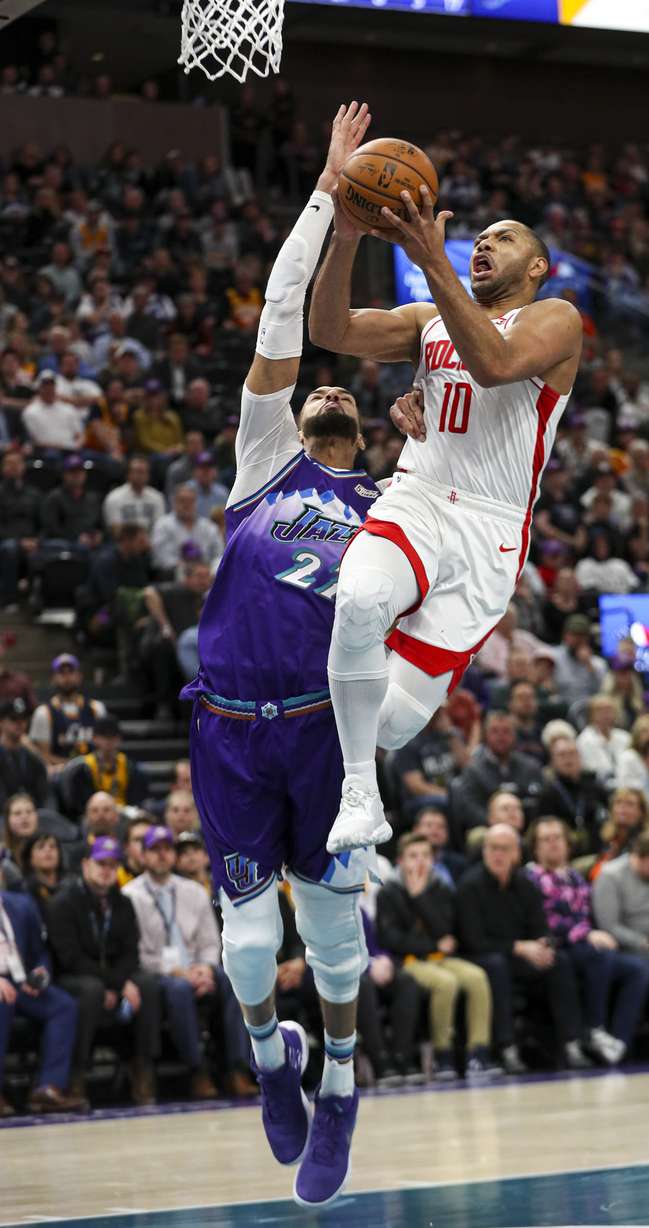 Without Gobert in back, anchoring the Jazz, the perimeter defense has been suspect. And that's putting it lightly.
"The way our defense is set up, I'm usually always there behind to protect the guys," Gobert said. "When I have to guard a shooting big, it's almost like everyone has to do a little more."
Gobert pointed out that he needed to be better at helping, but the real issue has been that Jazz guards have been unable to consistently contain the ball. That's how Eric Gordon scores 50 points, DeMar DeRozan drops 38, the Nuggets roll off a 27-1 run, and Lillard scorches them for 51.
"For teams, obviously, it's smart by them, they want to get Rudy away from the rim," Ingles said. "Given how effective he is down there, but as guards and other four out there, we've got to obviously do a better job. And if Rudy's spaced or low or wherever he is, overall, as a team just do a better job of containing the ball and making them beat us by keeping them in front of us."
Ingles said it's been a big help to get some days of practice in following the forgettable trip. The Jazz got two practices in between their loss in Portland and Wednesday's home game against Denver to try and fix some of the perimeter defense woes.
And with the upcoming schedule, it won't be hard to see if they actually have improved.
Their next three games are against the Nuggets (Wednesday), the Blazers (Friday) and Rockets (Sunday).
"I think we just haven't been good," Gobert said. "No matter what coverage we do, I think it was all about being physical and trying to dictate what we do defensively, especially on one on one defense."
There isn't a feeling of panic coming from the Jazz. Yes, they know how it looks: They finally got a chance to play some playoff teams and they laid egg after egg after egg. But that doesn't mean they don't trust in their defensive system. If anything, it just showed that they might have gotten complacent during their big winning stretch.
"We may not like it, it may not feel good — always feels good to win," Snyder said. "But at the same time, it may be on some level what a team needs to take more steps."
×
Most recent Utah Jazz stories