Estimated read time: 4-5 minutes
This archived news story is available only for your personal, non-commercial use. Information in the story may be outdated or superseded by additional information. Reading or replaying the story in its archived form does not constitute a republication of the story.
DENVER — Rudy Gobert didn't need many words to make his case for Donovan Mitchell to be included in the All-Star game before Thursday's announcement.
"He's been one of the best players at his position — pretty simple," Gobert said.
It was that simple on Thursday night, and that was the case for both Mitchell and Gobert.
On Thursday, the two Utah Jazz teammates were recognized as being among the league's best. Gobert and Mitchell were named to the Western Conference All-Star team after Western Conference coaches voted the pair as reserves.
It's the first All-Star selection for both players.
"I've done every night except Sunday," Mitchell said about being a part of All-Star weekend on Wednesday, a day before it became official. "I've done Saturday my rookie year, Friday my sophomore year, so hopefully I'll get the call."
That call did indeed come.
Mitchell is averaging 25.0 points per game, is shooting at career-best marks, and is the offensive star of a team that has been one of the most efficient units since early December.
Gobert, meanwhile, is averaging 15.7 points, 14.6 rebounds and is shooting 68.6% to go along with his elite defense.
After an uneven start to the season, Mitchell and Gobert have helped the Jazz play their way back into contender status. And that comes with some perks — multiple All-Stars is one.
While Gobert's simple reason for why Mitchell was named to the team makes sense, having the best case doesn't always mean you'll be named to the roster. And no one knows that better than Gobert.
Last season, the Jazz center famously teared up as he was discussing his mother's disappointment that he wasn't named to the team. It was a shocking snub. He felt it, his family felt it, and so did his teammates and coaches. They wanted it for him this year — but more importantly, they knew he had earned it.
"We can want him to be it, but I think he deserves it more than anything," Georges Niang said. "I think he deserves to be an All-Star, he deserves to be All-NBA. What he brings to his team is immeasurable. People don't understand that. They might look at stats and just judge it off that. How he impacts winning, you can never measure that."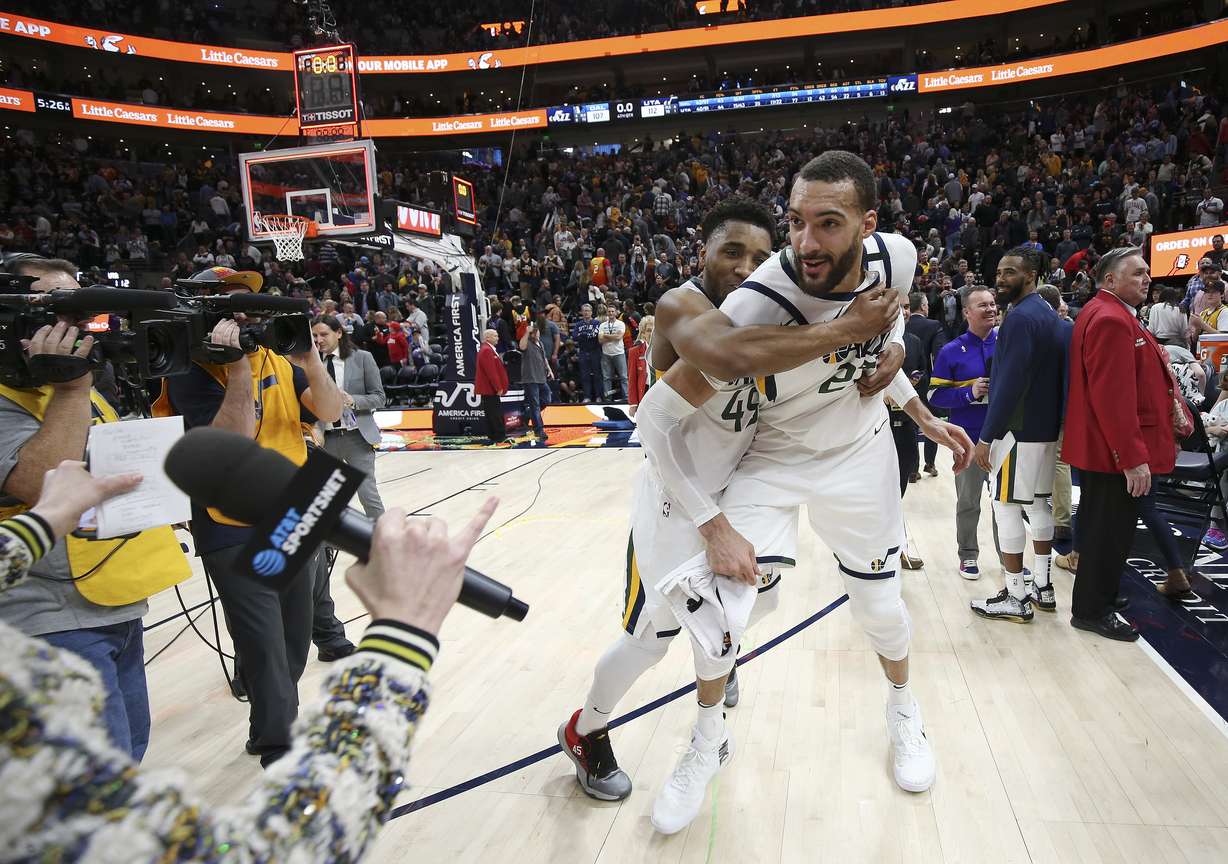 Last year's All-Star disappointment did give Gobert some added perspective. He said he wasn't nervous leading up to the announcement because he had chosen to focus on things that he could control.
"The goal is to win something bigger," Gobert said before the announcement. "It can be a distraction to see it the wrong way. It would be great to make it, something that I've been dreaming about as a kid. When I got to the league, it was one of my goals, but it's all about getting better as a team."
Since it's all about the team, Thursday's news was even more special because he got to celebrate it with a teammate. And those two got the honor partly due to the Jazz's success as a whole. It made it both an individual and personal accomplishment.
"You can say we're All-Stars as individuals, but you don't understand the amount of hours, the sacrifices, the things that go into it that your teammates kind of give you," Mitchell said. "The coaching staff having faith in you, the organization having that trust in you, that's really where people don't understand a lot of our success comes from."
Because of the team's success (Utah is tied with Denver, record-wise, for third in the conference heading into their matchup on Thursday), Gobert said that he felt the Jazz deserved multiple All-Stars.
"To me, it's all about what you do for the team," Gobert said. "If you got guys that have a great impact on how the team wins, I think we should for sure have two. … I like the way we've came together as a team. Everyone has individual goals and that stuff, but we really started playing well when we put that on the side and really focused on one another."
The Jazz haven't had an All-Star since Gordon Hayward was selected in 2017, and the last time two Utah players played in the same All-Star game was way back in 2000 when Karl Malone and John Stockton made the team together (the Jazz technically had two All-Stars in 2007 too, but Mehmet Okur was an injury replacement for Carlos Boozer).
Gobert got his chance to make a late case for Mitchell to be on the team, but Mitchell didn't get the same opportunity to make a late-campaign statement for Gobert. The reason: Mitchell was the last one on the court following Wednesday's shootaround, getting in as much extra work as he could. So by the time, his media session began, the Utah Jazz bus was ready to leave and he had to go.
"Sorry for working on my craft," Mitchell joked as he walked away.
No apologies necessary.
It was that type of work that made him an All-Star.
×
Related stories
Most recent Utah Jazz stories