Estimated read time: 4-5 minutes
This archived news story is available only for your personal, non-commercial use. Information in the story may be outdated or superseded by additional information. Reading or replaying the story in its archived form does not constitute a republication of the story.
SALT LAKE CITY — His season stats won't jump off the page, but there's little question that Rylan Jones has had a measurable impact on the University of Utah's men's basketball program this season.
As the team's second-leading scorer, Jones is still learning the ropes of Division I basketball as a freshman. He recorded his first-ever collegiate triple-double in his second game as a Ute but has had other nights where he barely measured a noticeable impact on the stat sheet. That's the life of the freshman who isn't looking to dominate the game, at least not from the onset.
Jones has a pass-first mentality and does whatever he needs to do to give his team the best chance at winning. Sometimes that's the role as a facilitator with the ball, other times it's taking over as the team's leading scorer.
Whatever the situation, though, Jones isn't rattled by the freshman experience; in fact, he welcomes it with a warm embrace and takes it head-on as though he's been playing Division I basketball for years. He often represents his team in the post-game interviews with maturity and confidence.
And when Jones takes over the game, it's time to get out of his way and let him do his thing.
"After a point, you see that he's got it and you've got confidence," freshman Mikael Jantunen said of Jones. "We're just trying to — I'm just gonna try and set a good screen for him, helping in any way I can. He's my point guard, he's one of the best there is. Sometimes I just stop and watch, too, which is probably not a good thing to say, but he's a great player."
Last week, Jones was instrumental in Utah's sweep of the two Washington schools at the Huntsman Center to snap a four-game losing skid that included three road blowout losses on the road. But in both games last week, the freshman took over late in the game and pushed Utah to back-to-back victories.
On Thursday, Jones pushed through some early shooting struggles that included going 0-of-8 from the field, including multiple missed 3-point attempts, but was instrumental to the team's spark of a 12-point comeback by Utah. Jones finished the game by hitting eight of the team's final 14-of-15 free throws to erase Washington's lead, including two clutch free throws to seal the victory with 14.1 seconds left in the game.
Jones followed up his weekday performance with a 24-point night on Saturday against Washington State. The freshman weaved in and out of traffic, took multiple charges, held strong on defense and ultimately kept Utah from giving up a lead to a Washington State program intent on fighting to the end.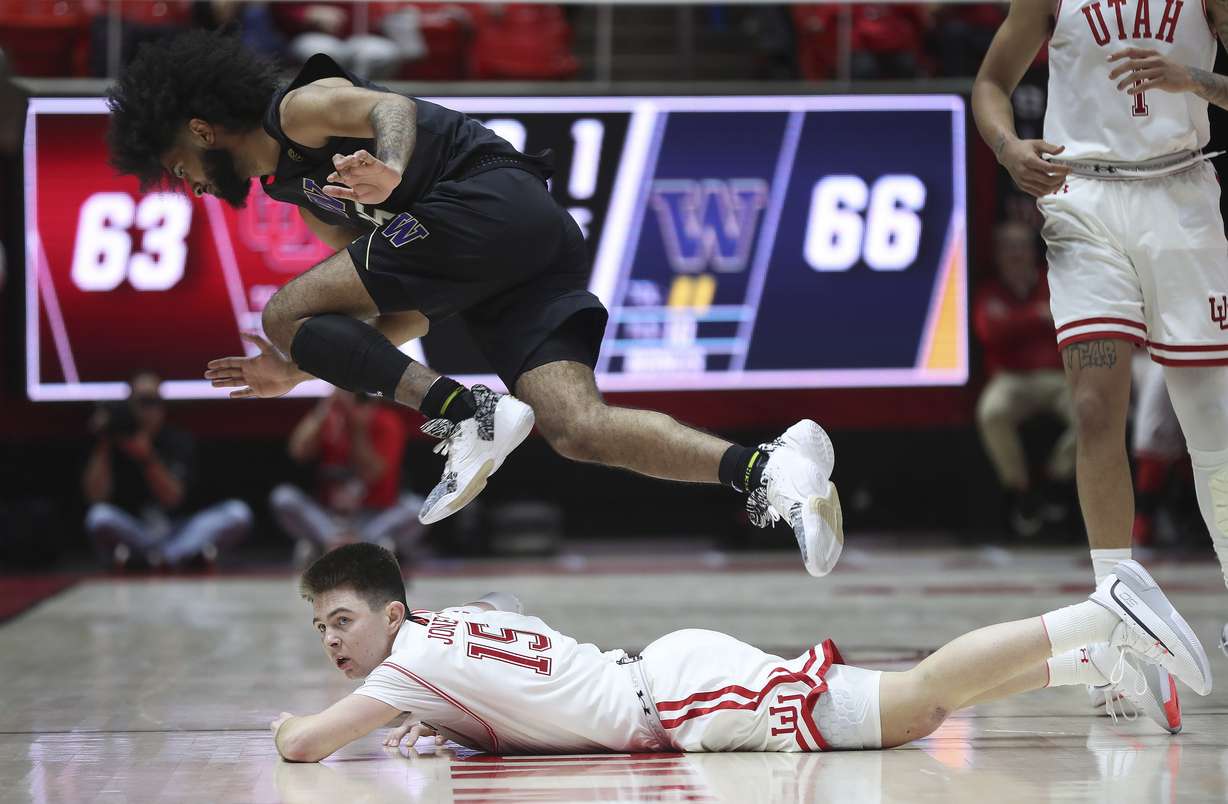 And though he's young and still has much to improve upon in his tenure with Utah, Jones is already a beloved member of the team — a team that is growing up together as one of the youngest teams in the country.
"Rylan is one of my favorite point guards I've ever played with," said Mikael Jantunen, who had one of his best games in a Utah uniform Saturday with 16 points, five rebounds and three assists. "He's a team player, always doing what's best for the team."
Utah head coach Larry Krystkowiak said he "can't really say that I have" coached a freshman with more "moxie" than what Jones gives the team. "He's comforting" Krystkowiak added, saying that Jones is a "tough kid" and has had a "pretty steep learning curve and roller coaster" of a season; and yet, he's done well in his first season of play.
And though Jones has done well in his first collegiate season, Krystkowiak pointed out that Jones is forced to go against some of the toughest players at his position: Ethan Thompson (Oregon State), Payton Pritchard (Oregon), McKinley Wright (Colorado), Nico Mannion (Arizona) and Remy Martin (Arizona State).
"He has his hands full all the time and hasn't been playing, maybe, up to his standards — our team's kind of been struggling," Krystkowiak said. Still, despite some season struggles and playing against top guards, Krystkowiak said it's "always good to have that moxie and toughness, and I think he's growing and doing a really nice job."
The freshman squad still has a lot to learn as they grow together and challenge the Pac-12, but there's no question that Jones is the heartbeat of the team and a leader of a "bunch of tough kids."
"There's no give-up on our team," Jones said Thursday after beating Washington, but it could have been about the team's approach to the season. "We're a bunch of tough kids, and we just want to play hard and win. And we weren't going to give up.
"We're just a bunch of tough kids that want to play and want to win."
×
Most recent Utah Utes stories