Estimated read time: 3-4 minutes
This archived news story is available only for your personal, non-commercial use. Information in the story may be outdated or superseded by additional information. Reading or replaying the story in its archived form does not constitute a republication of the story.
SALT LAKE CITY — Jazz coach Quin Snyder has heard all the narratives about his team.
As the season began, he heard how they needed a fast start. And now, after a less-than-inspiring first month, the Jazz have won 18 of their last 20 games and sit in the No. 2 spot in the West.
Throughout the first month of the season, Snyder heard the offense was bad (and maybe too complicated). Over the last six weeks, the Jazz have had the best offense in the league — by a significant margin.
And now the newest narrative: The Jazz's recent hot streak has been due to a weak schedule. In the coming weeks, the Jazz will get a chance to prove this last narrative isn't quite correct either.
In the next 10 games, the Jazz will play seven teams with winning records and three others against squads that see themselves as playoff contenders. In the last 20 games, Utah played just three teams — Miami, the LA Clippers and Indiana — with a record over .500 (they went 2-1 in those games).
"As far as I'm concerned, all that stuff can go out the window," Snyder said. "We're playing better — doesn't matter who we're playing."
Snyder doesn't like to use record as an indicator of how a team is playing anyway. Did the Jazz play badly when Brandon Ingram scored a career-high 49 points to lead the Pelicans to an overtime win over the Jazz? No, but the loss still counted.
And when you look at how the Jazz have been beating teams lately, their improvement is pretty clear.
During a five-game winning streak starting on Dec. 11, the Jazz outscored their opponents by an average of 7.6 points. The wins included nearly coughing up a big lead to the Golden State Warriors, needing late-game heroics from Donovan Mitchell and Rudy Gobert to beat the Atlanta Hawks, and a second-half comeback to beat the Charlotte Hornets.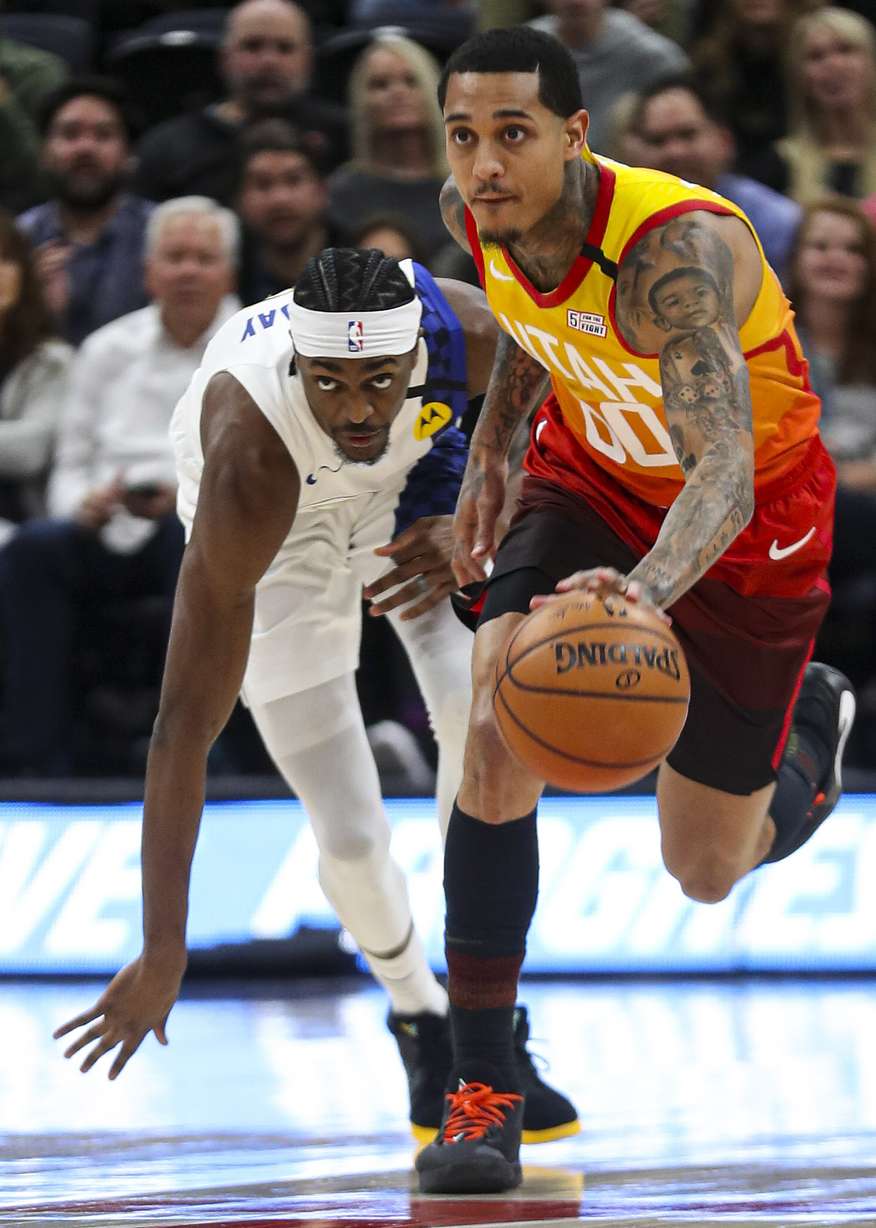 In short, it wasn't a very convincing winning streak. The front office recognized that and swung a trade for Jordan Clarkson and waived Jeff Green to help a struggling bench.
Since those moves, the Jazz have gone 13-1. The record is nearly flawless, yes, but it's the way the Jazz have been doing it that's been most impressive. Utah has the most efficient offense in the league (122.6 points per 100 possessions) over that span and has a net rating of 15.3 — the best in the league by over five points.
The opponents didn't get easier in that run — in fact, you could argue they've even gotten more difficult — the Jazz have just been better.
"That doesn't mean that we're a finished product by any means," Snyder said. "And we've talked about that as a team. I think you improve kind of addressing the things that you can get better at doing and try to do the things you're doing well at a higher level."
The Jazz, though, haven't put too much importance on their upcoming schedule — which begins on Saturday with a home matinee against wunderkind Luka Doncic and the Dallas Mavericks. Gobert echoed his coach, saying that it didn't really matter who they play; and Mitchell said the Jazz see it simply as the next challenge.
"We had a challenge two games ago (against Indiana — a 30-point Utah win) and I think we stepped up to it," Mitchell said. "Now it's a matter of if we can do it on a consistent basis. That's the big question."
And a question the Utah front office is eager to see answered.
"We were winning games, obviously, before December 23 — it's just kind of the how, how it looked, how it felt," Jazz executive vice president of basketball operations Dennis Lindsey said. "... How it looks and how it feels and the studies feel a little bit better to us and we're anxious to mark ourselves against some of the better teams as our schedule's turning. It's time for us to see what that level looks like."
It's time to see if another narrative is proven wrong.
×
Related stories
Most recent Utah Jazz stories