Estimated read time: 4-5 minutes
This archived news story is available only for your personal, non-commercial use. Information in the story may be outdated or superseded by additional information. Reading or replaying the story in its archived form does not constitute a republication of the story.
Gone are the days when the core tenets of education simply included reading, writing and arithmetic. Today's "basics" of education hit on some pretty complex disciplines – namely science, engineering, technology and math (not to be confused with basic arithmetic). Today, there are more reasons than ever to educate children in STEM; their futures – and the world's, for that matter – depend on it.
It teaches real-world skills
The old "when will I ever use [fill in the blank] in the real world" question isn't facetious when it comes to STEM. In fact, STEM education should never be considered niche or highly specialized — and certainly shouldn't be reserved solely for those pursuing a career in science or technology.
That's because STEM teaches hands-on learning with real-world applications, according to National Inventors Hall of Fame. That application is beneficial to students of and all academic interests – not just the math-gifted students.
It boosts creativity
If you think creative minds are destined solely for the arts, think again. After all, creativity is at the root of innovation. From developing the latest smartphone to producing the most efficient manufacturing processes, the worlds most impactful innovations started with a creative idea from a curious mind. In fact, a 2016 AIP Conference Proceedings study showed that students' creativity was enhanced when STEM knowledge was used in academic projects.
It transcends science
For a well-rounded education, STEM learning requires a little extra — with the emphasis on "a." STEAM education, like the program cultivated by Our Lady of Lourdes Catholic School in Salt Lake City, seamlessly incorporates art into its students' education. That's because, contrary to some thinking, art isn't the antithesis of science — it's interwoven into its real-world application.
According to the National AfterSchool Association, "great scientists – like artists – need to be builders, innovators and dreamers." A study of the arts can help spark imagination and creativity – both necessary in today's science, engineering and technology fields.
The jobs are (and will be) out there
Sure, STEM education is important for academic success — but it may also be critical for real-world success once students enter the job market. According to the U.S. Bureau of Labor Statistics, jobs in STEM fields have boomed in recent years, and are expected to continue growing. In fact, by 2028, STEM jobs are projected to hit more than 10 million, increasing by 8.8 percent – substantially more than the 5.2 growth projected across all occupations.
Additionally, the National Association of Colleges and Employers reported last year that 2019 graduates with STEM majors would be the highest-paid among the entire 2019 class, with engineering leading the pack at an average $69,188 yearly salary.
It's vital for any job
Jobs in STEM-related fields are steadily increasing, but it would be difficult to find any job that wouldn't be enhanced by STEM education. Today, new technologies are transforming all industries – not just those associated with science and math. From financial savviness to computer literacy to critical thinking and collaboration, the skills introduced and honed in STEM-focused education are applicable everywhere — not just in related industries.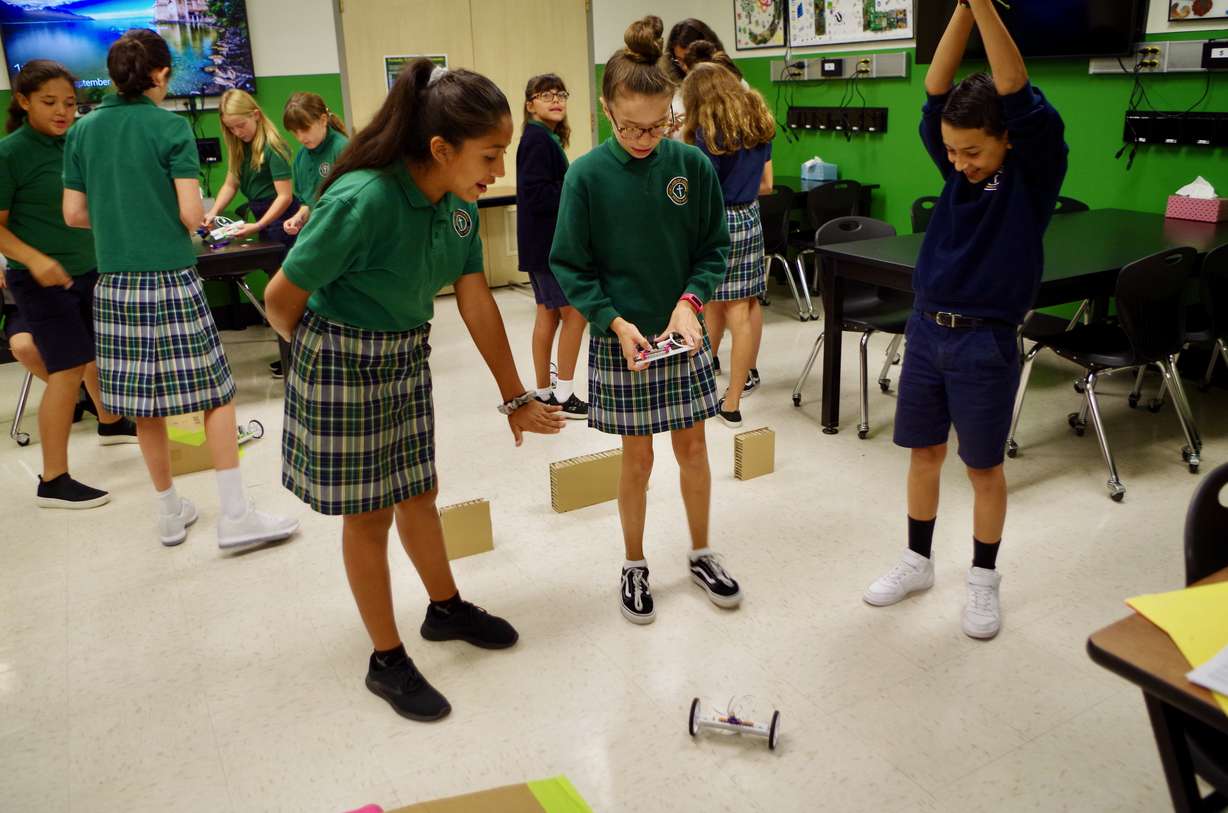 It's just fun
STEM education is all about hands-on, experiential learning — and that's what makes it so effective for young students. From birth, children learn about the world around them through their senses — touching, feeling, smelling, tasting and seeing it. STEM's hands-on approach provides students with infinite opportunities for experiential learning. That's what makes it so effective for young students; it inherently teaches them in the way they learn best.
STEM fields need diversity
While STEM industries might be brimming with opportunities, they are not brimming with diversity. In fact, women and minorities are grossly underrepresented in today's STEM occupations. According to the National Science Foundation, 84% of working professionals currently in science and engineering jobs in the United States are white or Asian males. That's problematic because these are the fields that are creating and evolving the technologies and solutions of the future — and to do that effectively, diversified experience and viewpoints are vital.
STEM education in Salt Lake City
Incorporating STEM education in early education can plant the seed of curiosity in tomorrow's STEM professionals — professionals of all genders, ethnicities and backgrounds. The future is bright – and education is at its STEM. For more information on providing your child with a STEM-centered educational experience, visit Our Lady of Lourdes Catholic School website.
Their STEAM program follows the guidelines outlined in the Next Generation Science Standards, so you can rest assured your child(ren) will get the best education possible. Contact them today to find out if their school is right for you.
×