Estimated read time: 4-5 minutes
This archived news story is available only for your personal, non-commercial use. Information in the story may be outdated or superseded by additional information. Reading or replaying the story in its archived form does not constitute a republication of the story.
SALT LAKE CITY — Mike Conley just wanted to fit in.
As he has rehabbed for a month — sometimes patiently; sometimes less so — Conley watched from the sideline as the Jazz became the hottest team in the league. So when he returned to the court, the last thing he wanted to do was mess that up.
"For me, it's just being myself," Conley said. 'I'm not a guy (who's) gonna be overbearing at all. I don't hunt shots or try to be overly aggressive on the end. I try to play defense and be an unselfish teammate. So I think it'd be easy to kind of conform to what we got going on and try to elevate it as much as I can."
Conley checked in for the first time in more than a month at the 2:39 mark of the first quarter of Utah's 123-101 win over the Sacramento Kings on Saturday night. What followed was one of the best plays of the season.
Jordan Clarkson ran side pick-and-roll with Tony Bradley, bouncing him the ball. Bradley kicked it out to Royce O'Neale who fired it over to Donovan Mitchell. Mitchell drove inside and then sent a high pass to Conley in the near corner. Conley jumped up, caught it with both hands and zipped it to O'Neale on the wing. O'Neale drove inside and then sent a pass to Mitchell standing in the far corner for a wide-open 3.
Conley had fit in just fine.
"For me, it was like, I am not going to be the one to come in here and mess up all this stuff that we have going, so make sure and move that ball," Conley said.
Quin Snyder had a look of amusement.
"How does Mike help us?" Quin Snyder said, repeating back the question he'd just been asked, knowing full well everyone already knew the answer. "Do you want to answer that?"
Sure, there have been some narratives among fans and even media that the team was better without Conley. Those thoughts, though, never made into the Jazz locker room. They know what they have in Conley.
Snyder obliged, running down the list of attributes that have made Conley one of the better point guards in the league over the last decade.
"He can shoot, he can dribble, he's experienced, he's a leader, he's got feel, he's a pressure player — Mike's a good player," Snyder said before finishing with, "Get all that?"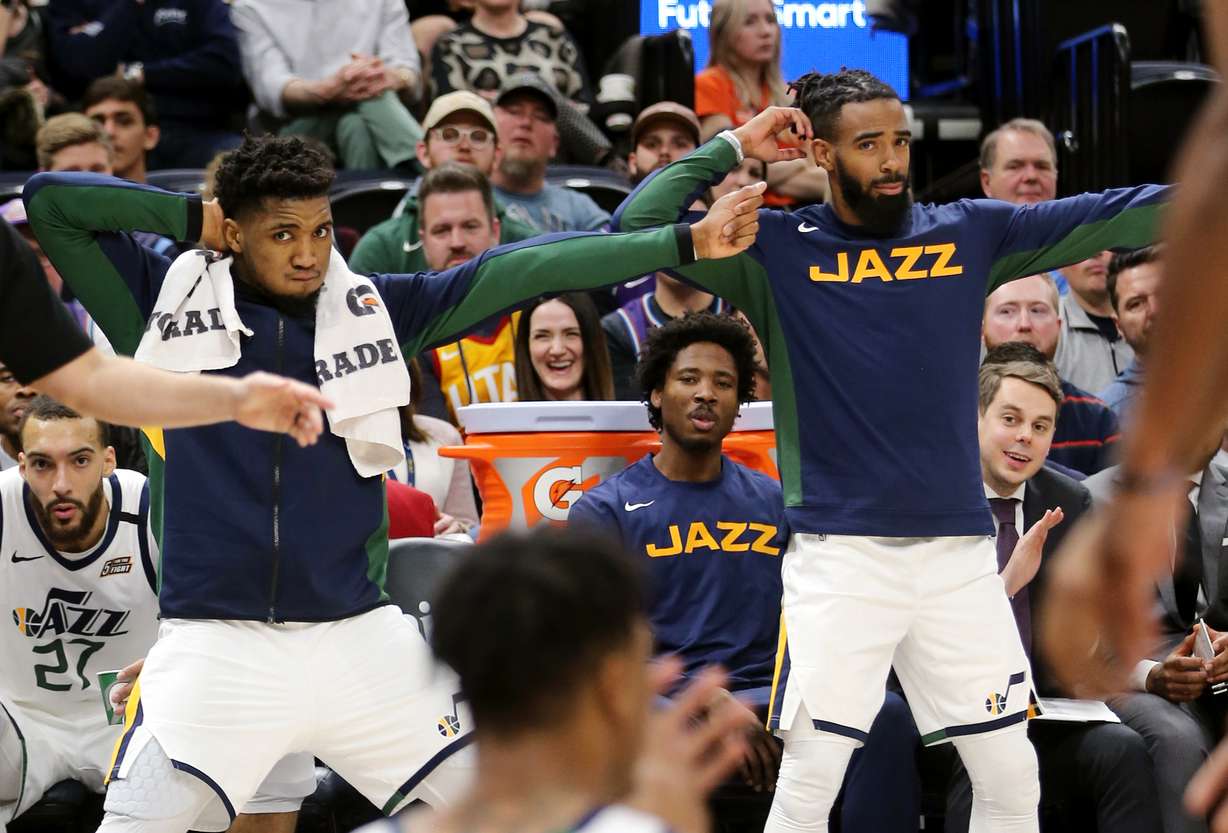 In only 15 minutes, Conley showed that. He saved an errant pass that helped lead to the highlight moment of the game. He split the defense with a bounce pass leading to an easy bucket for Bradley. He connected with Rudy Gobert for an alley-oop slam. And Conley hit a momentum-swinging 3-pointer in the fourth quarter to effectively seal the game.
"Mike is as much a part of our group and kind of the identity that we have built," Snyder said. "Even though he has been out for a bit, that is who he is. The bucket that he hit was a big bucket too. It was a momentum play and kind of gave us a bit of a boost. It says a lot about him that he isn't thinking about himself at all, not that I would even expect that."
Even hurt, Conley has tried to stay connected to the team over the last month. He's participated in regular post-practice and shootaround shots with O'Neale and tried to be with the team as much as possible. But that wasn't always possible. Sometimes it was just Conley in the practice facility — lifting weights twice a day, running in the pool, conditioning on the treadmill — all in an effort to get his injured left hamstring healthy.
It was a long, sometimes frustrating process, but one that also helped him step back and discover somethings about his still-new team. It gave Conley a chance to see his teammates from a different perspective. That's helped him learn the tendencies of Gobert, Mitchell, Joe Ingles, Bojan Bogdanovic and everyone else and find out how he can help them be the most successful.
"I mean there's a bunch of different guys and situations," Conley said. "You sit back and watch and almost become a fan for a little bit and dissect it from that angle and hope that when I come back I can kind of use that to my advantage and trying to help everybody."
And that's all Conley wants to do: help the team. He doesn't care if he has the ball in his hands every possession (if Saturday is any indication, the Jazz still want Mitchell to control the ball — a lot) or if he has a great stat line. Conley just wants to be part of a winning team.
"There's a lot of guys that when they come back from injury, they are trying to get their rhythm hitting shots," Bogdanovic said. "He's just being there and trying to involve all of us and be patient."
Conley fit right back in.
"To have Mike back, it's not a good thing, it's a great thing," Snyder said.
×
Related stories
Most recent Utah Jazz stories