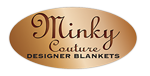 This story is sponsored by Minky Couture.
Humans have many ways to keep warm and survive winter. While heating, fireplaces and extra socks are all ways we've learned to adapt to cold weather, there's nothing like snuggling up with a blanket to stay warm. Blankets are portable, reliable and comforting.
Animals, unlike humans, don't have the ability to build a home with a heater and warming essentials. Out in the wild, they have to fend for themselves — relying on evolutionary adaptations to survive the frigid nights. Take this quiz to find out how different animals whether the winter months.
Minky Couture recognizes how giving back impacts individuals and the community. On a mission to blanket the world, Minky Couture donates thousands of blankets to charities, hospitals, and fundraisers.
Take the quiz and be sure to enter to win a free Minky Couture blanket, too!
×