Estimated read time: 3-4 minutes
This archived news story is available only for your personal, non-commercial use. Information in the story may be outdated or superseded by additional information. Reading or replaying the story in its archived form does not constitute a republication of the story.
PROVO — By her own admission, Brenna Drollinger has been a bit of a shooting slump for BYU women's basketball.
So much so, that the senior guard has had to find ways to affect the game around her without scoring.
And that's exactly what she did in a West Coast Conference turning point game Saturday.
Drollinger had 13 points, nine assists, six rebounds, six steals and a blocked shot to help BYU women's basketball to their third-straight win over San Diego with a 52-36 win over the Toreros.
Paisley Johnson added 12 points, three rebounds, three assists and three steals for the Cougars (8-7, 3-2 WCC), who had lost back-to-back home games including a historic setback to Portland a week ago. Sara Hamson supplied eight points, five rebounds and four blocks for BYU, all while holding the Toreros (8-8, 2-3 WCC) to just 18.6% shooting.
"I feel like we were really prepared this week defensively," Drollinger said. "(Assistant coach Lee Cummard) did a good job on the scout, and I felt like we knew their stuff really well and knew their personnel really well to shut it down."
The win helped break a two-game funk for the Cougars, one that included a historic 57-48 loss to Portland a week ago.
"It sure feels a lot better to win," BYU coach Jeff Judkins said. "It wasn't a pretty game, but it was a game that I thought we slugged it out. Defensively, I thought we wore them down."
After trailing early by as much as seven points, Drollinger scored eight during a 12-0 run that bridged the first and second quarters to take a 17-12 lead with 7:53 left in the half.
The lead didn't last, though, as the Toreros forced four-straight turnovers to fuel a 7-0 run and engineer a back-and-forth contest that ended with BYU up two, 26-24 at the break.
That margin showed another side of Drollinger's standout game, though: her defense. The 5-foot-8 senior guard finished the half with a blocked shot — the 46th of her career — to pace the Cougars' efforts on the defensive end.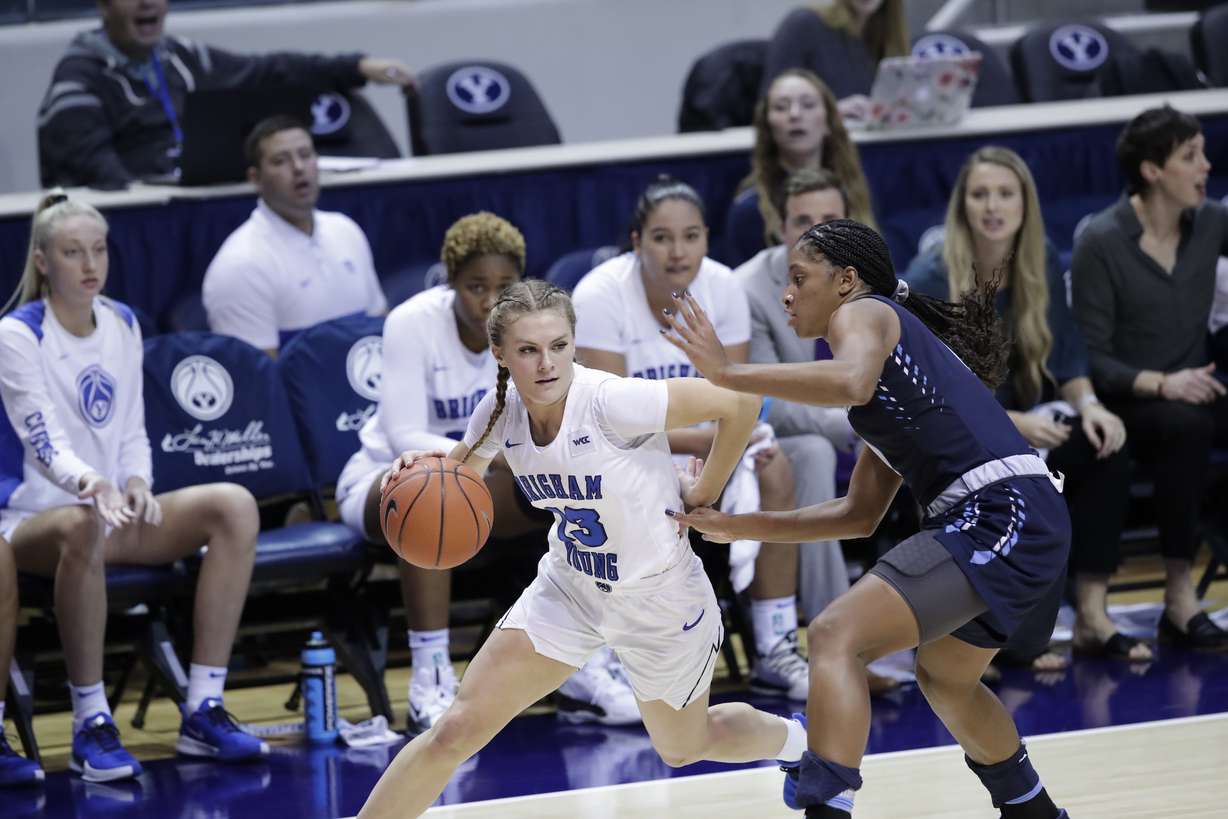 "(Myah Pace) is a really good player, and Brenna did a really good job on her," said Judkins, illuminating the USD guard who had just six points and three assists. "And then Brenna finally hit a couple of shots. When she hit her first jumper, she looked like the whole world had come off her shoulders.
"You can go shoot in a gym for hours, but the way to get your confidence back is hitting a shot in the game. There's no other feeling."
Drollinger's six steals paced a BYU defensive effort that forced 22 turnovers, including 16 takeaways.
Then there came her passing.
Drollinger found Johnson with a cross-court pass to the right corner, and the junior from Washington let rip a 3-pointer that gave BYU a 37-31 lead to end the third quarter. Another after cutting inside before finding Sara Hamson for an easy layup in the fourth.
But none of those were her own highlights.
"I think the best feeling was the win at the end of the game with my teammates," Drollinger said. "Singular plays are fun and great, but to be able to come together as a team and do something really special is what's super fun."
Jordyn Edwards had nine points and nine rebounds to lead the Toreros, who scored just five points in the fourth quarter, including an eight-minute scoreless drought to open the period.
USD shot just 3 of 29 from the field in the second half.
Next up
BYU plays a pair of back-to-back road games next week at Pacific and Saint Mary's. Tipoff from Stockton is scheduled for 8 p.m. MST Thursday.
×
Related stories
Most recent BYU Cougars stories