Estimated read time: 3-4 minutes
This archived news story is available only for your personal, non-commercial use. Information in the story may be outdated or superseded by additional information. Reading or replaying the story in its archived form does not constitute a republication of the story.
PROVO — If you had asked BYU outside hitter Davide Gardini about the week leading up to the men's volleyball team's home opener against No. 15 Penn State, he probably would've been pretty honest with you.
It wasn't a bad week, but there was something off about the hitters. Something not quite there in the connection between Gardini, fellow pin hitter Gabi Garcia Fernandez and setter Wil Stanley. Hopefully, he'd probably admit, it got worked out by first serve Friday night.
It certainly did.
Gardini put down 13 kills and eight digs and Gabi Garcia Fernandez added 14 kills to help No. 3 BYU sweep No. 15 Penn State, 25-23, 25-19, 25-22 Friday night in the 2020 home opener in front of 4,440 fans at the Smith Fieldhouse.
"I feel like the connection with Wil was pretty good today," said Gardini, the sophomore from Italy who hit for a career-best .750 percentage. "We had a rough week this past week, not connecting very well. But we did tonight, it showed up, and I liked it."
Stanley dished out 32 assists with four digs for the Cougars (3-0), who hit a blistering .565 hitting percentage in the first two sets with a 90% sideout percentage.
The senior setter was finding his hitters all over the court, too: front row, back row, and from behind; it didn't matter. Stanley would spring Gardini for a back-row kill on one possession, throw a crosscourt set to Fernandez moments later, and add a dump kill from the middle (he also had a kill on two attempts) in the same set.
Serve, and receive; head coach Shawn Olmstead mentions it every match. BYU followed the routine script Friday night, to the final pass.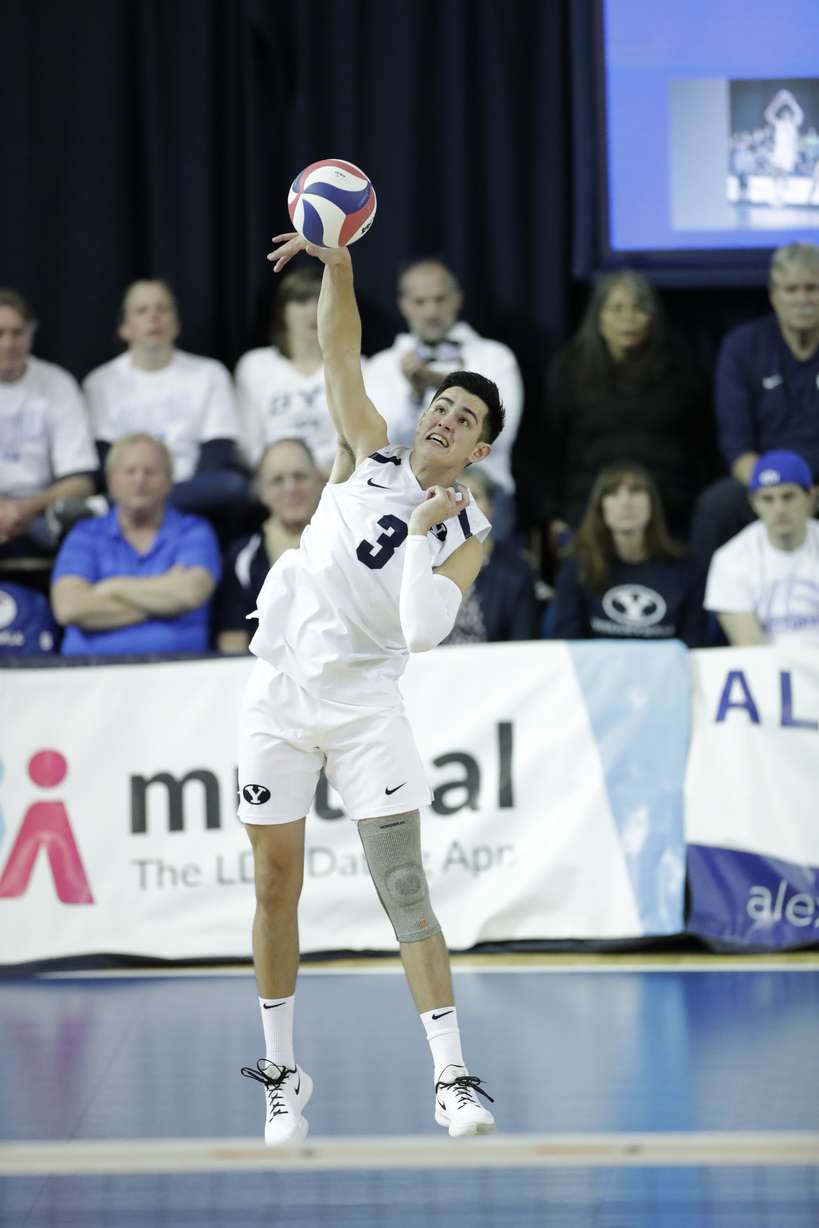 "They were serving hard, but I felt like we got good passes that allowed us to run some middles and open up the pin headers," Gardini said. "That was the difference today."
After cruising to a 2-0 advantage with a 25-23 and 25-19 win, including a blistering .565 hitting percentage in the second set that would've been top-five in the Smith Fieldhouse in the rally-scoring era if it had held up, the Cougars met a little resistance in the third.
That's when Penn State struck the first few blows, striking early for a 7-4 advantage and forcing BYU to mount a comeback.
Boy, did they.
"This is the game of volleyball; momentum swings like that so frequently, so just stay composed. In volleyball, it's also a sport where one play can really turn things in our favor," Olmstead said. "We talked to the guys about doing that, and those plays did. A couple of hustle plays really got the crowd going and changed things that way."
Felipe de Brito Ferreira, who finished with four kills and two blocks, crushed a kill into the rafters of the fieldhouse to tie the match at 12-12, and Fernandez dropped in his own magic on the next play to take a 13-12 edge on the next point — BYU's first lead of the set.
Penn State tied the match twice in the final moments, at 20-20 and 21-21. But both times, Fernandez was there for a thumping kill, and the Stanley brothers did the rest. First, freshman Jon Stanley, the younger brother of BYU's starting setter, notched his first career ace, and big brother served out the sweep to finish the night on a block by Miki Jauhiainen.
"They were serving hard, but I felt like we got good passes that allowed us to run some middles and open up the pin headers," Gardini said. "That was the difference today."
Brett Wildman had 11 kills to lead the Nittany Lions (0-1), and Cole Bogner supplied 29 assists for a Nittany Lions squad that hit just .299 and .154 in the final set.
Next up
BYU continues its two-match homestand against Penn State at 5 p.m. MST Saturday. The game will be broadcast on BYUtv.
×
Related stories
Most recent BYU Cougars stories