Estimated read time: 5-6 minutes
This archived news story is available only for your personal, non-commercial use. Information in the story may be outdated or superseded by additional information. Reading or replaying the story in its archived form does not constitute a republication of the story.
SALT LAKE CITY — Jeff Griffin fell 40 feet. Aaron Summerill lost a leg in a motorcycle accident. Dan Moore was paralyzed from a car accident. Mike Schlappi was shot from point-blank range.
Together, they help make up one of the best wheelchair basketball teams in the world.
After December play, the Wheelin' Jazz — the Utah Jazz-sponsored member of the National Wheelchair Basketball Association — were ranked No. 5 in the game's highest division. A number of NBA teams field wheelchair basketball teams, like the NY Rollin Knicks, the GS Road Warriors, the Denver Rolling Nuggets and the Milwaukee Wheelchair Bucks. (Fun fact: the Seattle Sonics still exist in the NWBA).
The team will play an intrasquad game Saturday at Taylorsville High School at 5:30 p.m.
"It is the same game," said Schlappi, the Wheelin' Jazz's coach. "Shooting is important. Speed is important. Height is important. One difference in wheelchair basketball is you don't have that good lateral movement. So a little guy can stop a big guy from going where he wants to go — sort of."
Schlappi would know. He's a four-time Paralympic athlete in the sport and a two-time world champion — things he would go on to accomplish after being paralyzed from the waist down after accidentally being shot in the chest at the age of 14.
"It's not rehab and then sports; it's sports and then rehab," Schlappi said of the team.
At their core, sports have always been about pushing the boundaries of what human beings can do. It's the same for the Wheelin' Jazz. It's a group of athletes who refuse to let an accident or a birth defect limit what they can accomplish.
Griffin, a longtime member of the team, played college football at Ricks College (he was teammates with the likes of Ben Cahoon, Aaron Roderick and Ed Lamb). During an offseason, while painting a barn, he fell 40 feet and broke his back. Football was done, but that didn't mean his athletic career was.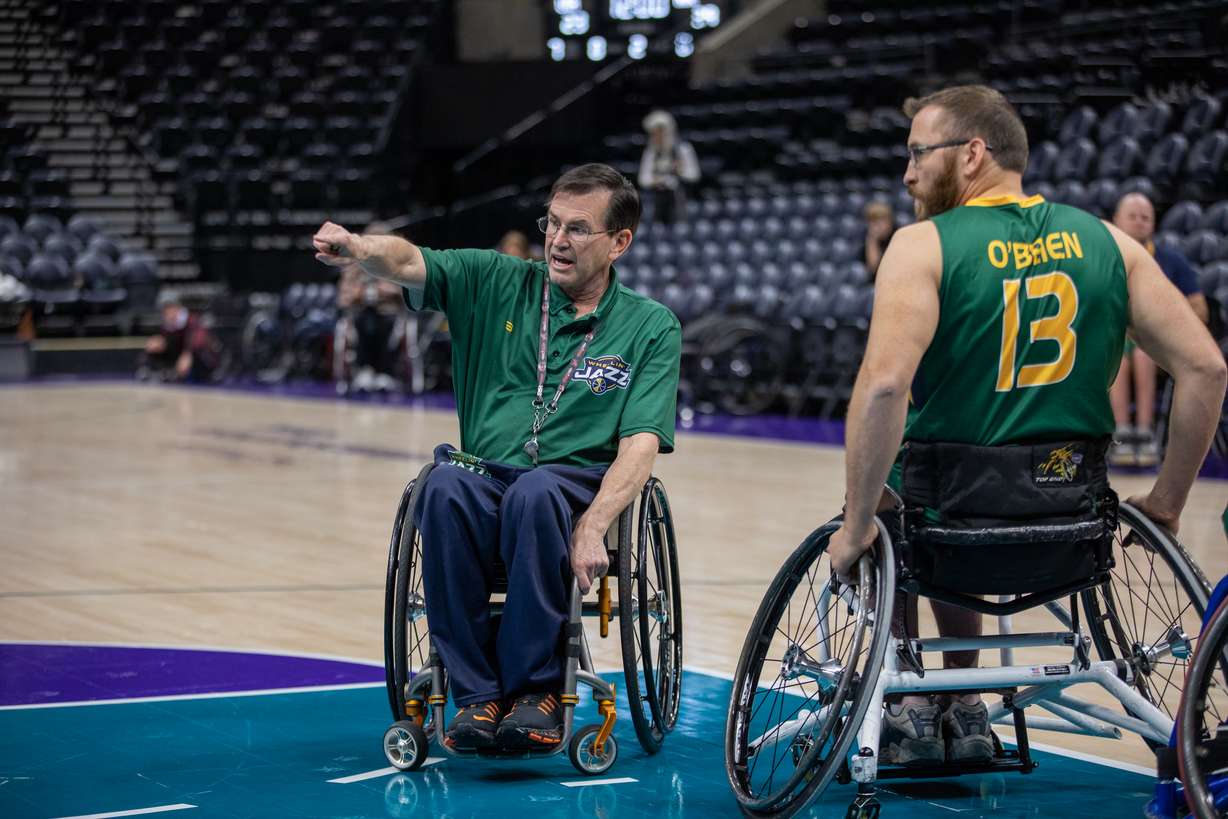 He went snowmobiling when he was still in a back brace; and Griffin was playing tennis using a regular wheelchair when Schlappi saw him and wondered aloud, "What are you doing?"
"I didn't know any better," Griffin said. "I'm just out there hitting the ball and just competing, and Mike came up and said, 'You wanna play wheelchair basketball?' I'm like, 'There is wheelchair basketball?!'"
Griffin represented the United States in the 2004 Paralympic Games in Athens and played in eight (winning the MVP award in four) wheelchair all-star games that used to kick off the NBA's All-Star Weekend.
"Wheelchair Sports has taken me a lot of places, and so most people don't know that we exist," Griffin said. "That's what we're trying to do is just allow people to know that there's a place for them."
Spencer Heslop was initially reluctant to try wheelchair basketball. He was born with spina bifida but was able to play in the Junior Jazz program "because the kids don't know how to play, and so it was just kind of a herd following the ball."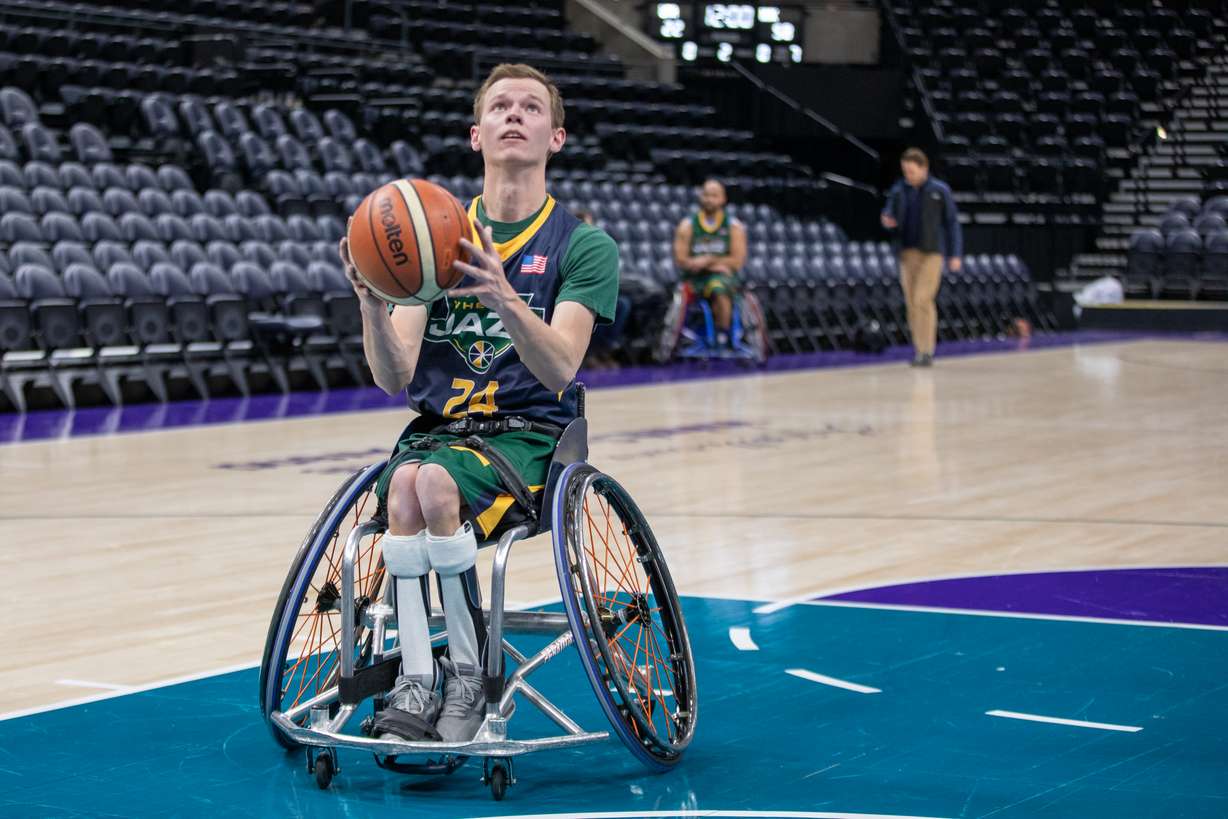 But that changed when he was around 8 years old. Kids got faster, the game grew more intricate, and he knew he wouldn't be able to keep up for much longer. But that's still where his friends were, where he felt comfortable, so even when his parents found a youth wheelchair basketball team, he didn't know if he wanted to join.
"I didn't really see how much it could elevate my competitiveness," Heslop said. "And my parents basically said, 'We're not leaving until you at least try it.' So I finally went out there and it's worked out alright."
That last part was said with a smirk.
Heslop went on to play collegiate wheelchair basketball at the University of Illinois before coming back to Utah and joining the Wheelin' Jazz.
But it's more than just what they are accomplishing on the court, or where the game itself has taken them; it's been finding a place of belonging. It's true what Schlappi says: it's sport and then rehab. But the rehab portion — be it physical, mental or even emotional — plays a vital part to many members of the team.
Heslop helps coach a junior wheelchair team. Following a recent tournament, one of his players said that "it was the most normal he's ever felt."
That's the power of the community.
Dan Moore remembers Schlappi coming into his hospital room after the car accident that stole his ability to walk. Schlappi took him to the now-defunct downtown ZCMI and taught him how to ride an escalator using a wheelchair. That little act showed him that life can still be relatively normal. And years later, playing under Schlappi has just confirmed that.
"Just because you have a chair, it doesn't stop you," Moore said. "I go skydiving, I go hunting, skiing. I still do most of the stuff I used to."
Having teammates around to help each other remember that has been a big lift for the team.
"Finding your competitive nature and all that is awesome," said Summerill, who uses his life experience to help mentor youth. "But giving these guys an outlet to figure out their anger and frustration and be with a group of guys like them; because the everyday world is not."
In some cases, that group has literally saved lives.
Steve Oaks went into surgery to fix his back pain. But after the surgeon nicked his spinal cord, he was left paralyzed from the waist down.
"Changed his life instantly," Griffin said. "Can you imagine, right?"
Actually, it's pretty hard to imagine; let alone live through it. It left Oaks struggling to accept his new reality and soon he was contemplating taking his own life. That's when one of the members of the team reached out to him.
On Tuesday at a scrimmage in Vivint Arena, he was seen laughing with teammates, smiling and playing a game he loved.
"It changed his life," Griffin said. "It literally saved his life. You get to belong to a team. There's more to it than just a basketball. Every person has a story that would just blow your mind."
×
Photos
Most recent Utah Jazz stories