Estimated read time: 6-7 minutes
This archived news story is available only for your personal, non-commercial use. Information in the story may be outdated or superseded by additional information. Reading or replaying the story in its archived form does not constitute a republication of the story.
This story is sponsored by MountainStar Healthcare. Our hospitals and outpatient centers deliver high-quality, cost-effective patient care – when and where it's needed.
When it comes to being pregnant and having children, it's often said that women do all of the work and men get much of the credit. However, if you want those nine months to pass as smoothly as possible, it's a good idea to learn about what your partner is going through so you can help shoulder the burden.
Whether you're pregnant or planning to become pregnant, here's what women wish their husbands understood about pregnancy throughout each trimester.
First trimester:
Morning sickness doesn't just happen in the morning
Most people know that nausea is a typical side effect of pregnancy, but the term "morning sickness" is actually a misnomer, according to MedicineNet. For some unfortunate women, nausea and vomiting are an all-day issue
Though it may seem counterintuitive, eating is often the best way to combat nausea and vomiting. Offering your spouse or partner foods such as pretzels, crackers, hard candy or anything with ginger may help stave off some of the queasiness.
The toilet is her new best friend
This is true for a couple of reasons. As mentioned above, nausea can strike at any time of the day, but there's another nuisance that accompanies a growing pregnant belly: frequent urination.
While this certainly happens in the third trimester as the weight of the baby pushes down on the bladder, What to Expect states that this is also an early symptom of pregnancy.
There's no controlling cravings or aversions
You might think it's crazy when your wife asks you to throw out all the chicken or to go to the store for pickles in the middle of the night — but she can't help it. Healthline explains that the pregnancy hormone hCG is to blame for this and many other symptoms.
While these cravings and aversions are most likely to occur in the first trimester, they can happen at any point in the pregnancy. So avoid strong-smelling foods and don't laugh when she asks you for ice cream on toast.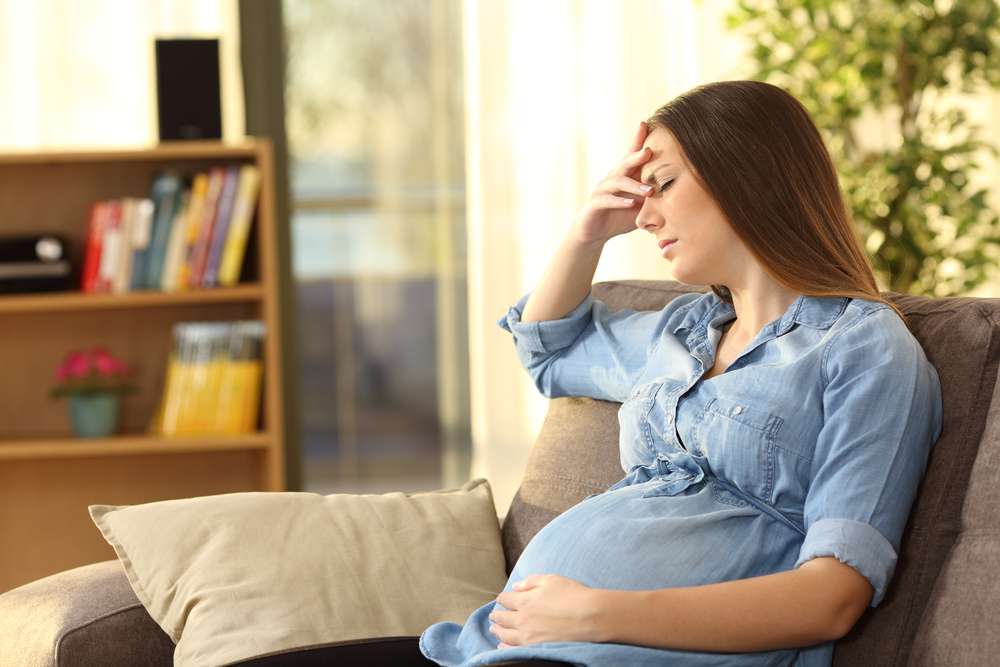 She really is tired
Understand that there is a big difference between everyday fatigue and the complete exhaustion that comes from growing a human in one's body. If she tells you she's tired, she's not just trying to get out of doing the dishes.
The American Pregnancy Association explains that during the first trimester, a woman's body is producing more blood to carry nutrients to her growing baby. Lower blood sugar, lower blood pressure, hormones, and emotional and physical changes all contribute to decreased energy.
An extra foot rub or simply allowing her to take as many naps as possible will go a long way in helping her cope with all of these exhausting changes.
It's not about you
There's another important thing you need to remember while all of this is happening in the first trimester, and it's a good idea to keep repeating it through the rest of the pregnancy: it's not about you.
Whether she's frequently bursting into tears, snapping at you over small issues or distancing herself in the bedroom, remember not to take it personally. In fact, take any opportunity you can to be there for her during the difficult times.
Hold her hair for her when she's sick, massage her back, pick up the slack on household chores, and maybe even surprise her with flowers (just avoid overly fragrant ones).
Given everything she'll go through in the next several months (and beyond), these small gestures can go a long way.
Second trimester:
She's worried all the time
As you approach the second trimester, you may find that many of the intense early pregnancy symptoms fade. This is why many doctors refer to the second trimester as the "honeymoon phase" of pregnancy.
This is also commonly the time when couples choose to spill the beans about the pregnancy since Healthline reports that the chance for miscarriage falls to 5% by week 12.
However, you should know that even though the statistics are more promising, women rarely stop worrying throughout the pregnancy. They are constantly concerned about the baby's health, giving birth, weight gain or the major life changes that come with adding another human to the family. The most important thing you can do is listen, validate her fears and offer support.
She feels very self-conscious
While it's nice when the morning sickness subsides and she's able to eat again, this will be replaced with new discomforts. As her pants start feeling small and other physical changes occur, a woman can start to feel self-conscious about her body.
Aside from a rapidly growing belly, the Office on Women's Health lists stretch marks, skin discoloration and swelling as new symptoms that may show up during the second trimester — and they can happen all over her body.
You can help her feel a little more comfortable by taking her shopping for some cute new maternity clothes or even gifting her a spa day to enjoy some pampering.
Pregnancy brain is real
The good news is that a WebMD article confirms that pregnancy doesn't cause any permanent changes to a woman's brain, but pregnancy brain or "momnesia" can, in fact, be blamed for your wife putting her keys in the fridge or constantly forgetting where they are.
This is because memory lapses can happen when you're stressed, busy or short on sleep — all of which applies to an expecting mother. Another culprit may be those pesky hormones once again. Though there may not be a permanent change, the WebMD article states that hormones may affect brain circuits and spatial memory.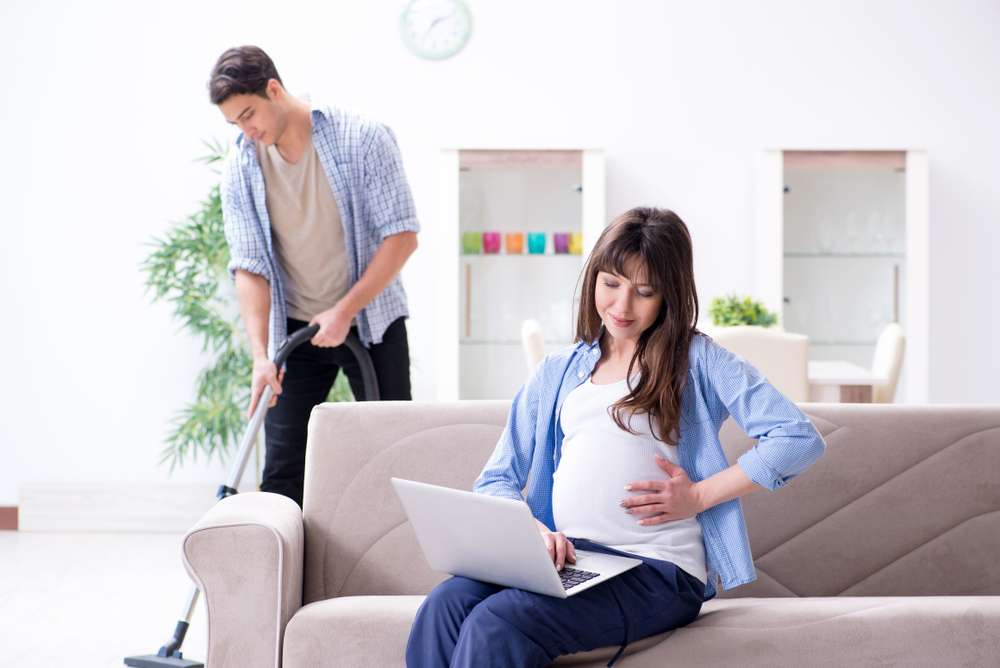 Third trimester:
Saying nothing is sometimes the best idea
By the third trimester, most women have reached a peak in their level of discomfort. With the baby taking up so much space and with hormones sending everything into a frenzy, this can take a toll on a woman's emotions and self-image.
As several thoughtless people continue to make unsolicited comments on her appearance, you may be tempted to overcompensate by showering her with praise about how beautiful she is.
Though this is well-meaning on your part, you might experience the law of diminishing returns if you overdo it. Even if you are thoroughly convinced that she's never been more attractive, she may not be feeling that way herself, so saying nothing is often the best course of action.
Support birthing plans
As the delivery day draws closer and anxiety levels start to rise, she needs your support more than ever. Since it might not be the first thing on her mind during labor, MountainStar Healthcare recommends making sure you're on the same page so you can step up to the plate when the big day comes.
The best care for your wife and baby
The most important thing you can do for your partner during pregnancy is to make sure she and the baby get the best medical care available. If you're pregnant or planning to become pregnant, make an appointment with a qualified medical professional at MountainStarOBGYN.com today.
×