Estimated read time: 4-5 minutes
This archived news story is available only for your personal, non-commercial use. Information in the story may be outdated or superseded by additional information. Reading or replaying the story in its archived form does not constitute a republication of the story.
SALT LAKE CITY — Utah kept it close, but No. 4 Oregon prevailed in the end to defeat the Utes 69-64 on their home court for Oregon's first win of conference play this season.
"To beat a top 10 team, you gotta check a lot more boxes than we checked tonight," Utah head coach Larry Krystkowiak said. "It's disappointing but also … we are the second youngest team in America. A lot of these guys haven't experienced anything like this.
"The only way you gain experience is to go through experiences like this, so I give them a lot of credit for being able to stay in the moment."
Utah (10-4, 1-1) held Payton Pritchard, Oregon's leading scorer and a national player of the year candidate, to only 7 points in the first half. But Pritchard took things over in the second half and gave Oregon (12-3, 1-1) its largest lead of the game, a 10-point margin, midway through the second half. Pritchard finished the game with a team-high 19 points, five assists and four rebounds.
The Utes battled back, though, and went on a 12-0 run to take a 1-point lead with six minutes left in the game. Oregon slowly chipped away at the lead and the two teams exchanged baskets before Oregon held off Utah.
Utah trailed by three with 32 seconds left in the game and had an opportunity to tie the game up when Timmy Allen got an open 3-point look at the top of the key. But the shot fell just short as Oregon rebounded the ball and went the length of the court to seal the game with a bucket.
"We've got a handful of specials to try to get a 3-point shot, that's what we were trying to do, and Oregon defended it properly," Krystkowiak said. "I can't fault Timmy; it was open. He's not our top 3-point shooter, but he did make three the other day in a game and I don't know that we were going to get a better look.
"They did a good job with their length and athleticism of taking away our 3-point shooting."
Allen finished the game with 19 points on 6-of-18 shooting, including 7-of-12 from the free throw line.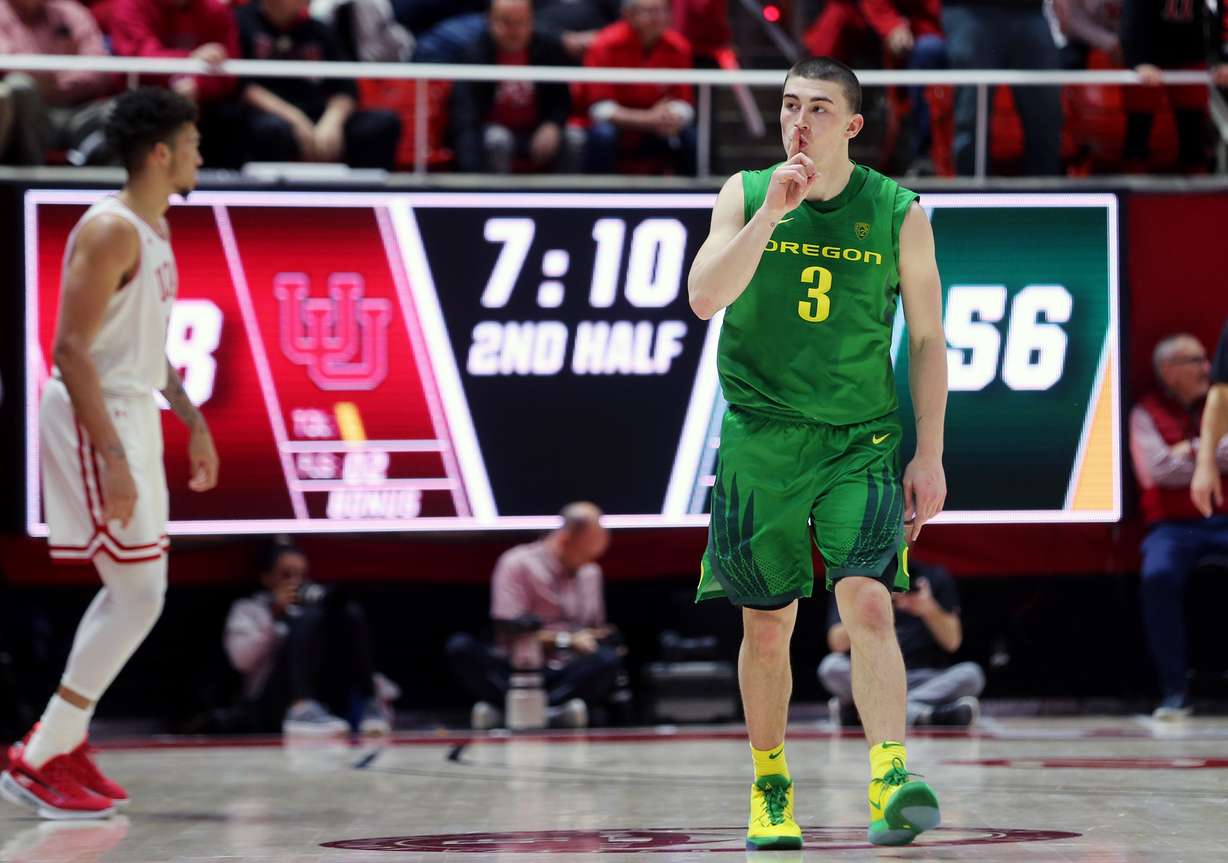 The sophomore forward, as well as most of the team, struggled to convert easy buckets inside the post, particularly in the first half when Oregon utilized more of a zone defense look and got beat by Utah's passing. But Utah couldn't convert the shots and were outscored in the paint 42-22 down low.
"We missed a lot of open shots tonight; that was a big factor," freshman Rylan Jones said. "I mean, we got anything we wanted, and we just missed them."
Utah was instead forced to rely on its 3-point shooting to win them the game. Utah finished with nine made 3-pointers but started off the game 0-of-6 from deep. It wasn't until Mikael Jantunen hit a 3-pointer at the top of the key midway through the first half that Utah could get shots to drop.
The Utes finished the night shooting 30% from behind the arc, but only 36% from the field.
Sophomore guard Both Gach led Utah in scoring with a career-high 24 points on 9-of-20 shooting. Gach had four clutch 3-pointers to keep Oregon from putting distance on the Utes and added some transition buckets to get Utah back into the game.
Jones, who had only 6 points in the game, was forced to sit on the sidelines with 6:45 left in the first half after picking up two fouls. It gave Utah one less guy to distribute the ball and set up plays, but Utah took its first lead of the game with him on the bench in those closing minutes of the half.
Utah finished the night with only seven turnovers and managed 16 points off Oregon's 10 turnovers. Still, Oregon shot 45% from the floor and Utah failed to make easy buckets to give the Ducks the win in the end.
"There were a lot of positive things that our team did," Krystkowiak said. "Oregon's always been a problem for us with turnovers, and if you would have told me we would have turned it over seven times in that game I would have definitely hit the deal button.
"To beat an elite team like that, you've got to make more open shots, and I thought we had a bunch of open ones," he added. "There were countless open shots, and when you're playing against an elite team, you have to make, not every one of them, but certainly more than we made."
Utah returns to action on Sunday, Jan. 12 against Colorado in their first road game of conference play. The game tips off at 4 p.m. MST and will be broadcast on ESPNU.
×
Most recent Utah Utes stories